---
Bloomberg Terminal Users Embrace 'Cash Is No Longer Trash'
In a new survey, Bloomberg Terminal users have overwhelmingly agreed that cash in their portfolios would be a net positive this year, supporting the case 'cash is no longer trash' amid signs that higher-than-expected inflation data indicates global central banks will continue their ultra-hawkish stance to keep aggressively raising interest rates. 
Over 400 professional and retail investors participated in the latest MLIV Pulse survey. Two-thirds of professional respondents believe cash will be a net positive on their portfolios, while only 35% answered that cash holdings would drag on performance. Retail traders gave similar responses.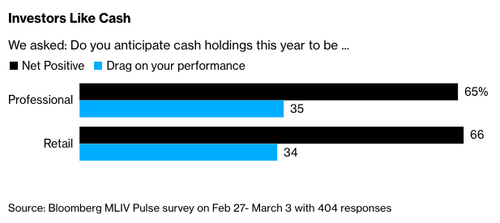 The appeal of cash stems from increasing nervousness as higher-than-expected inflation data means central banks will continue to raise interest rates through at least June, dashing hopes for a full-blown risk-on rally in equity markets. The Federal Reserve clearly has more work to do as the economy still runs hot. The Fed's benchmark rate implied by overnight index swaps shows at least three more 25bps hikes through June, with a terminal rate of around 544 bps by mid-summer.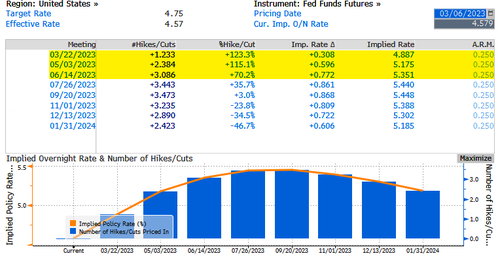 Bank of America Corp. notes, citing EPFR Global data, that during the week ending on March 1, global cash funds experienced inflows of $68.1 billion, whereas equity funds saw outflows of $7.4 billion. The significant inflows into cash suggest that investors are feeling nervous.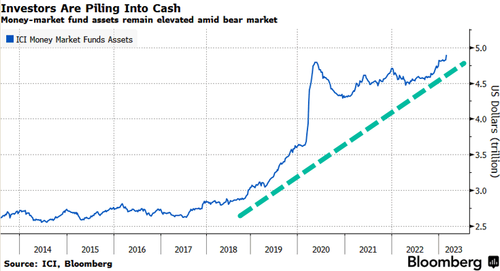 BofA's Michael Hartnett wrote last Friday that the end of the bear market would coincide with credit market turmoil and lower home prices. He said until then, cash is as good as bonds and stocks. 
Loading...