---
BoE Governor Admits UK Banking System Faces "Very Heightened Tension"
Authored by Alexander Zhang via The Epoch Times,
The UK financial system is in a period of "very heightened tension and alertness" for further turmoil in the banking sector, Bank of England Governor Andrew Bailey has said.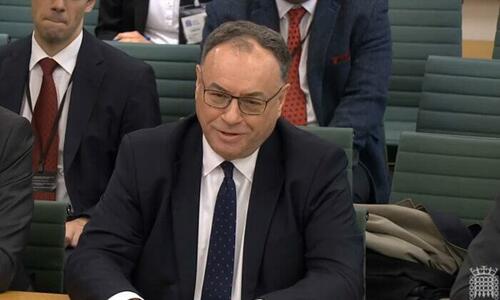 The UK banking system remains in "a strong position" but the central bank has to be "very vigilant," Bailey told the Treasury Committee in the House of Commons on Tuesday.
The central bank chief faced questioned from MPs amid global jitters following the collapse of Silicon Valley Bank (SVB) in the United States and the emergency rescue of Credit Suisse by Swiss authorities.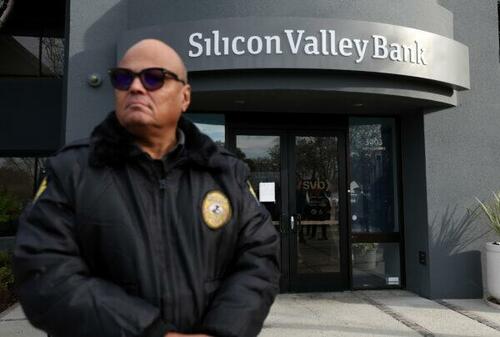 A security guard at the failed Silicon Valley Bank monitors a line of people outside the office in Santa Clara, Calif., on March 13, 2023. (Justin Sullivan/Getty Images)
There have been concerns that higher interest rates—following 11 consecutive rate hikes by the Bank of England—could be heaping pressure on lenders.
Bailey said the central bank is "very vigilant" but stressed that the UK banking system is in a different situation from the global financial crisis 15 years ago.
He told MPs: "I don't think we are at all in the place we were in in 2007/8, a very different place, but we have to be very vigilant.
"We are in a period of very heightened tension and alertness and we will go on."
'Strong Position'
The collapse of SVB, the 16th biggest bank in the United States, is the largest bank failure since Washington Mutual in 2008, during the last financial crisis.
The group's UK arm was sold to HSBC in a rescue deal, as shockwaves from the failure shook global financial markets.
Following the collapse, Chancellor of the Exchequer Jeremy Hunt said it posed "no systemic risk" to Britain's financial system, but there was "a serious risk" to the UK's technology and life sciences sectors.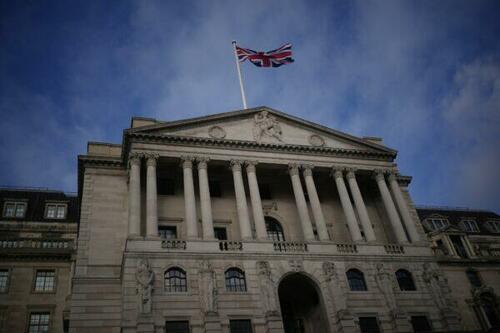 A view of the Bank of England in London, on Feb. 2, 2023. (Yui Mok/PA Media)
Bailey told MPs that SVB's collapse was the fastest failure since the collapse of Barings Bank, a British merchant bank that failed in 1995 after trader Nick Leeson concealed as much as £827 million in authorised trades, causing the business to run up massive losses.
The governor said: "The U.S. authorities are still dealing with some of the consequences of the issues and the issues with regional banks which we saw with SVB.
"My very strong view about the UK banking system is that it is in a strong position both capital and liquidity-wise. It is not showing signs of problems in that respect and we have tested very extensively."
Bailey added in his evidence to MPs that the UK is experiencing tightening credit conditions, hinting that this could impact future decisions on rates.
"We see some evidence of some tightening credit conditions but we do not see a critical development in that respect. We always take into account credit conditions when setting monetary policy," he said.
Protecting Deposits
U.S. Treasury Secretary Janet Yellen suggested that the U.S. government would safeguard people's savings in the event another smaller lender like SVB collapsed.
In a speech at the American Bankers Association on March 21, Yellen said further steps would be made to protect bank depositors if smaller institutions suffer additional bank runs that threaten the country's financial stability.
Commenting on the move, the Bank of England governor said:
"I perfectly understand what the U.S. has done because we faced the same challenge in 2008. It's a very difficult decision, but in the heat of the moment there are times where you have to make that judgement.

"I agree with what I think Janet Yellen has said in that this is not a state of affairs that should be the norm, that all deposits are guaranteed."
He added that it can be difficult to strike a balance between stopping "bank runs" happening by offering to protect savings, and ensuring deposit guarantees do not become the norm.
"I don't for one moment want to criticise the U.S. authorities, as I think they have been dealing with a very hard situation," he said.
No Appealing Options
MPs at the Treasury Committee also questioned bosses at the bank over the £2.6 billion sale of Credit Suisse.
Credit Suisse has had problems for years but was pushed over the edge a week ago because of market jitters sparked by the failure of SVB.
Swiss investment banking company UBS subsequently announced it would purchase Credit Suisse in a deal worth more than $3 billion.
Talking to MPs on Tuesday, Sam Woods, deputy governor at the Bank of England and chief executive of the Prudential Regulation Authority, said the central bank had been talking with other authorities over instability at Credit Suisse since last autumn.
"From October there were discussions involving the Fed, the Swiss authorities, and us, thinking about the live situation," he said.
"We had discussed, 'What are we going to do if it came to the crunch?' It was very useful when it came to that weekend.
"In the end, a bit like Silicon Valley, none of the options were that appealing but you still had options."
Loading...