---
Dramatic Footage Reveals Boeing 737 Tanker Crash In Australia
Update (Tuesday):
Yesterday we reported a Boeing 737 jet converted for firefighting crashed in southern Western Australia while fighting wildfires. But there were no images of the crash.  
Surfacing on Twitter earlier Tuesday is footage of the 737 engulfed in flames after what appears to be a crash landing. 
❗️ #Exclusive Watch

🇦🇺 A Boeing 737-300 (n/n N619SW) aircraft owned by Coulson Aviation crashed yesterday in Australia's Fitzgerald River National Park: Report #Australia pic.twitter.com/dPAr5OqTMu

— OsintTV📺 (@OsintTV) February 7, 2023
PLANE CRASH PICTURES: The Department of Fire and Emergency Services WA (DFES) have released the latest images of the Boeing 737-3 crash which happened yesterday afternoon. Both pilots received minor injuries. #planecrash #plane #crash #boeing #aviation #westernaustralia pic.twitter.com/fMqVXRJpCP

— Jack Ryan π CryptoCruises π (@Cruis3Man) February 7, 2023
The good news is both pilots walked away from the crash. There's still no word on what triggered the plane to come down. 
*   *   * 
A Boeing 747 air tanker crashed Monday afternoon while fighting a wildfire on Western Australia's southern coast, according to the local media outlet WAtoday. 
The Boeing 737 Fireliner National Large Air Tanker crashed around 4:15 PM local time near Fitzgerald River National Park. The plane was involved in firefighting efforts at the time of the crash.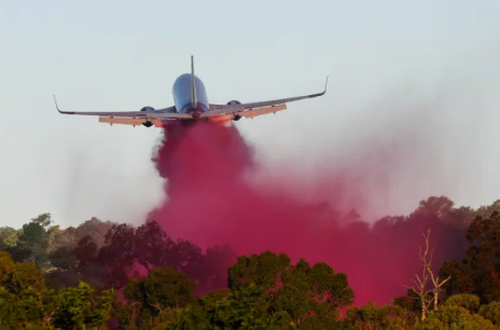 Both pilots survived the crash and were rescued by a quick-response helicopter team.  
"The two pilots on board were retrieved from the crash site by helicopter and airlifted to Ravensthorpe Airport," WA Police said Monday evening.

"Both survived the crash with minor injuries and were conveyed to hospital via St John WA."
The 737 took off from Busselton-Margaret River Regional Airport around 3:30 PM local time. 
Here's where the plane crashed, according to flight tracking data. 
A Coulson Aviation Boeing 737-300 N619SW crashed while fighting a wildfire in southeastern Australia. Both pilots survived the crash and were airlifted to a hospital.

This is the second crash of a Coulson plane in Australia in three years, after a Hercules crashed in 2020. pic.twitter.com/AC9U7NT6hm

— Jan-Hendrik Fiedler (@FlyingFan1) February 6, 2023
Australian Transport Safety Bureau will soon investigate what triggered the plane to come down. 
Loading...