---
Boeing Beats As It Burns $5 Billion In Q3, Will Cut Another 11,000 Workers
Boeing stock rebounded after the struggling aerospace giant reported sales, EPS and cash burn that were stronger than expected, and announced it was looking to fire another 7,000 workers while 4,000 would be lost through attrition as it now expects a workforce of only 130,000 by the end of 2021, down sharply from 160,000 at the start of 2020. The reason: the company said it was still "significantly impacted" by Covid-19, and the ongoing 737 Max woes.
A quick recap of Boeing's Q3 numbers:
Revenue $14.14 billion, -29% y/y, beating the estimate $13.84 billion
Core loss per share $1.39 vs. EPS $1.45 y/y, beating the estimate loss/share $2.08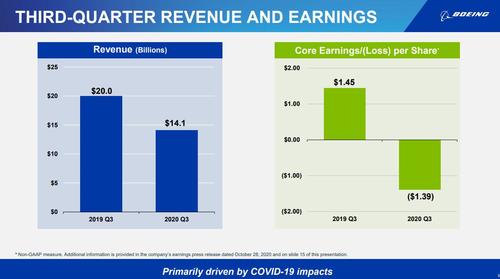 Boeing said Q3 operating margin decreased to 7.3% primarily due to lower commercial services volume and additional severance costs.
On the production front, the total backlog dropped 16% Y/Y to just $393 billion, or about 4,300 commercial planes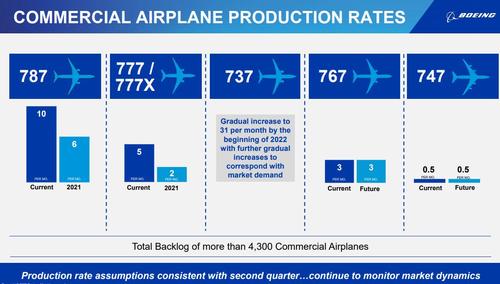 Commercial plane deliveries were ugly, tumbling 56%Y/Y to just 28, if a +40% improvement q/q; Commercial Airplanes revenue of $3.60 billion was in line with estimates of $3.60 billion.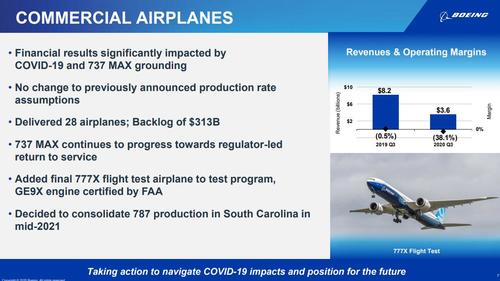 Elsewhere, Defense, Space & Security revenue was $6.85 billion, estimate $7.12 billion, while Global Services revenue $3.69 billion, estimate $3.59 billion.
In a presentation slide on 737 Max, Boeing said Commercial Airplanes expensed $590MM of abnormal production costs during three months ended Sept. 30.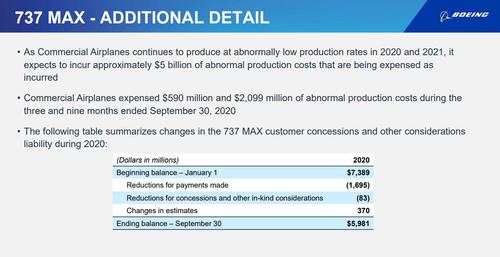 Boeing also reported that Q3 operating cash burn rose to $4.82 billion, doubling from a year ago, if slightly better than the estimated cash burn of $4.92 billion.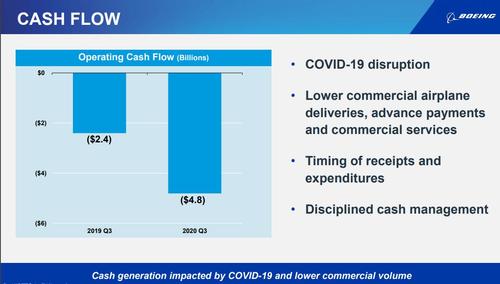 Amusingly, the company which last quarter was on the verge of collapse, still has an investment grade BBB-/Baa2 rating with a debt load of over $60 billion. Meanwhile, its cash declined by over $5 billion in the quarter, from $32.4BN to $27.1BN.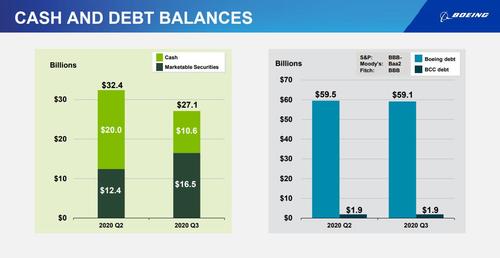 Of course, one could argue that none of the company's earnings matter and the only thing investors want to know is when will things get back to normal, and according to the report, passenger traffic will returning to 2019 levels in 3 years.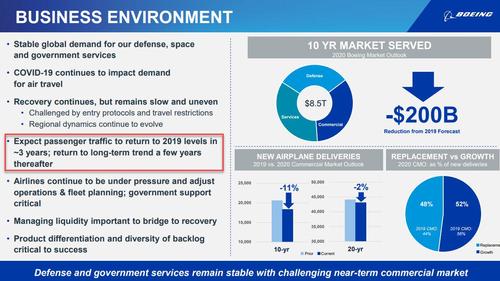 Until then, the company has to slash costs, which is why Boeing's CEO Dave Calhoun told employees that the company aims to have a staff of 130,000 by the end of 2021 according to CNBC. Earlier this year, Boeing targeted a 10% cut to its staff, which stood at 160,000 people at the start of the year.
"As we align to market realities, our business units and functions are carefully making staffing decisions to prioritize natural attrition and stability in order to limit the impact on our people and our company," CEO Dave Calhoun said in a staff note. "We anticipate a workforce of about 130,000 employees by the end of 2021. Throughout this process, we will communicate with you every step of the way."
Meanwhile as Boeing sill struggles with its "cost-cutting" 737 MAX crisis which started two years ago and grounded the fleet of airplanes, the pandemic's impact on air travel demand, which is still not back to half of last year's levels, has further worsened Boeing's plight. Regulators are at the tail-end of the planes' review but have still not signed off on them, preventing Boeing from delivering them to customers and crimping its cash flow as a result.
In response to the slightly stronger than expected results and the continued cost-cutting, the stock was modestly higher in pre-market trading.