---
Boeing Jumps On First Positive Cash Flow Since 2019 Despite Another Huge 787 Charge
It was another painful quarter for Boeing, which reported revenue and earnings both of which missed expectation amid mounting 787 Dreamliner losses which amounted to another $3.5 billion in pre-tax non-cash charge s (focused on actions required to resume deliveries) however a surprise boost in 737 Max output from 19 to 26 per month was welcome news as was the unexpected end of the company's chronic cash burn as Boeing reported its first positive free cash flow since early 2019.
First, this is what Boeing reported for Q4:
Revenue $14.79 billion, -3.2% q/q, -3.3% y/y, missing estimates $16.67 billion (Bloomberg Consensus)
Core loss per share of ($7.69), on the continued Dreamliner charges, which was an "improvement" from the whopping ($15.25) reported but clearly missed estimates of (0.42).
If the massive Q4 charge was not enough, Boeing now sees 787-Related abnormal costs about $2B, above from the $1BN it had seen previously. The company said that it continues to perform rework on 787 in inventory and is focused on actions required to resume 787 deliveries.
Remarkably, as the following table from Boeing's earnings release shows, pretty much every Y/Y comparison is NM, which should tell you all you need to know about the company's headline financials.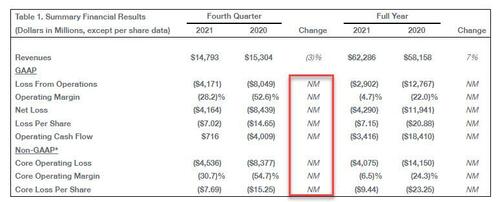 And a prettier rendering: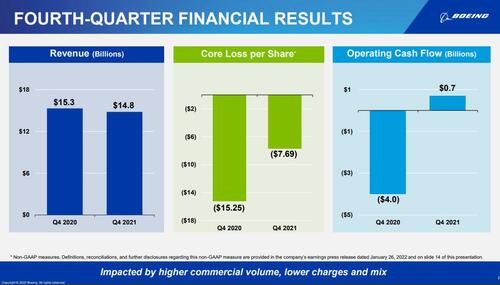 Looking at revenue we get the following disappointing picture:
Commercial Airplanes revenue $4.75 billion, +0.5% y/y, missing estimates $5.50 billion
Defense, Space & Security revenue $5.86 billion, -14% y/y, missing estimate $6.85 billion
Global Services revenue $4.29 billion, +15% y/y, beating estimate $4.18 billion
Boeing Capital operating earnings $7 million, missing the estimate $24.4 million
Total commercial planes deliveries 99, +68% y/y, missing the estimate 102.36
Backlog $377 billion, +3.9% y/y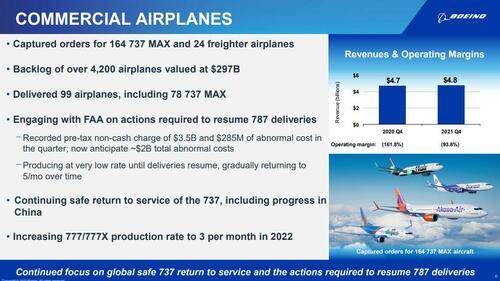 Adding insult to injury, the planemaker reported $5.5 billion in total costs to cover rising factory and customer expenses for the Dreamliner. Boeing took write-offs on the KC-46 aerial tanker and the global services division as well. As Bloomberg notes,
the 787 program's profits have been wiped out as Boeing pays airlines for service they've lost because of delivery disruptions. The company hasn't handed over any Dreamliners since June as it addresses structural imperfections on the roughly 100 aircraft in its system.
"This effort continues to impact our deliveries and our financial results -- but we are fully confident it is the right thing to do," Calhoun's memo said. "I view the financial impacts of this work as a long-term investment in a program that has significant runway ahead."
It wasn't all bad news, however, as Boeing announced it is hiking the output of the 737 to 26 jets a month, up from 19 in October, Chief Executive Officer Dave Calhoun said in a note to employees. That was taken by the market as a sign the planemaker may be turning around its operations after burning through more than $31 billion during a nearly three-year-long slump marked by the Max's grounding, the Covid-19 pandemic and a spate of quality lapses.
Looking ahead, Boeing said it still expects passenger traffic to return to 2019 levels in 2023 to 2024, and said that commercial recovery is broadening as regional dynamics continue to evolve driven by COVID-19. It also said says increasing 777/777X production rate to 3 per month in 2022.
But the biggest positive surprise was the company's announcement that in Q4, it generated $494 million in fourth-quarter free cash flow, up from a cash burn of over $4.2 billion a year ago; analysts had expected an outflow of about $1 billion.

This was the first positive FCF from Boeing since Q1 2019. It also meant that operating cash flow of $716 million as beat estimates of negative $429.0 million and was far above the negative $4.01 billion reported a year ago.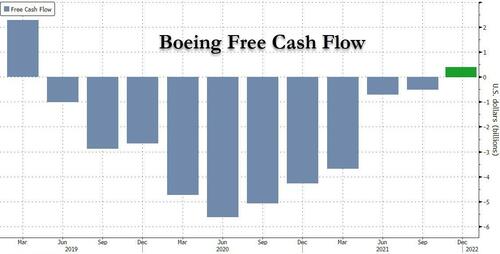 "2021 was a rebuilding year for us as we overcame hurdles and reached key milestones across our commercial, defense and services portfolios. We increased 737 MAX production and deliveries, and safely returned the 737 MAX to service in nearly all global markets. As the commercial market recovery gained traction, we also generated robust commercial orders, including record freighter sales. Demonstrating progress in our overall recovery, we also returned to generating positive cash flow in the fourth quarter," said David Calhoun, Boeing President and Chief Executive Officer.
"On the 787 program, we're progressing through a comprehensive effort to ensure every airplane in our production system conforms to our exacting specifications. While this continues to impact our near-term results, it is the right approach to building stability and predictability as demand returns for the long term. Across the enterprise, we remain focused on safety and quality as we deliver for our customers and invest in our people and in our sustainable future."
Also notably, the company which has been flirting with junk status for the past two years, managed to reduce its gross debt load again, even if its net debt remained unchanged as the entire reduction came at the expense of cash on hand.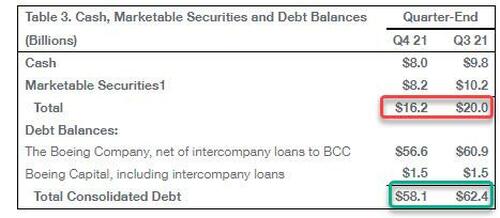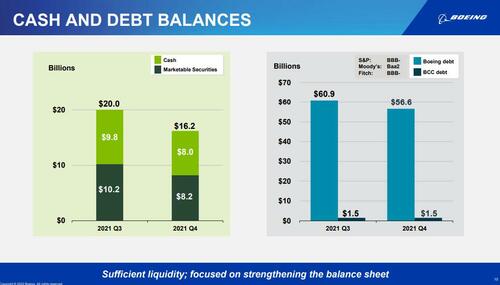 Boeing shares ignored the latest huge 787 charge and operating loss and instead focused on the positive free cash flow and improvement in 737 MAX output, and rose 2% premarket. The shares gained 1.4% this year through Tuesday, while the Dow Jones Industrial Average dropped 5.6%.
Benchmark called Q4 a "kitchen sink" quarter, and noted that the Max production schedule was progressing, which is the main focus for analysts and investors.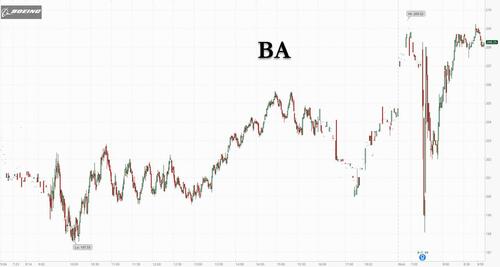 The company's Q4 investor presentation is below (pdf link)