---
Boeing Shares Slide On Reports Of Dreamliner Delivery Slowdown Over Design Flaws 
Boeing shares are down 4.5% on Tuesday morning following a new report via WSJ, published a day earlier during the Monday Labor Day holiday, detailing new troubles that have emerged for the Boeing 787 Dreamliner.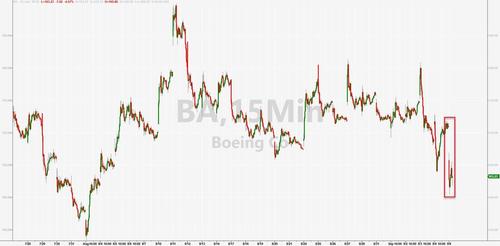 Now, Boeing has confirmed the 787 has specific components within its fuselage that do not meet design standards. The company said the 787's horizontal stabilizers have quality issues that are resulting in more plane inspections, thus slowing down deliveries. 
"We are taking time to thoroughly inspect completed 787s to ensure that they are free of the issues and meet all engineering specifications prior to delivery," Boeing said in a statement Tuesday.

"We expect these inspections to affect the timing of 787 deliveries in the near-term."
The planemaker recorded its first 737 MAX order for the year in August. More plane cancellations were seen during the month as airlines ditched orders for the MAX as overall deliveries fell to 13 for the month. Boeing lost 17 MAX orders in August, with the total number of canceled orders around 445 this year. 
Compound these developing 787 issues with the two fatal accidents of its narrow-body MAX, and Boeing is experiencing widespread manufacturing quality-control lapses. 
It's just the latest in a series of setbacks for the American aerospace giant.