---
Bond Yields Are Tumbling. Here's Why...
Despite soaring vaccination rates, surging economic data and spiking inflation prints, Treasury yields have been (unexpectedly) plunging in the last few days with 10Y, for example, down 15bps this week alone, to its lowest in five weeks...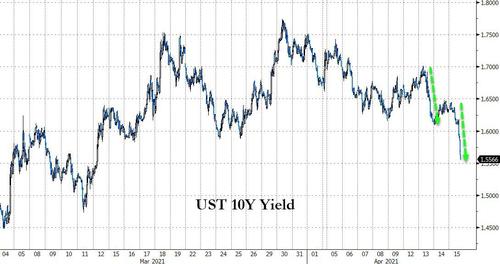 Source: Bloomberg
Yields are tumbling across the entire curve as 30Y seemed to find resistance at the Nov 2019 highs just too much to break...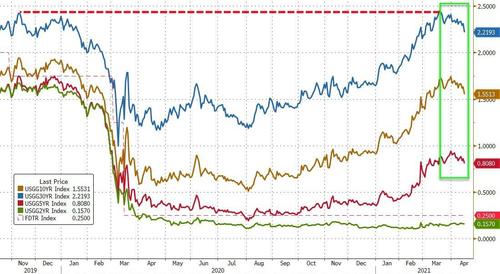 Source: Bloomberg
And it's not just bonds, the reflation trade (value over growth) has notably unwound in recent weeks...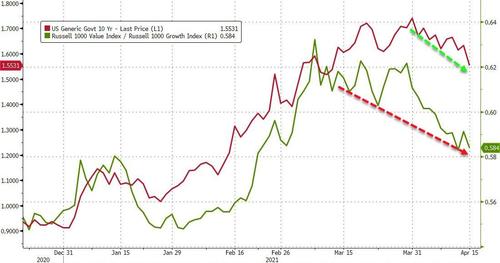 Source: Bloomberg
The question is why?
Nomura's quant guru Masanri Takada has the answer - Short-term investors (global macro hedge funds, CTAs) have been conspicuously backing out of short positions in USTs.
Short-term investors trimming their short UST positions
Global equity markets, while holding at high levels (especially in the US), are now merely inching upwards. Major classes of investors appear to be adopting more of a wait-and-see attitude. That said, our own gauge of sentiment among equity market investors worldwide is still holding in positive territory, indicating a preference for risk-taking over risk avoidance. It looks as though the risk-on mood remains intact, with some psychological support from the recent upside surprises in the macroeconomic data.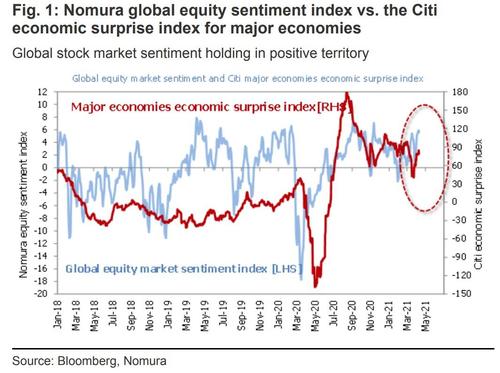 Turning to the trading behavior of the major classes of speculators, what sticks out to us is the course correction away from bear trades in the market for USTs.
Although the 10yr UST yield is still elevated, holding as it is above 1.6%, it clearly appears to have hit a ceiling. We think that the closing of short positions by short-term investors may be behind this.
According to the estimates output by our team's model, it seems likely that fundamentals-oriented global macro hedge funds have already closed out the entirety of their aggregate net short position in USTs, and may have swung to the net long side. These macro funds trade not only in futures but also in cash instruments and derivatives.
Options on 10yr UST futures (TY) had been significantly skewed to the put side, but this is no longer the case, and this change correlates to an extent with the flows generated by the course correction being executed by global macro hedge funds.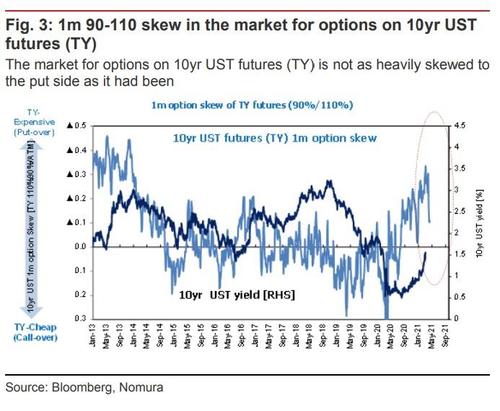 We estimate that technically oriented CTAs as well have been covering short TY positions. We estimate that the short positions accumulated by CTAs since January break even at a 10yr UST yield of around 1.47% on average, so with market yields where they currently stand, we think it makes sense to assume that CTAs are engaged in some preemptive profit-taking.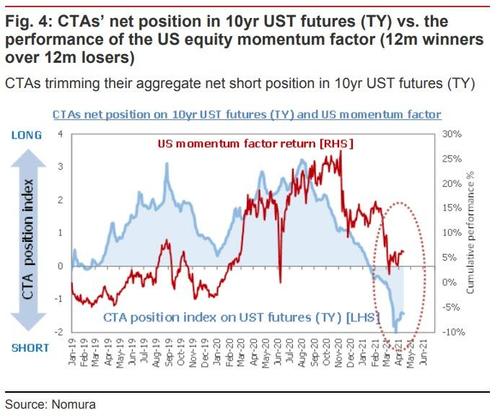 However, we also note that CTAs have been extending their aggregate net long position in NASDAQ 100 futures, as if to balance out the downsizing of their net short position in UST futures. According to our model, CTAs are likely to stay bullish on NASDAQ 100 futures for as long as the NASDAQ 100 index itself holds above 13,100, which we estimate to be the average break-even line for long positions accumulated since last November. This shift in futures market positioning by CTAs arguably may have played a part in the recent pick-up in the performance of some growth and momentum stocks.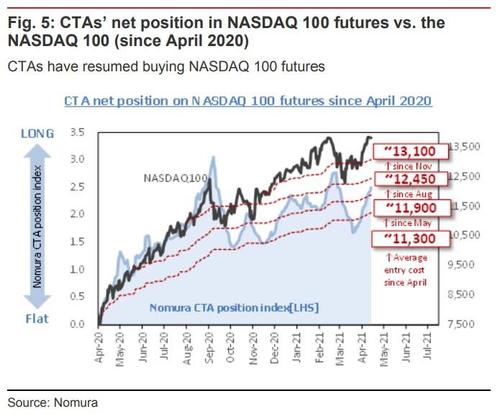 Only time will tell whether the trades currently being made by short-term investors in the market for USTs are just a temporary position adjustment or whether they represent a genuine withdrawal from the reflation trade.