---
AI-Mania Melt-Up Accelerates But Bonds, Bullion, & Bitcoin Jump
A debt-ceiling deal? Maybe... The T-Bill curve compressed a bit (but not totally)...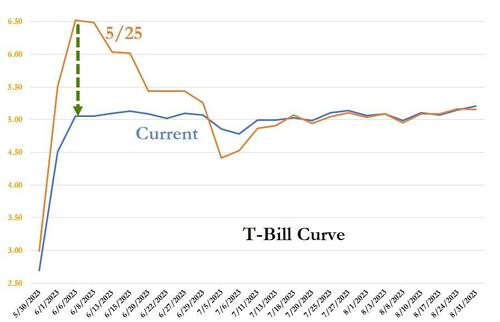 And USA sovereign risk eased a smidge...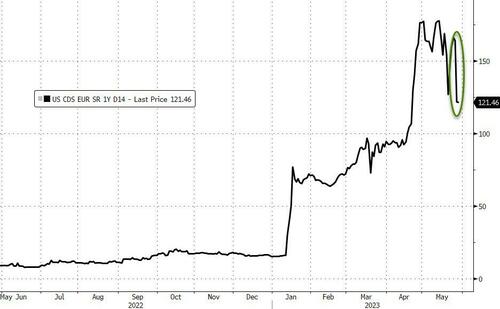 Source: Bloomberg
On the macro-economic side, home prices were steady (but down YoY NSA), consumer confidence declined (with labor market signals weaker), and Texas manufacturing shit the bed.
On the micro side, it was all about NVDA as talk of an AI Supercomputer over the weekend pushed the giant chip company above a $1 trillion market cap...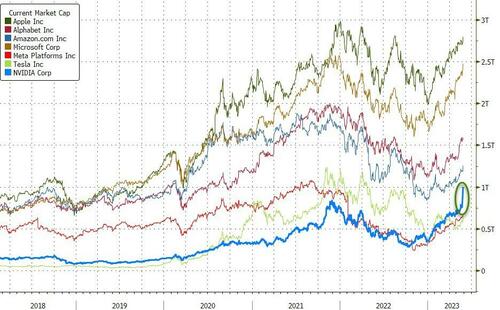 Source: Bloomberg
NVDA supported Nasdaq and S&P.
Around 1330ET, Richmond Fed's Tom Barkin dropped a clanger, admitting that "inflation will be more stubborn than many hoped," adding that "however, I look at it, the inflation rate is too high." That legged the broad equity markets lower again, dragging Nasdaq down to almost unchanged (and NVDA down to $400) before the machines got back to work and lifted things.
By the close, Dow and Small Caps were the laggards, S&P hovered around unch, while Nasdaq clung to gains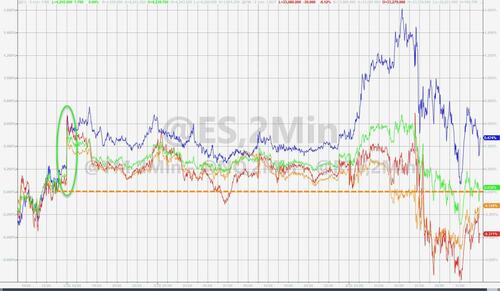 0-DTE traders started pressuring NVDA shortly after the open but also defended the $400 level and sparked a market ramp late on...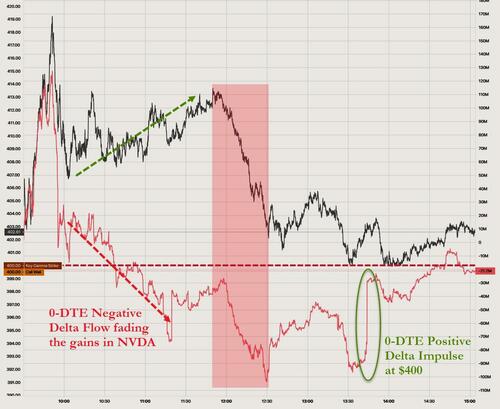 The machines defended NVDA $400 like crazy today ($404.50 ish was the threshold for $1 trillion market cap)...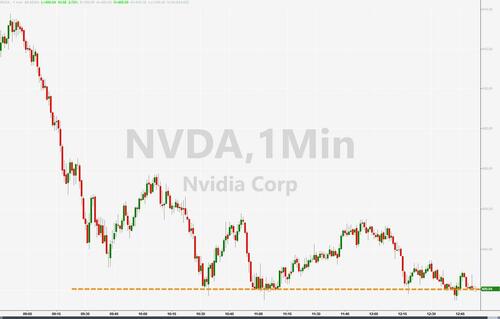 C3.AI soared over 30% today (ahead of its earnings tomorrow)...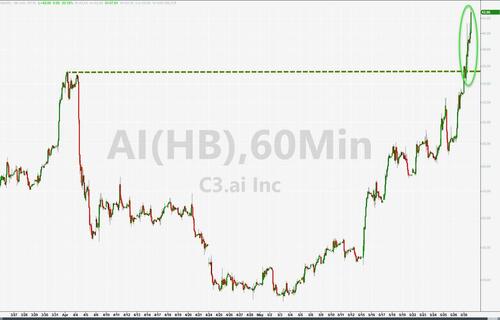 ...on a massive gamma squeeze...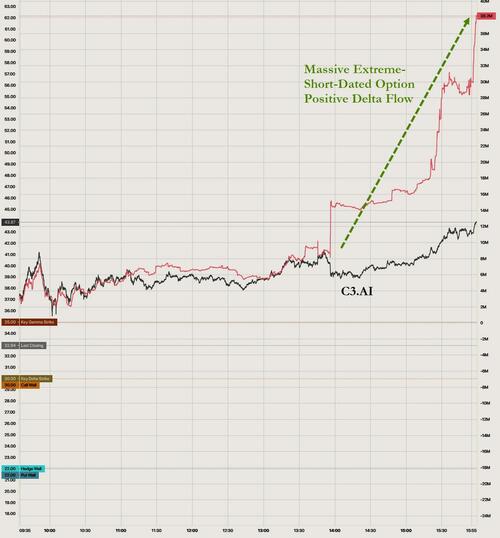 We also note that index overlay selling hit the Nasdaq BEFORE NVDA rolled over...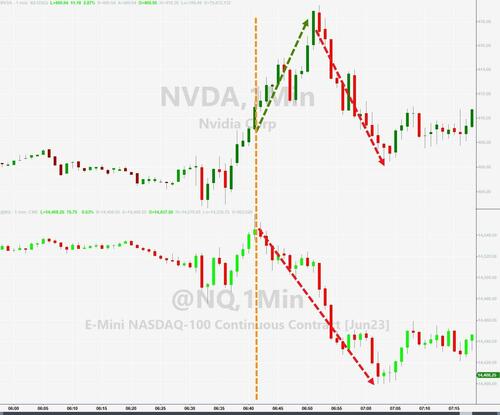 Oh, and then there's this shitshow in market breadth... probably nothing right?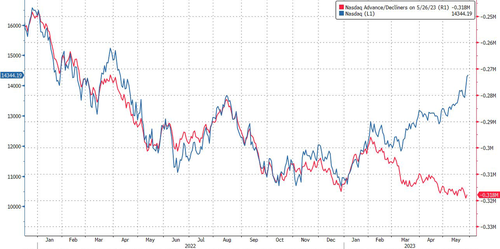 Source: Bloomberg
Bonds were bid all day (after yesterday's time off) with the short-end outperforming (2Y -11bps, 30Y -6bps)...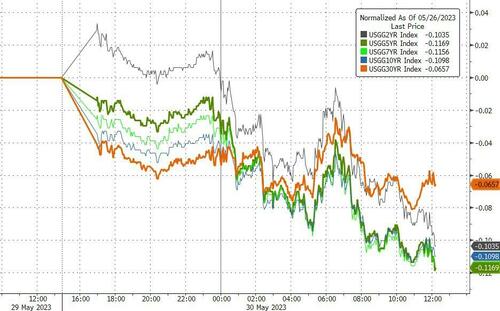 Source: Bloomberg
Rate-hike expectations for June, July, and September all rose notably today - especially July which is now pricing fully a 25bps hike...(NOTE that at the other end of the STIRs curve, expectations for rates in Jan '24 dovishly dropped today)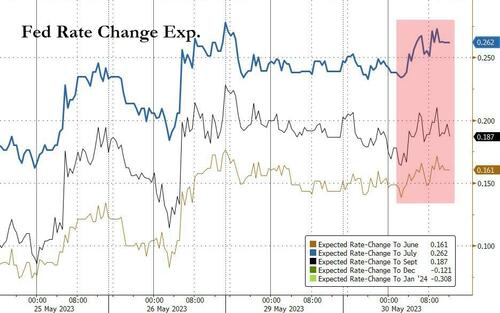 Source: Bloomberg
The dollar chopped around all day but ended slightly lower...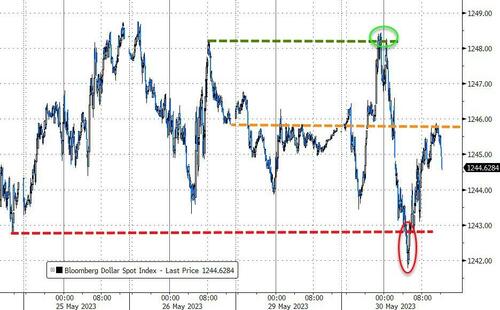 Source: Bloomberg
Bitcoin rallied over the weekend on debt ceiling deal news and is up notably since Friday's close...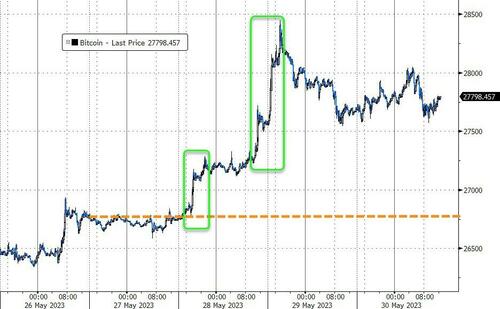 Source: Bloomberg
Interestingly, US wheat prices fell below those of corn for the first time since 2013...
Source: Bloomberg
Oil prices tumbled with WTI breaking back below $70...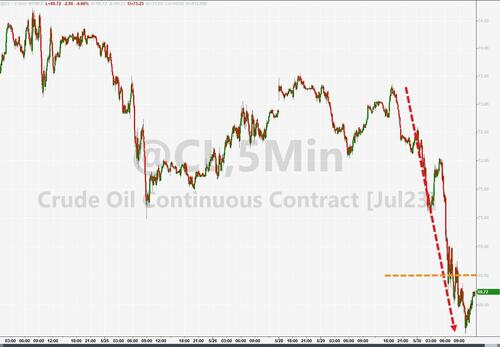 Gold ramped back up to recent resistance today...
Finally, two fun charts to think about.
First, the last time the Nasdaq 100 (mega-cap tech) was this high relative to the Russell 2000 (small caps), things did not end well...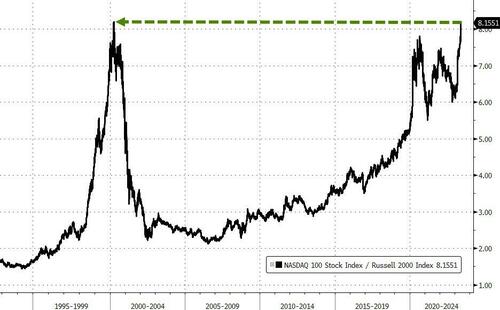 Source: Bloomberg
And second, what if this AI-gasm is all about dragging forward future sales (a la COVID supply chain corruption)?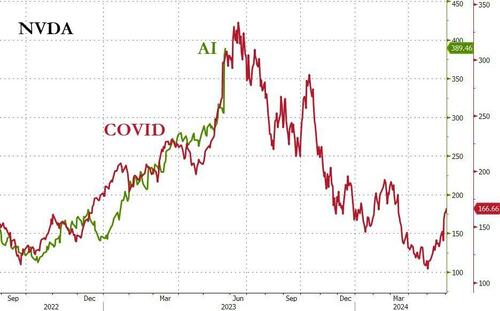 Source: Bloomberg
Just some food for over-exuberant, chasing thought.
Loading...