---
Bonds Jump, Stocks Dump As VIX Curve Signals Trouble Ahead
US Treasuries continue to be bid with 10Y yields tumbling this morning, now down 16bps from the late March high yields...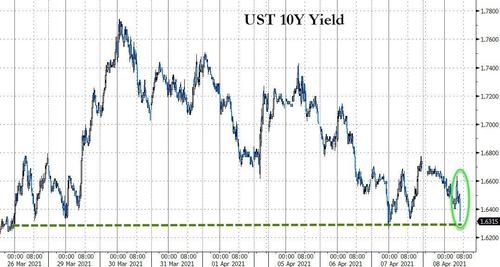 Source: Bloomberg
And the US cash open triggered an avalanche of selling in stocks, with Small Caps (red) the hardest hit out of the gate. Nasdaq (blue) is outperforming...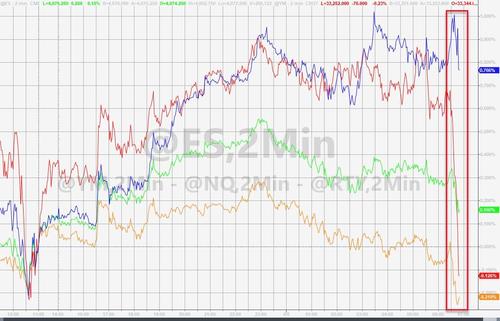 And there are signs of anxiety brewing. While spot VIX languishes complacently at pre-pandemic lows, Bloomberg notes, the middle part of the VIX curve that shows expectations for late summer and early fall tells a different story.
The spread between the VIX Index and implied 30-day volatility four months from now stands near the highest level since 2012.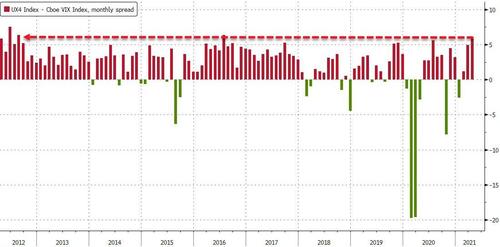 Source: Bloomberg
"It is not unrealistic to think that there are some who are hedging the idea that some modest selling could spiral into something more meaningful in late summer/early fall," said Steve Sosnick, chief strategist at Interactive Brokers, who cited uncertainty about the infrastructure bill as one of the reasons behind volatility traders' anxiety.
"Until this summer, the infrastructure bill and any associated tax increases are mostly theoretical. That debate is likely to heat up and become something potentially tangible this summer."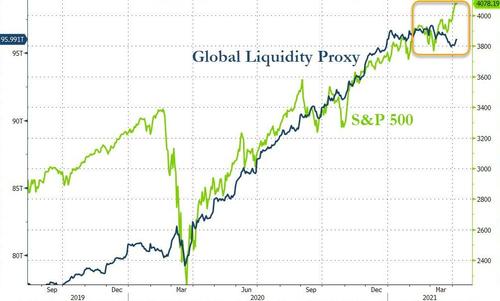 Source: Bloomberg
Perhaps the reality of slowing global central bank sponsorship for stocks is beginning to kick in. And judging by the resurgent flows into money market funds, it appears risk appetite may be falling...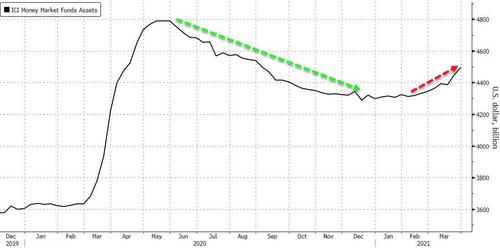 Source: Bloomberg
Get back to work Mr.Powell!