---
Dollar Death-Cross Looms As Rate-Cut Hopes Soar Ahead Of Powell Speech
Financial Conditions continue to ease since The Fed Minutes specifically warned against "unwarranted" easing of financial conditions...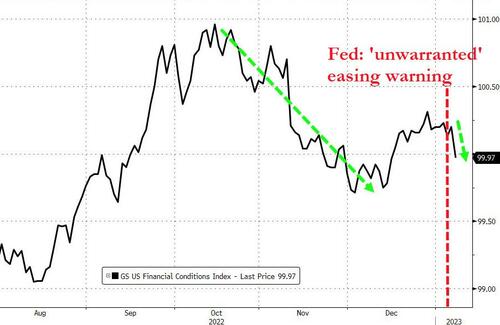 Source: Bloomberg
Brace for Powell to go full Jackson-Hole tomorrow to assuage this kneejerk response asap.
SF Fed's Mary Daly started the ball rolling today at around 1230ET, noting that "getting inflation down to 2% won't be complete this year," with a 5% terminal rate, strongly hinting at The Fed's constant narrative of no-rate-cuts this year (despite the market's anticipation of it accelerating dovishly)...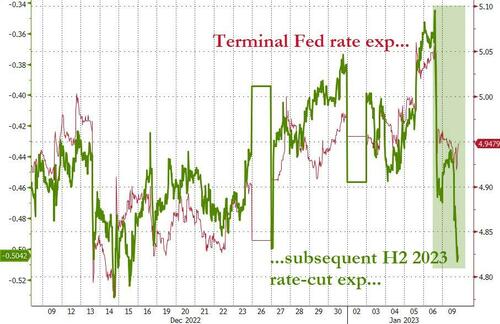 Source: Bloomberg
Bostic also piled on, saying that he favors hiking rates to 5-5.25% then on hold through 2024.
"We are just going to have to hold our resolve,"  Bostic told the Atlanta Rotary Club.
Asked by the moderator how long he saw rates above 5%, Bostic said:
"Three words: a long time... I am not a pivot guy. I think we should pause and hold there, and let the policy work," he said.
The market continues to ignore the jawboning.
NYFed Inflation expectations fell today along with a record drop in the Manheim Used Car price index - both of which should be 'dovish' for markets (giving The Fed more room to pause), but it appears the Daly/Bostic doublespeak raiused too many concerns about Powell's promises tomorrow.
Stocks just straight up ignored the FedSpeak and extended the 'soft landing' narrative easing of financial conditions with Nasdaq the significant outperformer. But, it seems the afternoon saw some recognition of the event risk from Powell tomorrow and stocks started to get hit, sending The Dow and S&P back to unchanged. Notably, US equities peaked at the European close (again)...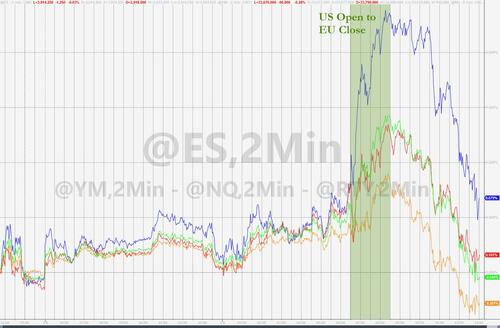 The S&P rallied above its 50- and 100-day moving-average, but faded back below the 50DMA in the last hour...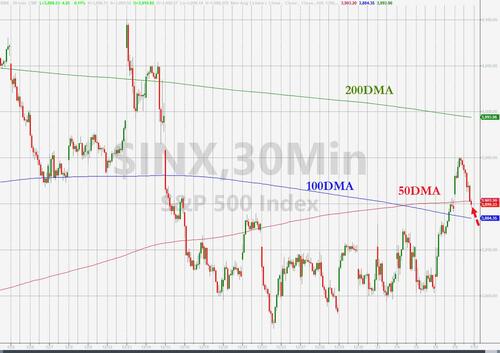 Treasuries extended Friday's gains with yields down 4-5bps on the day across the curve. The short-end continues to notably outperform post-payrolls...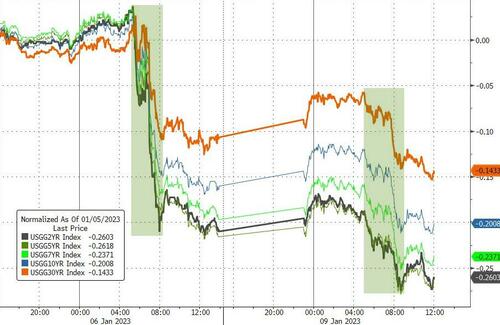 Source: Bloomberg
The dollar continued sliding today, now at its lowest since June 2022 (and a death cross is looming)...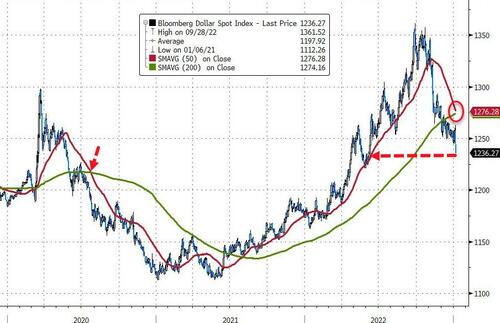 Source: Bloomberg
Despite the chaos in Brazilia, the Real was only very modestly lower...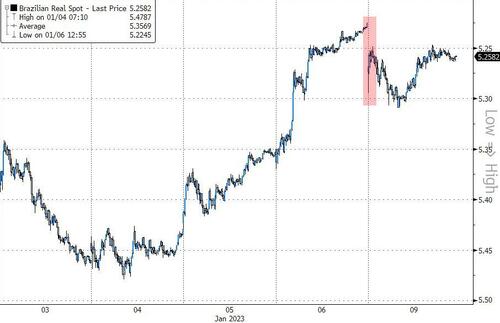 Source: Bloomberg
Bitcoin rallied overnight after a dull weekend, spiking back above $17,000...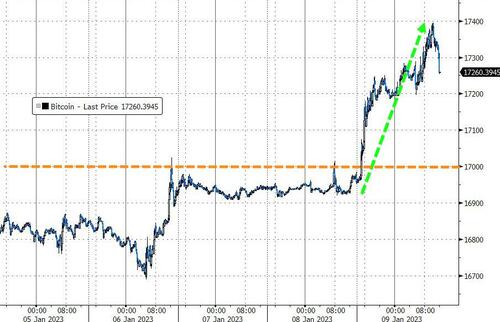 Source: Bloomberg
Gold extended gains (to its highest since May 2022)...
Oil prices rallied today with WTI topping $76.50 before fading back to a $74 handle...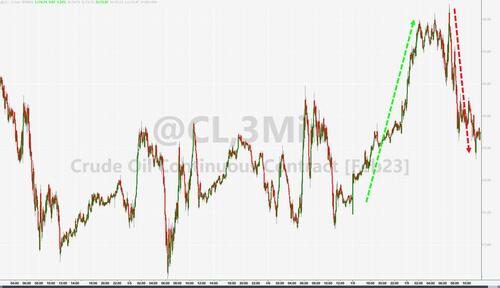 NatGas prices were higher on the day but pumped and dumped during the US day, topping $4.10, finding hard resistance, then tumbling back to $3.90 (still up5% on the day)...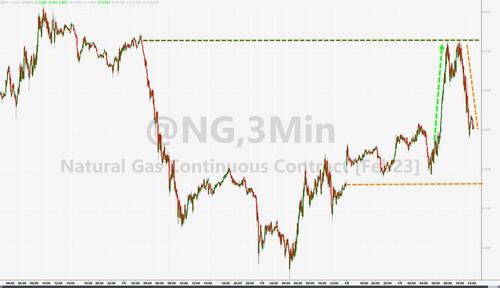 Finally, despite all the jawboning, financial conditions are really dovishly decoupling from terminal rate expectations (and Fed expectations)...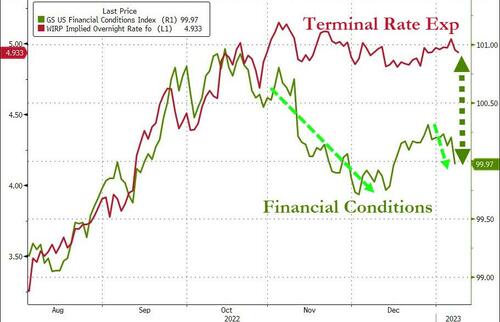 Source: Bloomberg
Powell's gonna be pissed!
And Fed reserves suggest US equity market has some catching down to do...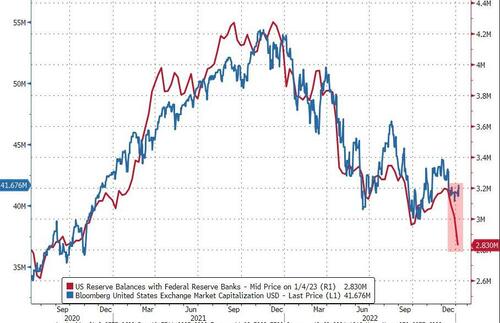 Source: Bloomberg
That would be unexpected as no one is protecting their downside (with skews nearing record lows)...
Loading...