---
Boris Johnson's Brexit Deal Clears First Vote As Pound Slides 
As was widely expected given the Tories massive majority in Parliament, Boris Johnson's Brexit withdrawal agreement has cleared the first procedural vote in Westminster, setting the stage for its eventual passage, which will lead the UK to exit the European Union on Jan. 31.
The pound didn't react much to the news. Instead, it continued to trade near its lows of the session. The British currency is on track to cement its worst weekly drop in two years, as traders fear Johnson's insistence that he won't extend the Brexit transition period beyond the end of next year.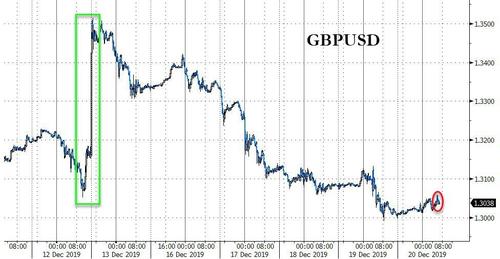 The bill passed by a vote of 358 to 234, a majority of 124. It now goes on to further scrutiny in parliament. Of more concern to traders (as mentioned above), the bill also contains a provision that would prohibit any extensions of the Brexit transition period past the end of 2020.