---
"A Break Of This Level Will Trigger Colossal Selling..."
FANG Stocks have plunged to two-month lows...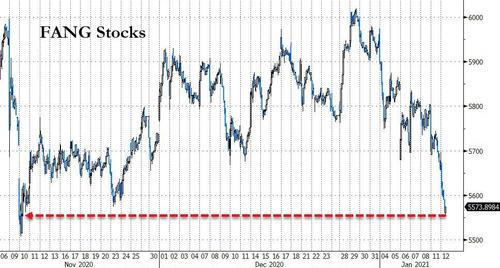 And ahead of this week's option-expirations, the S&P seems pinned around its critical Gamma level of 3800...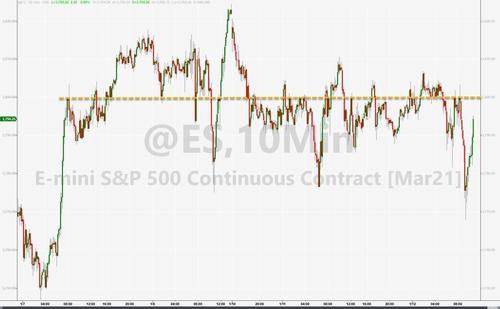 And as SpotGamma notes, realized volatility is further coiled ahead of the large expiration. This volatility could manifest in either SPX price direction as we "unpin" the 3800 level. The VIX (24) remains well above post Covid lows (20) indicating the market is pricing in higher forward volatility as well.

And Treasury yields continue to push higher...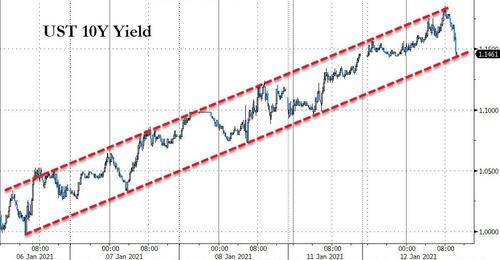 All of which could be potential catalysts for a big move in Growth/Value, as The Bear Traps Report warns:
West Coast CIO: Keep an eye on the ratio IWF / IWD (Russell 1k growth to value) and its major neckline...

We've touched this multiple times in the last 8 months.

If we break this level, growth equities are in big trouble, Tesla is of course a huge weight in the Growth ETF.

You want to short this ratio on a break, very good risk/reward technically. Short with a 2% stop, with a 12% target on the ratio. (This comes from one of the most knowledgeable tech/growth equity managers we know, very important).

This neckline has held as each of the growth to value tremors have picked up with the intensity, a break will trigger colossal selling.
We look for volatility to arrive next week as large positions roll off Friday.