---
Bud Light Backlash Shows No Sign Of Letting Up, And Now There Is Contagion To Budweiser, Busch And Michelob
It will probably not come as a surprise to anyone - except some woke millennial Harvard MBA grad - but Bud Light volume and sales declines have worsened, according to the latest industry point-of-sales data, suggesting the tranny-influencer backlash is showing no signs of letting up.
As Bloomberg's Janet Freund notes, the most recent third-party point-of-sales data from both Circana (formerly IRI) and Nielsen show that declines in Bud Light dollar share, volume share and sales have continued to worsen.
"Bud Light's US market share slide continued in the latest Circana market scan to 8.3% in the 4-week period ended May 7 compared with 9.1% only two weeks prior," Bloomberg Intelligence analyst Kenneth Shea said, citing IRI data
"With other top AB InBev brand share also eroding as well, it appears that the company is in need of a pivotal marketing strategy to halt the trend," he says, adding that Coors Light, Miller Lite and Modelo still appear to be "soaking up the lost share."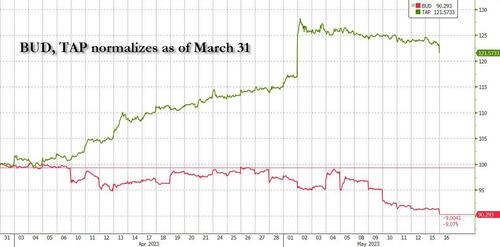 Citi analyst Simon Hale examined the latest US Nielsen data through May 6: Bud Light volume declines accelerated to -27.4% compared with -26.6% in the week ended April 29, while sales worsened to down 23.9% from down 23%, he writes
"Moreover, there continues to be contagion to the wider ABInBev brand portfolio, with Budweiser, Busch and Michelob all weak," while competitors like Coors Light "continue to see share gains accelerate," Hales says.
The latest data show "little sign that consumers are moving on from the Bud Light controversy."
Loading...