---
Bud Light 'Booted Out' Of Top Ten List Of Most Popular Beers
Three months ago, we were among the first (read here from April 2) to shine the spotlight on Bud Light's Dylan Mulvaney campaign. This public relations disaster has left the parent company Anheuser-Busch in shambles as nationwide boycotts of its beer portfolio persist. 
A new poll from YouGov shows Bud Light ranked number 15 on the list of the most popular beers in the US in the second quarter. One year ago, Bud Light was ranked number 9 in the same quarter.
In terms of generation, millennials ranked Bud Light number four on their list of most popular beers, Generation X had it slotted at number 18, and Baby Boomers ranked it number 21.
Based on the gender of all participants, Bud Light ranked number 13 for men and 17 for women. 
In a separate poll from mid-June, NielsenIQ data from consulting firm Bump Williams found Bud Light lost its spot as the number one selling beer in America to Mexican lager Modelo Especial. 
In June, Anheuser-Busch attempted to stop the hemorrhaging of its customer base by releasing a new ad mocking its customers -- yet another PR disaster. Still, that didn't work. And another terrible ad campaign to revive the brand failed ahead of July 4. 
Deutsche Bank analyst Mitch Collett warned Bud Light is looking at a permanent loss of nearly 25% of its business. 
Bud Light's self-destruction in three months has destroyed many of its distributors that are left with mounting stockpiles of the beer. Even a glass factory that produces bottles for the brewer had to shutter factories and begin layoffs because of collapsing demand. 
Since the boycott, Anheuser-Busch has lost 20% of its market capitalization -- or about 28 billion dollars.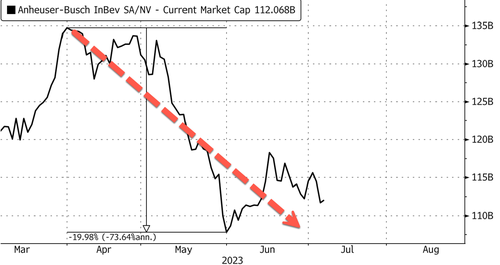 Bud Light has not apologized to its core customer base for pushing a transgender agenda.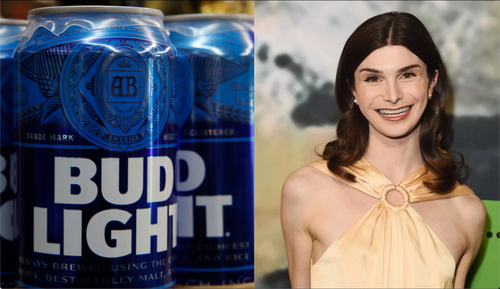 Meanwhile, former Anheuser-Busch President Anson Frericks criticized current management during a recent interview on Fox News:
"This chasm that we're seeing between Bud Light and its consumers is only going to intensify because every time you come out with one of these weak statements or some of these just platitudes," Frericks said. "That's not addressing the problem. And until you address the problem, I don't see consumers coming back and coming back to this brand."

"We're in the fourth month of this right now … This is something that should have been addressed three or four months ago by clearly coming out and saying: hey, Bud Light historically was always a brand that didn't get involved in politics," he said.
Unlike previous years where corporate America could get away with pushing all sorts of 'woke' propaganda on its customer base -- many folks are awakening from a deep sleep and becoming activists. Corp execs must respect their customer base or face boycotts. 
The demise of Bud Light is a perfect time for local breweries to shine. 
Loading...