---
Bud Light Marketing Executive Goes On Leave After Disastrous Trans-TikTok Stunt
Anheuser-Busch InBev has made an abrupt decision to change the marketing leadership of Bud Light just three weeks after the brand attempted to position itself as the king queen of "woke" beers with the help of a transgender TikTok influencer partnership. 
Ad Age reported Friday that Alissa Heinerscheid, vice president of marketing for the beer, has taken a leave of absence. Bud Light confirmed she would be replaced by Todd Allen, who was recently the global marketing vice president for Budweiser.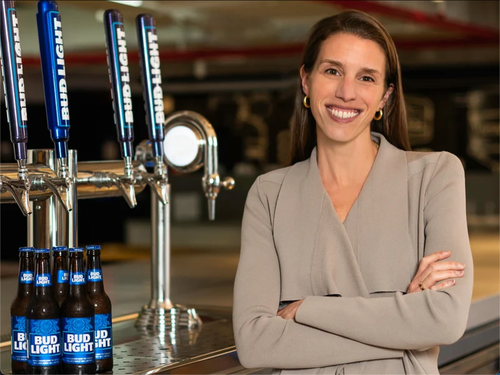 In order to prevent a market disaster similar to the one sparked by Heinerscheid, a spokesperson for the company stated that top-level execs will be closely monitoring Bud Light's marketing activities, adding that "these steps will help us maintain focus on the things we do best: brewing great beer for all consumers, while always making a positive impact in our communities and on our country."
Recall on April 2. We were one of the first to report "Did Bud Light Go 'Woke' With Trans-TikTok Star? Boycott Calls Intensify." The trans-TikTok influencer is Dylan Mulvaney, who believes he is a woman.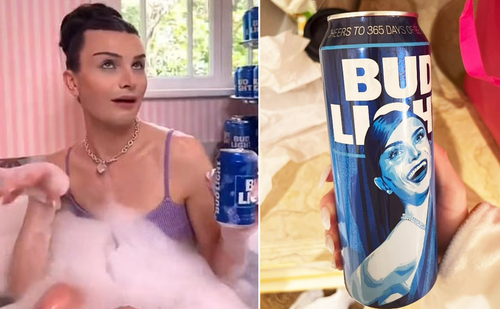 Days later, an interview from March surfaced on Twitter showing that Heinerscheid, a middle-aged, upper-income, highly-educated, progressive white woman, discussed the need to shift Bud Light away from the "out of touch" frat party image to one of "inclusivity."
Alissa Heinerscheid, Bud Light's VP of Marketing, doubles down on her extreme woke strategy to promote the "declining" American beer brand to "young people", while smearing her former customers as "fratty and out of touch".

How's that working out for you, lady? @budlight pic.twitter.com/zNYKbMnZnu

— Old Row (@OldRowOfficial) April 9, 2023
Well, Heinerscheid's out-of-touch perception of reality and lack of understanding of the all-important consumer cost Bud Light's parent company Anheuser Busch more than $6 billion in market cap. It also led to a nationwide boycott of the beer as bar owners and distributors reported sharp declines in sales.
According to Bloomberg data, news stories about "boycott Bud Light" soared following Mulvaney's ad with the brewer.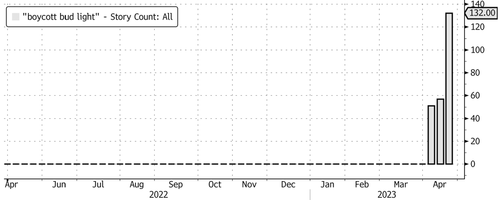 We suspect senior execs did not approve Heinerscheid's LGBTQ+ ad campaign, hence her departure. But if it did, it likely was a move to boost the brewer's Corporate Equality Index score. 
The biggest takeaway from Bud Light's ad blunder is that the American people aren't ready for men pretending to be women serving as spokespersons for companies. And don't take our word on it. Polling data from Rasmussen found a majority of folks support a boycott of Bud Light. 
Loading...