---
Bullard Bloviation Sinks Stocks After S&P Tops Year-End Analyst Estimates
The S&P 500 surpassed its average 2021 year-end target price already...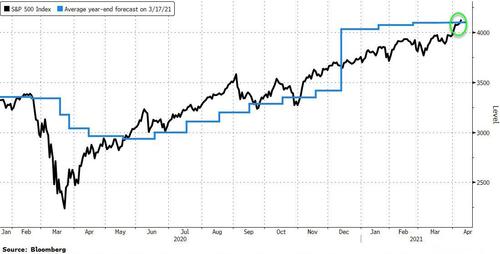 Source: Bloomberg
But that seemed to be the limit... for now. US equity markets roller-coasted around since the futures opened.
Futures leaked lower from Sunday's open (after Friday's manic meltup), after weekend news that a new study shows that the South African variant may evade protection from the Pfizer vaccine. Once Asia closed and Europe opened, stocks went bid, ramping back to unchanged by the US cash open, which was met with selling... then a big rebound again at the EU close which got us back to unchanged only for The Fed's Jim Bullard to burst the brief bubble. However, echoing Friday's malarkey, the last hour or so saw another panic-bid. Then with minutes to go some Ukraine/NATO headlines seemed to spook stocks a little. The S&P ended unchish, Small Caps were worst with Dow and Nasdaq modestly lower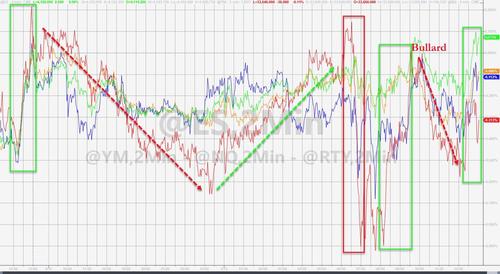 Bullard specifically suggested taper talk could begin when vaccination rates hit 75% (which could be within 2 months) and his timing coincided with a stop run to Friday's highs, sparking a the downswing...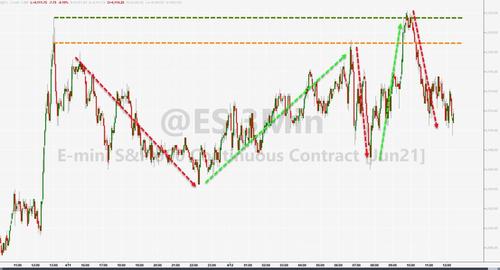 The S&P 500 ETF (SPY) has now closed above its open for 12 straight days... its longest such streak since Jan 2013...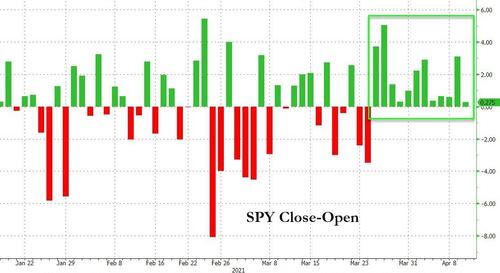 Source: Bloomberg
High yield bonds are not buying this exuberance in equity land...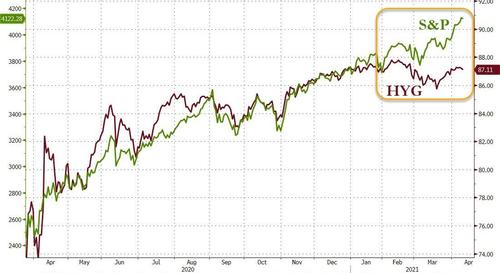 Source: Bloomberg
Treasuries were sold modestly today amid huge supply with the belly underperforming (5Y +2.5bps, 30Y +1bps). Asia was a buyer, Europe was a seller and US trod water...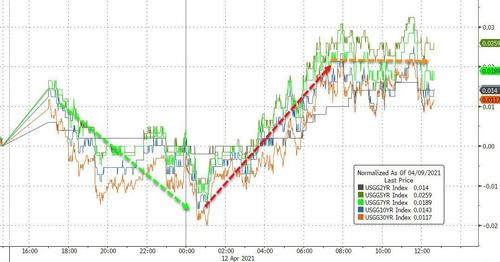 Source: Bloomberg
10Y yields traded in a narrow range inside of Friday's high and low yield...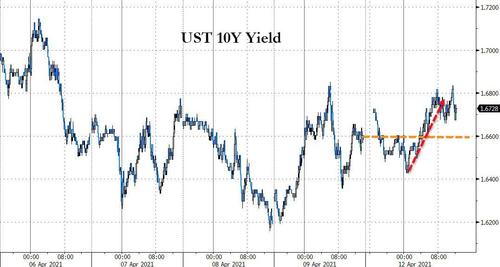 Source: Bloomberg
Real yields continued to tread water...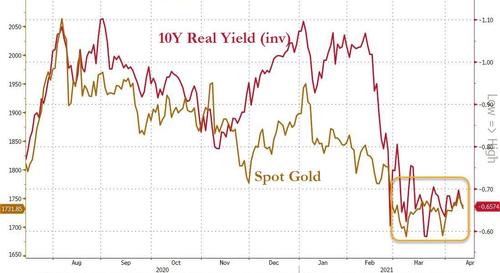 Source: Bloomberg
The dollar oscillated about but ended unchanged...
Source: Bloomberg
Bitcoin topped $61k over the weekend and has chopped around since...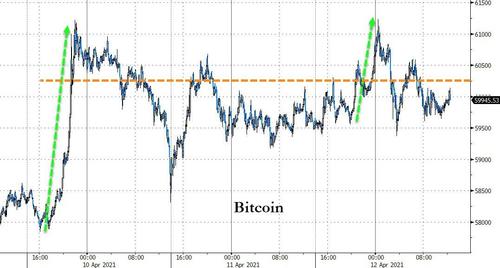 Source: Bloomberg
Similar picture for Ethereum which tagged $2200
Source: Bloomberg
Gold and Bitcoin have seriously diverged recently with correlation near record (negative) lows...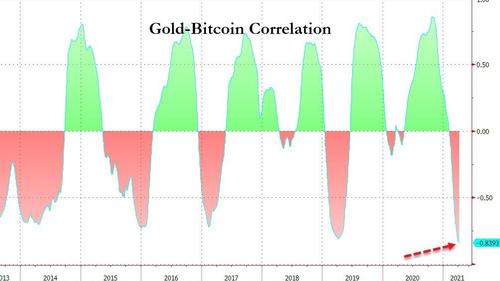 Source: Bloomberg
Silver was the worst performer in commodity land as oil prices managed modest gains...
Source: Bloomberg
WTI chopped around but couldn't hold $60 again...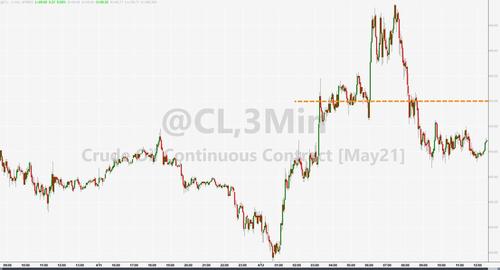 Silver fell back below $25...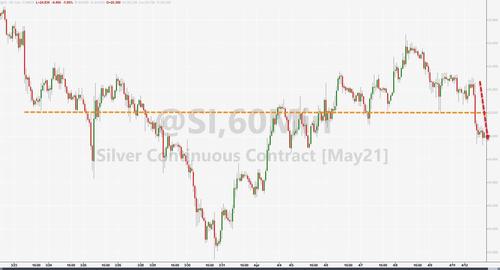 Finally, let's circle back to Bullard's bloviation on the timing for tapering the central bank's bond-buying program, citing a 75% vaccination rate as a possible threshold to start the debate. That amounts to roughly 240 to 250 million vaccinations, and assuming two doses per person, we're nearly 40% of the way there.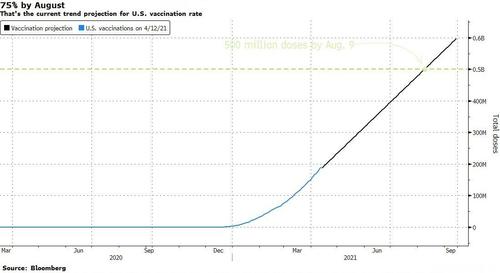 Source: Bloomberg
Following the innoculations trend since the start of March, we're on pace to hit 500 million total doses by Aug. 9 -- a milestone that would conveniently come just before the Fed's Jackson Hole Symposium.