---
Bund Yields & ECB Rate-Hike Odds Jump After Mixed Messages From EU Inflation
Despite declining inflation prints in Spain, Italy, and Germany, short-end bund yields are rising this morning...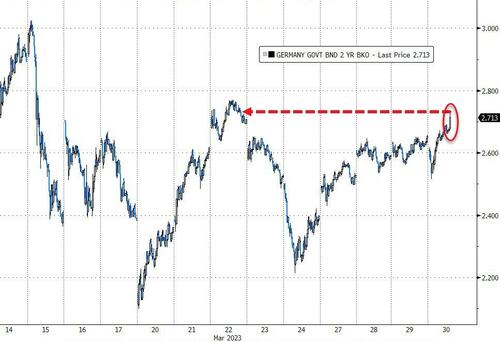 Source: Bloomberg
The slowing inflation prints, of course, are helped by the base effects of the collapse in energy prices is helping...
Source: Bloomberg
...but as is clear from the data below, there is more 'stickiness' to overall inflation than hoped (beyond energy)...
Spanish CPI plummeted as energy costs retreated. March's headline reading came in at 3.1% YoY, down from Feb's 6% YoY and much lower than the 3.7% YoY expected. However, core CPI - excluding volatile items like fuel and fresh produce — only dipped a smidge, to 7.5%.
Italy's domestic producer prices fell 1.3% MoM in Feb, versus -9.9% MoM in Jan, with YoY PPI slowing to +10.0% from +11.6% in Jan.
German CPI eased significantly in preliminary March data with the headline (Eu Harmonized) print down to +7.8% YoY (from +9.3% YoY in Feb). However, the 7.8% print was considerably hotter than the expected +7.5% YoY (and is the second month in a row of hotter than expected inflation for Europe's largest economy). Notably, Bloomberg reports that wages are a key factor that officials are monitoring for signs that price growth is becoming entrenched. Talks with workers in Germany's public sector, who want a double-digit pay rise, ended without a deal overnight and will go to independent arbitration.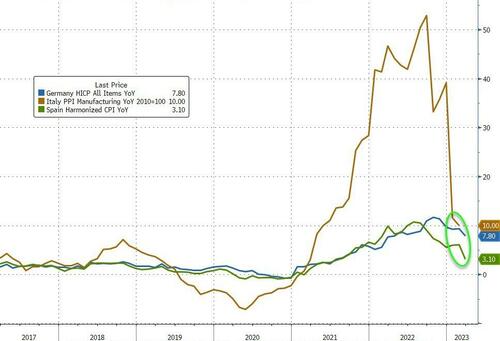 Interestingly, ECB rate-hike expectations have risen intraday as this inflation data hit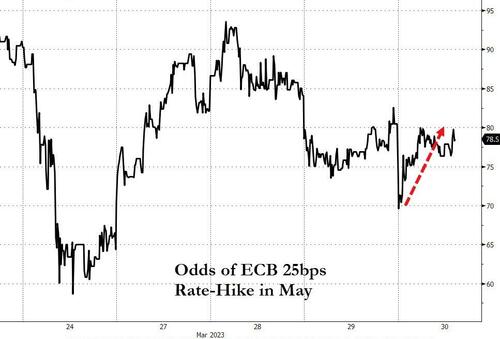 How the country-level figures feed through to the 20-nation euro zone will be revealed Friday, with analysts expecting the main measure of inflation to slow to 7.1% even as the core gauge ticks up to a record 5.7%... and none of today's data helps to adjust that core print expectation lower.
Loading...