---
Buttigieg Blames Weather; FAA Blames Air-Traffic Controller Shortage On Flight Disruptions
Transportation Secretary Pete Buttigieg is bad at his job: lying. 
On CBS's "Face the Nation," Buttigieg blamed flight delays and cancellations nationwide exclusively on severe weather and said travel disruptions were improving. However, a recent report by the Office of Inspector General for the Department of Transportation revealed that a shortage of air-traffic controllers is the actual cause. For someone potentially eyeing the presidency, Buttigieg must get better at the 'art of lying.'
Perhaps Buttigieg did not read the report titled "FAA Faces Controller Staffing Challenges as Air Traffic Operations Return to Pre-Pandemic Levels at Critical Facilities," published by the agency he heads.
The report squarely points the blame on severe "staffing challenges and lacks a plan to address them, which in turn poses a risk to the continuity of air traffic operations." 
During the forced government shutdown of the economy during the virus pandemic, the FAA paused air traffic controller training for nearly two years -- "significantly increasing controller certification time," the report said. 
"FAA will not know the full impact of the training suspension on certification times for several years because training outcomes vary widely, and it can take more than 3 years to train a controller," the report continued, warning, "Due to these uncertain training outcomes, FAA cannot ensure it will successfully train enough switches in the short term."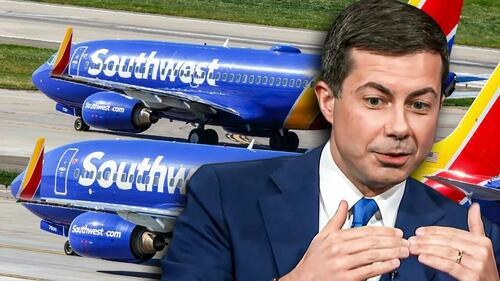 As a result, there's a nationwide shortage of air traffic controllers. For instance, the New York Terminal Radar Approach Control is staffed around 54% -- the lowest in the country. And at the Miami Tower, about 66%. Normal staffing levels are considered over 85%. 
Buttigieg did point out in the interview, "We're hiring 1,500 new air traffic controllers this year." 
So flight disruptions will be sticking around for several years because of an air traffic controller shortage- not because of severe weather. 
Isn't it always convenient to blame 'climate change' for everything?
Loading...