---
"Buy The Dip And Sell The Rally" - What Hedge Funds Are Doing In The Current Market Turmoil
After a catastrophic start to the year for hedge funds, which was followed by an epic shorting frenzy before hedge funds reversed and rushed to buy all risk assets last week, which reaffirms the common them seen across 2022 - nobody has any idea how to trade this market.
Still, the good news is that after a dismal beginning, hedge funds performance has stabilized modestly and as Goldman Prime writes in its latest weekly note, the GS Equity Fundamental L/S Performance Estimate rose for a 2nd straight week by +2.71% between 2/4 and 2/10 (vs MSCI World TR +1.19%), driven by beta of +1.41% (from market exposure and market sensitivity combined) and alpha of +1.31%, representing the best weekly alpha returns in the past year.

Thanks to this performance rebound, overall book gross leverage increased 2.9% to 238.6% (46th percentile one-year) and Net leverage also rose 1.2 pts to 79.5% (2nd percentile one-year). Still, overall book L/S ratio little changed at 1.998 (lowest since Jul '20). Fundamental L/S Gross leverage +2.5 pts to 178.7% (59th percentile one-year) and Fundamental L/S Net lev erage +2.5 pts – the first increase in 7 weeks – to 60.2% (6th percentile one-year).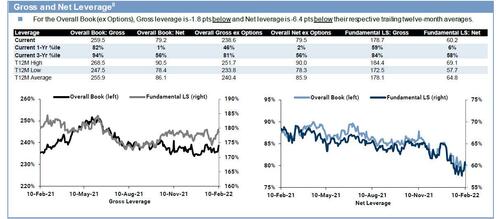 Not surprisingly, just days after Goldman Prime reported the biggest bout of shorting in history...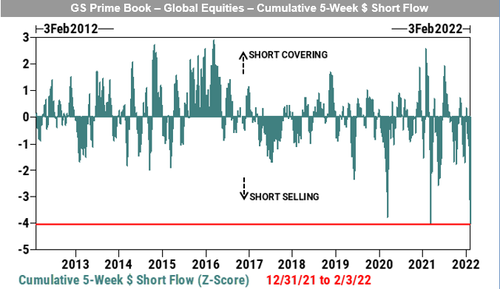 ... The GS Prime book saw the largest net buying since late December (+1.0 SDs), driven by risk-on flows with long buys outpacing short sales 8 to 1. Net flows diverged between Single Names (3rd straight week of net buying) and Macro Products (4th straight week of net selling); suggesting a shift of focus to micro variables. Furthermore, as GS Prime notes, all regions were net bought led by North America (driven by long buys) and to a lesser extent DM Asia (driven by short covers). 8 of 11 global sectors were net bought led in $ terms by Info Tech, Materials, Financials, and Consumer Disc, while Comm Svcs and Energy were the most net sold.
Net buying in US Info Tech continued this week but hedge funds sold Non Profitable Tech stocks (GSXUNPTC) in each of the past three days, suggesting that managers faded the group's price rally this week amid a growing focus on profitability. While price of the Non Profitable Tech basket is down nearly 50% from its all-time high, net exposure in the group remains well above historical averages.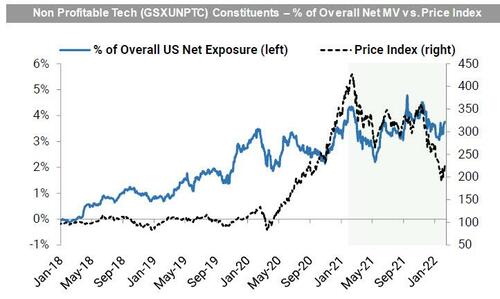 US Financials have been net bought for five straight days led by long buys and short covers in Rate Sensitive Financials amid a higher than expected US CPI print and higher bond yields. Despite this week's buying activity, net exposure in Rate Sensitive Financials – at just 1.3% of the overall US single name book – remains well below its long-term average in the 63rd percentile vs. the past year and in the 37th percentile vs. the levels seen going back to Jan '18.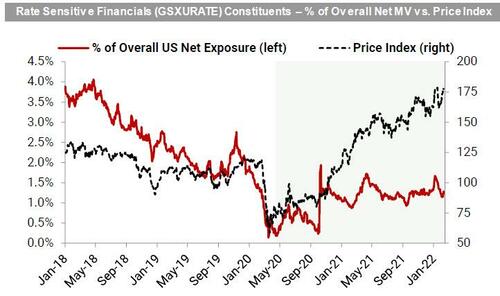 From Goldman, we switch to JPMorgan's Prime desk which writes that in light of the volatility we've continued to see in equity markets recently, "it's interesting to note that while we didn't see clear signs of consistent HF capitulation a couple weeks ago, post some dip buying 2 weeks ago, we have also not seen a desire to add much additional risk over the past week."
If anything, the bank notes that "sell the rally" behavior has been apparent in some parts of the market (generally in the US and somewhat specifically in Tech).
So what has JPM Prime seen, what has it not seen, and what is it watching that could have broader HF & market implications?
What have we seen recently?
Buy the dip & sell the rally behavior
In US, a recent shift to selling Value (but Growth sold as well). That said, Tech still most bought in past month (albeit recent selling into strength) with Banks also bought over the past week and month
In Europe, re-buying of Banks (two weeks ago) and continued selling of Luxury Goods
Leverage fairly stable with Quants adding most to exposure and increasing gross leverage
Performance above the worst levels YTD, but still challenging for L/S and better for Quants & Multi-Strats
What have we not seen (which are notable in light of market sell-off recently)?
Broad de-grossing or persistently large net selling
Outsized hedging via ETF shorts
Recent selling areas that have underperformed (e.g. software, exp software, biotech, semis) and a lack of buying Energy despite strong performance
What JPM is watching for in the near term?
High Vol / High SI stocks – is the bottom in, especially relative to the broader market? A rally in "risky" factors could be helpful for Equity L/S longs, but it still seems too early to say whether or not we've seen the low for these factors
Could a rally in shorts cause broader de-grossing? Shorts have been the common factor helping HF performance across strategies in recent months…but if this reverses and hits all strategies, could this cause a broader de-gross event?
What would happen during a "double dip" (i.e. a second market drawdown) that puts the S&P near or below the Jan lows? How would funds react? Historically, many of the short term rallies (c. 5-6%) in markets post initial decline have been followed by a second drawdown of c. 10% (based on 23 events since 1990)
In general, JPM concludes that there were some data points across volatility metrics, retail & ETF flows, as well as a few HF-related points that suggested a fairly negative change in positioning right near the Jan low. Thus, there might still be room for further upside in near term, but how the market rallies and whether we see a "double dip" will be important to watch.