---
"Buy Now, Pay Later" Mania Sends Americans Deeper Into 'Black Hole' Of Debt
Americans are drowning in credit card debt as elevated inflation makes the cost of living unbearable. About 70% of consumers are financially stressed, which means ones who've maxed out credit cards and drained personal savings amid 24 months of negative real wages are now resorting to "buy now, pay later" (BNPL) apps for basic items like groceries. 
Bloomberg spoke with Faith Smith, a 34yo administrative assistant that is financially stressed, who said she couldn't resist when retailer Target Corp. pinged her email with the ability to BNPL.
Smith said she spends upwards of $500 per month on groceries. She said she already uses BNPL apps to purchase clothing and school supplies for her young daughter, but when the option came up to use it for groceries -- she said it was a no-brainer: 
"It helps for a week or two, but then you're stuck with a grocery bill for a couple of months."
In the last several years, consumers have been addicted to the BNPL apps such as Afterpay, Affirm, Klarna, and PayPal.
Almost half of Americans have used BNPL apps, and of those, about 1 in 5 rely on such apps to buy groceries, according to a recent survey from LendingTree Inc. Some 27% of users use the loans as a bridge to their next paycheck. -- Bloomberg
According to Consumer Financial Protection Bureau, BNPL surged during the pandemic, with five of the main US lenders originating $24.2 billion in 2021, up from $2 billion in 2019. The payment method is an attractive alternative to credit cards, with elevated interest rates.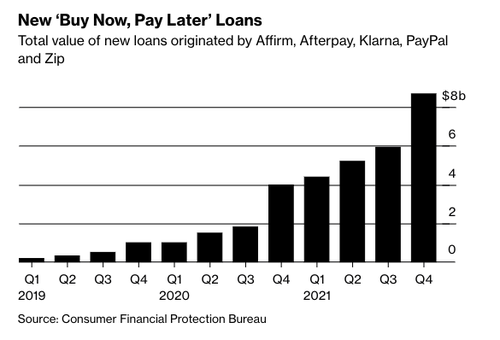 The popularity of BNPL will only soar from here as CNBC's Financial Confidence Survey found most Americans are living paycheck to paycheck. Inflation, economic instability, and a lack of savings led to 70% of respondents indicating they were stressed about their personal finances. 
However, the convenience of BNPL and spreading monthly payments out for a predetermined time, if it's just a few months or several years, can lead to a financial disaster if consumers miss payments, as this would mean late fees would pile up and credit scores would drop. 
"You are putting yourself into the cycle of debt that would be very difficult to get out of," says Terri Bradford, a payments specialist at the Federal Reserve Bank of Kansas City.
LendingTree showed nearly half of the consumers are using BNPL for clothing, shoes, and accessories. About 21% are using it for groceries.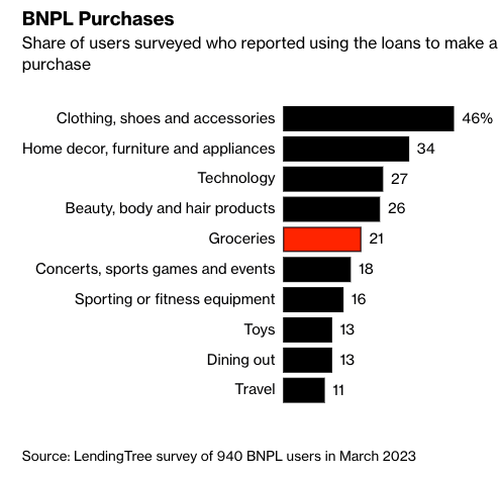 We expect an increasing number of financially stressed consumers will be tapping BNPL for groceries and basic items as macroeconomic conditions continue to sour. 
Loading...