---
Buybacks Storm Back: Here Are The Companies Announcing A Return To Stock Repurchases
Three months ago, we showed that contrary to conventional wisdom and corporate reps and warranties that buybacks had been put on hold for the duration of the covid pandemic, not only were companies still repurchasing their shares but it was the tech names - those who have stormed higher since the March lows - that were the biggest culprits.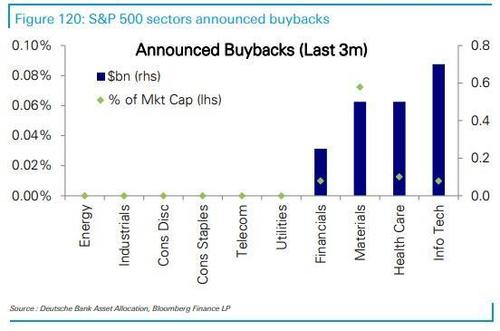 Then, about two months after we first unveiled Wall Street's worst kept secret, the Financial Times also noticed that Corporate America is finding it hard to kick the share buyback habit, even after the US slipped into its worst recession in decades.
Citing Credit Suisse statistics, the FT notes that while total buybacks are indeed expected to drop this year as the downturn caused by coronavirus saps corporate profits, companies in the S&P 500 that have reported second-quarter earnings so far have reduced the number of their outstanding shares by an average of 0.3 per cent from the previous quarter.
Additionally, the latest quarter results showed that some of the largest multinationals continued to buy back their own stock or even accelerated stock repurchases and nowhere more so than the tech names we first highlighted at the end of May.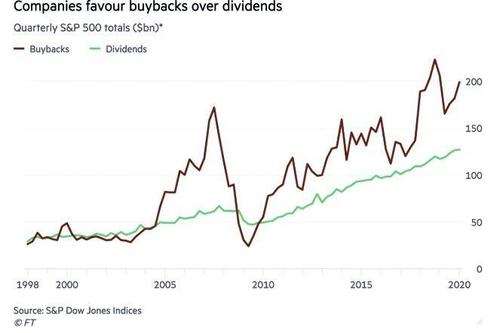 And now, with the stigma surrounding buybacks that sparked a mini frenzy around the time Boeing was hoping for a taxpayer bailout without giving up any equity to the US government completely forgotten, many other companies are joining the party and as Deutsche Bank writes, having pored over hundreds of Q2 earnings reports, "companies have already restarted buybacks or are considering doing so."
MA, Mastercard Inc, Information Technology, US - Sachin Mehra, CFO:
Although, we did not complete any share repurchases in the second quarter, we have recently reinitiated our share repurchase program and quarter-to-date through July 27, we have repurchased approximately 3.3 million shares at a cost of $1 billion.
KSU, Kansas City Southern, Industrials, US - Michael W. Upchurch, Executive Vice President, CFO:
As noted on the first quarter earnings call, we temporarily paused our share repurchase program in March to conserve cash during the period of extreme uncertainty. However, we resumed our share repurchases in the second quarter as we felt more comfortable that volumes were sustainably improving after bottoming out in April and early May.
LIN, Linde, Materials, US - Matt White, Executive Vice President & CFO:
You may recall that we paused the share repurchase program at the end of the first quarter to evaluate potential decaps and other higher priority uses of capital. While certain opportunities did not fit our investment criteria, we are still pursuing others, but expect them to take longer to develop than originally anticipated. Given these developments and our continued significant excess cash generation, we are resuming the share repurchase program.
JCI, Johnson Controls International, Industrials, US - George R. Oliver, Chairman & CEO:
We resumed our share repurchase program and began buying back stock in early July. YUM, Yum! Brands Inc, Consumer Discretionary, US Chris Turner, CFO: We are ending the suspension of our $2 billion share repurchase program. We may resume repurchases should business trends persist and should we continue to gain confidence in the time line for achieving a healthy balance sheet
ORLY, O'Reilly Automotive, Consumer Discretionary, US - Thomas G. McFall, CFO:
As one of the measures to preserve liquidity at the onset of COVID-19, we temporarily suspended our share buyback program in the middle of March. We continue to evaluate business conditions and liquidity. And as a result of this evaluation, resumed our share repurchase program on May 29, 2020
DOV, Dover Corporation, Industrials - US Brad Cerepak, CFO:
We are lifting our recent suspension on share repurchase and we will opportunistically buyback stock should the market conditions dictate.
KMB, Kimberly-Clark Corporation, Consumer Staples, US - Maria Henry, CFO:
Second quarter dividends and share repurchases totaled about $400 million. That was lower than normal because of our decision to temporarily suspend share repurchases for most of the second quarter. As we mentioned in this morning's news release, we will be restarting our share repurchase program beginning tomorrow
SU FP, Schneider Electric SE, Industrials, Europe - Hilary Maxson, CFO:
In terms of buyback, given we're today reestablishing the targets for 2020, the buyback plan as approved by the Board is technically no longer suspended.
IEX, IDEX Corporation, Industrials, US - Andy Silvernail, Chairman and CEO:
We suspended buybacks in the middle of the quarter or the beginning of the quarter, really. We bought pretty aggressively early on as the stock went down and then, with the -- just incredible uncertainty, we paused it. We did have 10b5-1 in place in the second quarter. And so, we're open to repurchase shares.
RHI, Robert Half International Inc, Industrials, US - M. Keith Waddell, President & CEO:
There were no repurchases during the second quarter. We anticipate repurchase activity to commence again in Q3 and at a reduced rate.
JBHT, J.B. Hunt Transport Services, Inc., Industrials, US - John Kuhlow, Interim CFO:
We expect our capital allocation process in the second half of the year to include stock repurchases and previously forecasted capital expenditures, but we maintain a careful watch on a daily basis.
SLG, SL Green Realty Corp., Real Estate, US - Matt DiLiberto, CFO:
As the share repurchases, we remain committed to a disciplined execution of our program, and after a tailing it back in March pending execution of the billion dollar plan, we commenced buybacks again in late May, taking advantage of extraordinarily low share prices as our liquidity plan was executed in an expedited manner.
CBRE, CBRE Group Inc, Real Estate, US - Leah C. Stearns, CFO:
We view our share price is highly attractive to the current levels and could resume repurchases when appropriate, if we are unable to identify suitable and properly priced acquisition opportunities.
STT, State Street Corporation, Financials, US - Ron O'Hanley, CEO:
As we look ahead, given our strong capital position, we will consider a full range of capital actions, including the resumption of share repurchases in upcoming quarters.
BK, Bank of New York Mellon Corp, Financials, US - Thomas P. Gibbons, CEO, Director:
We will commence buybacks as soon as possible, depending on the economic and regulatory environment, our outlook for the business and outcome of the resubmitted capital plans based on new scenarios we expect to receive later this year.
GOOGL, Alphabet, Technology, US - Ruth M. Porat, CFO & Senior Vice President:
As we indicated in our press release today, our Board has authorized the repurchase of up to an additional $20 billion of our Class C stock.
NSC, Norfolk Southern, Industrials, US - Mark R. George, CFO:
With our cash generation and liquidity profile, we were able to continue to distribute cash to shareholders, maintaining our dividend, while moderating share repurchase activity
ALLE, Allegion plc, Industrials, US - Patrick S. Shannon, CFO & Senior VP:
Although we've communicated a pause in share buybacks in order to focus on liquidity during this time of market volatility, we intend to put excess cash to use as we continue to see market improvement and stabilization.
SHW, Sherwin Williams Co, Materials, US - John G. Morikis, Chairman, CEO:
We paused open market share purchases during the second quarter, believing it's inappropriate to be buying shares at a time when we were forced to adjust our workforce and pause multiple spending programs. Again, given a stabilizing environment, we would expect to return to repurchases in the second half of the year with a minimum goal of offsetting dilution from options.
NOC, Northrop Grumman Corp, Industrials, US - Dave Keffer, Corporate VP and CFO:
Through the end of the second quarter, our year-to-date share repurchases totaled approximately $500 million and we've met our approximate share count target for 2020. Share repurchases remain an important part of our capital deployment strategy.
INFO, IHS Markit Ltd., Industrials, US - Jonathan Gear, Executive Vice President and CFO:
Year-to-date, share repurchase is $852 million. We expect to return to share buybacks later this year or early next year while maintaining our capital policy of operating within the two to three times gross leverage range.
AAPL, Apple Inc, Information Technology, US - Luca Maestri, Senior Vice President, CFO:
We returned over $21 billion to shareholders during the June quarter, including $3.7 billion in dividends and equivalents and $10 billion through open market repurchases of 31.3 million Apple shares. We also began a $6 billion accelerated share repurchase program in May resulting in the initial delivery and retirement of 15.2 million shares.
CL, Colgate Palmolive, Consumer Staples, US - John Faucher, Chief Investor Relations Officer:
While we pause share repurchases under our repurchase program in the second quarter, our full year share repurchase plans have not changed.
GWW, W.W. Grainger, Inc., Industrials, US - Tom Okray, Senior VP and CFO:
With respect to repurchasing shares, right now, with the spike and are we going to have a shutdown to with an abundance of caution, we really haven't resumed the buybacks, even though we are obviously generating robust cash flow. That, we would probably start to think a little bit harder at the end of Q3. And if we were going to do something, it would likely be in Q4, I would think
PNR, Pentair PLC, Industrials, US - Robert Fishman, EVP, CFO & CAO:
We targeted $150 million of buybacks this year. We completed $150 million. We may resume the share repurchase in the future, but depending on market conditions and our capital needs, we still need to make that decision.
INTC, Intel Corporation, Industrials, US - George Davis, CFO:
As a reminder, we paused our share repurchase program in Q1 as we felt it was prudent to do so in the current economic environment. We expect to complete the balance of our $20 billion share repurchase program and return to our historical capital return practices when market dynamics stabilize.
CMG, Chipotle Mexican Grill Inc., Consumer Discretionary, US - Jack Hartung, CFO:
While we didn't buy back any stock in Q2 in order to preserve cash and we likely won't over the foreseeable future, we are open to revisiting the program and returning excess cash to shareholders once the environment stabilizes.
DHI, DR Horton Inc, Consumer Discretionary, US - Bill W. Wheat, Executive VP & CFO:
We did not repurchase any shares during the third quarter and we expect to cautiously manage our level of share repurchases in the near-term to maintain financial flexibility until we have better visibility to future market conditions and our expected operating results.
OTIS, Otis Worldwide Corp, Industrials, US - Rahul Ghai, VP & CFO:
On the share buyback, our plan was always to start share buyback post-debt repayment. So if you accelerate the debt repayment, share buyback can also get potentially accelerated. But the situation is fluid.
Source: Deutsche Bank