---
Callaway, Titleist Shares Slide On Proposed PGA Golf Ball Rule Change
The US Golf Association and the R&A, who jointly draft the rulebook for professional golf, proposed new regulations on golf balls that would restrict the distance elite players can hit in tournaments. 
Under the proposed changes, professional golfers would have to switch to a modified ball, limiting driving distance to no more than 320 yards. 
The new rule won't affect recreational players. If adopted, pros could be forced to use the new balls by January 2026. USGA and R&A will receive a report from ball manufacturers and others on Aug. 14 about the proposed changes. 
If the new rule is enacted, dozens of balls from golf equipment manufacturers could soon be banned on circuits such as the PGA Tour and PGA European Tour. 
Investors responded quickly to the news on Wednesday, trimming shares of Callaway and Acushnet Holdings, the parent company of Titleist.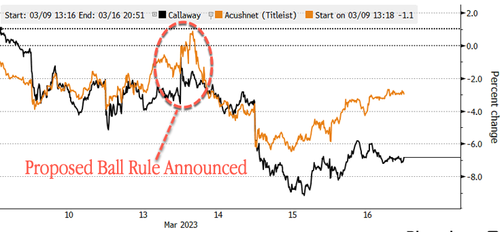 Meanwhile, Former President Trump called the potential rule change a "mess" via a Truth Social post:
"Here we go again with the USGA wanting to cut the distance out of a golf ball! Remember, you still have to chip, putt, and do everything else. They really have bigger problems, like LIV," he wrote. 
Trump continued: 
"People want to feel and watch the long ball. Also, they want to see the great players hit home runs, not singles and doubles.

"Length is important for Entertainment Value. LEAVE THE GOLF BALL ALONE. Balls will be mixed for years to come. What a mess. Also, allow long putters, and ball drops from past heights." 
LIV Golf, which Saudi Arabia backs, has had a poor start this year regarding viewer ratings. However, they may benefit from the PGA's proposed rule change. 
Loading...