---
Cargo Shipowners Cancel Sailings, Container Spot Rates Plunge Amid Reversal In 'Bullwhip-Effect'
In May, we outlined that a reversal of the "shortage of everything" bullwhip effect was nearing, as skyrocketing inventories (the result of Covid-era overordering due to snarled supply chains) was about to hit a faltering economy, and prices of goods would decline as companies would be forced to liquidate excess inventories into a recession (see "Bullwhip Effect Ends With A Bang: Why Prices Are About To Fall Off A Cliff" from May 23). We reminded readers about this a few times over the summer ("Bullwhip-Effect Reversal Is The Major Downside Growth Risk" and "Container Rates Slump As "Bullwhip Effect" Enters Terminal Phase"). 
Last week, the reverse bullwhip was apparent in Nike's 'shocking' quarterly report after shares plunged more than 10% following the announcement of deteriorating earnings, and the margin outlook for the year was slashed. We warned retailers building inventory at a rapid clip this year was going to be disastrous, which is precisely what the sportswear giant reported. 
It's not just Nike. Across the board, retailers are dealing with multi-decade highs in the inventory-to-sales ratio, which has caused importers to reduce shipments from overseas suppliers.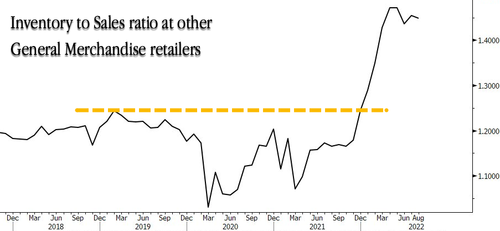 Reduced demand fo foreign goods has led to an increase in container lines canceling dozens of sailings in some of the world's busiest shipping lanes ahead of the year's biggest shopping season. 
WSJ pointed out, "the October cancellations are a sharp reversal from just a few months ago, when scarce shipping space pushed freight rates higher and carriers' profits to record levels." 
Trans-Pacific shipping rates are cratering. The Shanghai-Los Angeles freight rate for containers has plunged a whopping 73% since peaking this time last year.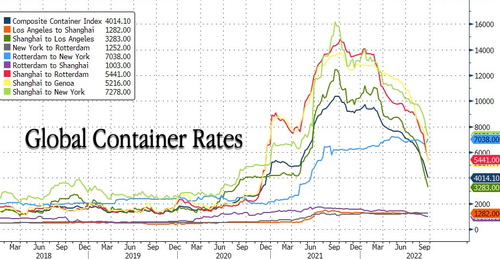 WSJ cited data that showed for the first two weeks beginning on Oct. 3, about 40 scheduled sailings between Asia and US West Coast were canceled. On average, there are about 2-4 sailings a week scrapped for this time of year. 
Carriers have also canceled key shipping routes between Asia and Europe: 
"In the first week of October, one-third of previously announced capacity will be blanked and for the second week, it will be around half. 

"The downturn pace in recent weeks has been very fast and it looks like carriers misread the low volumes of a nonexistent peak season," said Peter Sand, chief analyst at shipping-data providers Xeneta and Sea-Intelligence. 
"The global economy has thrown a few curveballs this year, and our outlook on future demand is uncertain and tepid. Overcapacity will likely become an issue from the middle of 2023 through to 2024 and potentially beyond," said Jonathan Roach, a container analyst at Braemar. 
Last month, FedEx Corp.'s CEO Raj Subramaniam delivered a chilling message while speaking with CNBC's Mad Money with Jim Crammer: The global economy is "going into a worldwide recession."
Besides the terminal phase of the bullwhip effect resulting in retailers liquidating excess inventory, it has also produced a harsh environment for shippers canceling sailings that have sent container rates plunging.
Loading...