---
Cash-Strapped Consumers Cut Back On Toilet Paper And Toothpaste
Cash-strapped consumers are cutting back on personal hygiene products, according to Bloomberg. It's yet another sign, after two years of negative real wage growth, depleted personal savings, and record amounts of credit card debt, the supposedly 'strong' consumer under 'Bidenomics' continues to crack under the heavy weight of a once-in-a-generation inflation storm. 
Data from NIQ, which tracks retail sales, reveals consumers are decreasing their spending on personal hygiene products, like toilet paper, toothpaste, and laundry detergent. Sales for those items in the 52 weeks through June 24 were down 3% to 4%.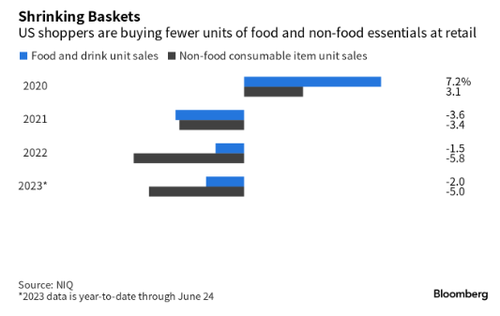 "The strains that the consumer is under have been exacerbated over the last couple of months," Morningstar analyst Erin Lash told Bloomberg. She noted a reduction in food assistance programs, lower tax returns, and the end of stimulus checks are some of the reasons for faltering consumers. Also, as we noted in the intro, inflation outpaces wage growth for two years and has crushed households, forcing many to drain savings and rack up enormous credit card debt in a high-rate environment. 
Hollie Ernst, a single mother of two daughters from Oak Park, Illinois, said she traded down name-brand toothpaste for generic cheaper ones. The 48yo single mother of two daughters has stopped buying Aveeno lotion because of the high price and uses Vaseline instead. 
"Cash doesn't stretch as far as it used to," said Ernst, adding she still has to use her credit card to make ends meet despite reducing her supermarket bill. She said, "I just accepted that's the way it is."
Ernst is just one of the tens of millions of Americans suffering while the Biden administration parades around the country, touting the successes of 'Bidenomics.' New credit card data on Monday showed debt-funded consumers hit a brick wall. 
Some Americans have been forced into a Venezuelan-like lifestyle as 'dumpster dining' takes off to save on grocery bills. The more fortunate consumers have been forced to trade down from Walmart to Dollar Tree for groceries. 
... and wait until September rolls around, when millions of Americans will be forced to begin repaying their student loans. 
Loading...