---
Cash-Strapped Consumers Resort To 'Dumpster Dining' To Save On Grocery Bill
Despite the Biden administration's cheerleading that 'Bidenomics' is the economic savior of the middle class -- most Americans will disagree there has been an economic revival amid the worst inflation storm in a generation that has sent negative real wage growth negative for more than two years, forcing consumers to deplete personal savings and rack up record amounts of credit card debt in a high-interest rate environment. 
We have shown many households are in rough financial shape. Dollar Tree executives confirmed weeks ago that mid/low-tier consumers are trading down from other more expensive retailers to their stores for groceries. This means Walmart has become too expensive for some consumers. 
Even before we noted "Consumers Trade Down From Walmart, Dollar Tree Becomes Supermarket For The Working Poor," we found a trend on TikTok that showed an increasing number of Americans in March were resorting to dollar stores for groceries to save money. We tilted that note "Dollar Tree Dinners": TikToker Goes Viral After Showing People How To Cook For $35 A Week.
Last week, we were the first to point out that Google searches for "pawn shop near me" just erupted to record highs, indicating that consumers are in rough shape.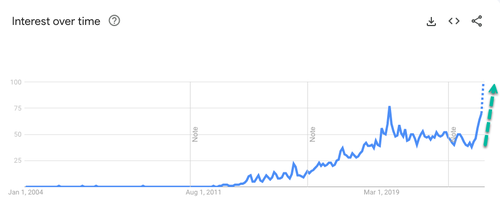 It's not just us pointing out that Bidenomics might be a failure. Goldman Sachs' Rich Privorosky told clients last month, "Something is not quite adding up on the consumer," and asked, "Have we just run out of excess savings and are we returning to replenishing savings?"
Meanwhile, an increasing number of corporate execs from consumer staple companies have warned about a weakening consumer, leaving us with the evolution of trading down from dollar store dinners to dumpster diving.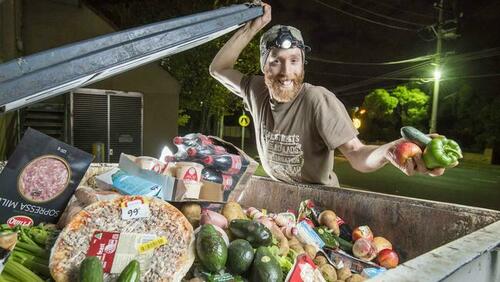 Some media outlets, including Bussiness Insider and The New York Post, have pointed out that some folks have resorted to dumpster diving to save on food costs.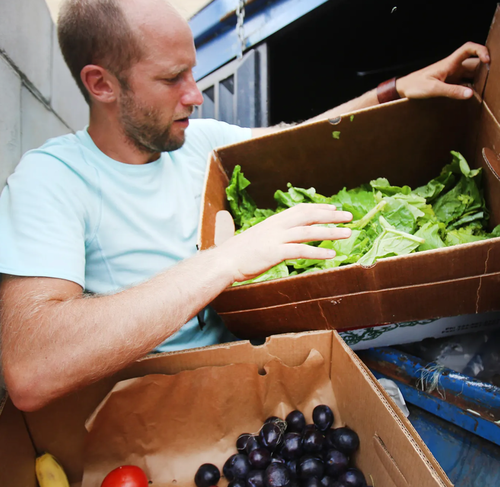 BI titled their piece "A dumpster-diving millennial cut her grocery bill to about $45 a month on average for the last 4 months," while NYPost titled theirs, "I spend just $90 a year on groceries — here's how I do it," which shows how some millennials are dumpster diving for survival in today's high inflation period.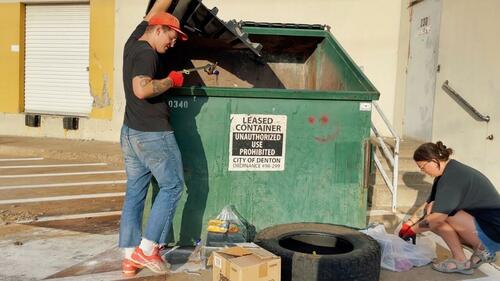 While we thought trading down from Walmart to Dollar Tree for groceries was rock bottom, apparently not. 
And look at this stunning Google search trend "Is dumpster diving illegal" just hit a record high.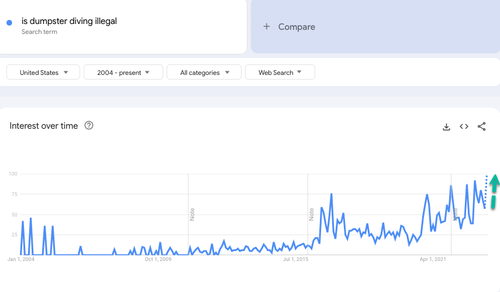 The search trend is the hottest in the Midwest and Deep South.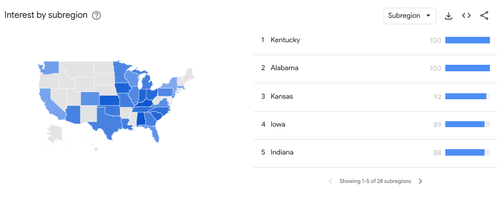 Putting this all together, mid/low-tier consumers struggle in the inflation storm while the Biden administration touts meaningless economic stats about how 'everything is wonderful.' After all, Democrats have to cheerlead despite the demise of the middle class because a presidential election cycle is nearing. 
Loading...