---
Cathie Wood Finds Silver Lining After $2 Billion Loss
Cathie Wood joined Bloomberg TV on Tuesday to highlight her ARK Innovation fund (ARKK) can offset future capital gains taxes with fund losses after a brutal year. 
The 67-year-old fund manager, with four decades in the industry, disclosed a staggering $2 billion loss resulting from stock sales amid market turbulence. However, she pointed out that these losses can offset future capital gains.
"It's over $2 billion right now against which we can take future gains and then concentrate towards our highest-conviction names," Wood said.
She said as her flagship ARKK fund fell from its February 2021 peak, it dramatically reduced its holdings from 50 to just 28 stocks, concentrating on its highest convictions (perhaps too much concentration is not the best idea?).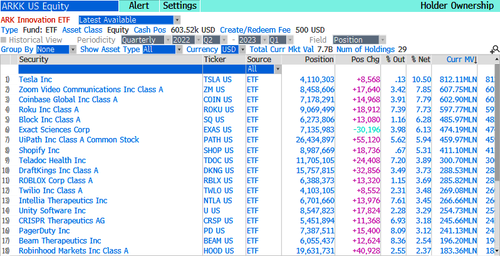 The fund's market capitalization once reached a high of approximately $28 billion, only to plummet to a low of nearly $6 billion earlier this year, followed by a modest recovery to $7.7 billion this week.
Equius Partners recently called out Wood:
"Tens of billions of investor dollars have been lost since as a result of Wood's incompetence and questionable ethics." 
ARKK was a star during the early days of the pandemic, and those past performances are not guaranteed in the future. The biggest concern investors should have is if the fund's current losses are more permanent. 
Loading...