---
CDC Director Rochelle Walensky Is Leaving The Agency
Rochelle Walensky, the director of the disgraced Centers for Disease Control and Prevention, is leaving the agency, President Joe Biden announced during a press conference on Friday.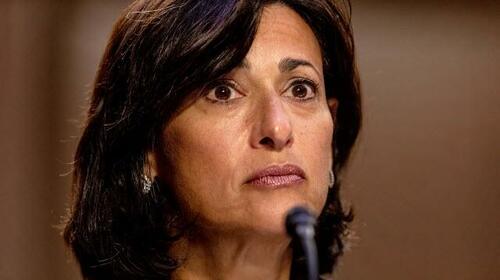 "Dr. Walensky has saved lives with her steadfast and unwavering focus on the health of every American," President Biden said in a statement.
"As Director of the CDC, she led a complex organization on the frontlines of a once-in-a-generation pandemic with honesty and integrity. She marshalled our finest scientists and public health experts to turn the tide on the urgent crises we've faced."
"Dr. Walensky leaves CDC a stronger institution, better positioned to confront health threats and protect Americans," Biden added.

"We have all benefited from her service and dedication to public health, and I wish her the best in her next chapter."
Walensky's exit comes days before the federal government is set to end the public health emergency around COVID-19, and hours after the WHO declared that the Covid pandemic "global health emergency" is now over.
She has led the agency since the start of the Biden administration in January 2021; under her guidance US citizens were subjected to draconian mask and vaccine mandates which, it is now emerging, have been more harmful for the population than the actual virus.
Her legacy is outsourcing CDC decision making to the far-left AFT teachers union
https://t.co/dtjXBJdgQ0

— Tom Elliott (@tomselliott) May 5, 2023
Loading...