---
CEO Of Top Carbon Credit Certifier Steps Down After Report Finds "Phantom Credits"
Four months after The Guardian and other European media outlets revealed the world's leading carbon credit certifier sold worthless offsets to major corporations, the head of Washington-based Verra has stepped down. 
"I am writing to let you know that after nearly 15 fantastic years as the CEO of Verra, I have decided to step down," Verra's CEO, David Antonioli, wrote in a LinkedIn post last week. He's leaving the role after dominating the multi-billion dollar carbon offset market for years and certifying over a billion dollars in credits through its verified carbon standard (VCS).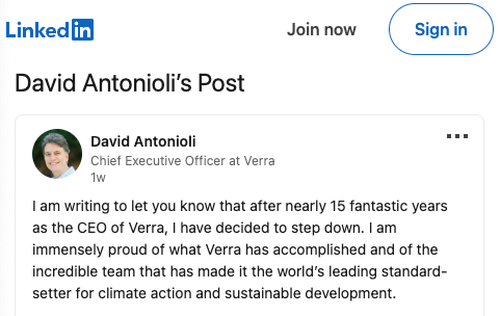 Antonioli expressed gratitude towards the current and past employees and was proud of Verra's accomplishments as the world's leading standard-setter for climate action and sustainable development. He did not give a reason for his abrupt departure. 
Antonioli's exit comes four months after The Guardian, German weekly Die Zeit, and SourceMaterial, a non-profit investigative journalism organization, revealed a damning report on how Verra approved tens of millions of dollars of worthless offsets to Disney, Shell, Gucci, and other big corporations. 
The report found Verrra issued "phantom credits" to major corporations that don't represent genuine carbon reductions. Some corporations purchased these fraudulent credits and labeled their products as "carbon neutral." 
Days after The Guardian's report in January, Antonioli rejected the findings, calling them "outlandish claims" and heavily defended Verra's certification of carbon credits. But after all that, Antonioli is still stepping down. 
Meanwhile, "Some firms are moving away from offsetting-based environmental claims, such as Gucci, which has removed a carbon neutrality claim from its website that heavily relied on Verra's carbon credits," The Guardian said. 
Diego Saez Gil, the CEO of Pachama, a carbon offsetting firm, said Verra should update its programs to improve the company's integrity. He told The Guardian: 
"This is a pivotal moment for carbon markets. In order to scale the critical funding required for carbon sequestration at a planetary scale, we must ensure integrity, transparency, and real benefits for local communities and biodiversity. A new generation of innovative players is collaborating with standard bodies, academics, corporates, and communities, creating a new era of carbon markets that gives me hope."
Despite having previously purchased "worthless" carbon offsets, companies such as JPMorgan, Disney, and BlackRock continue their ESG commitments. In particular, JPMorgan pledged hundreds of millions of dollars to purchase credits for carbon removal. 
Insiders have spoken up about the murky ESG industry. Take, for example, an insider who told Bloomberg in 2021 that TotalEnergies SE orchestrated a "carbon-neutral" liquified natural gas shipment with China National Offshore Oil Corp on math that was "guesswork" and involved lots of "googling." 
Recall Elon Musk tweeted one year ago, "ESG is a scam. It has been weaponized by phony social justice warriors." 
As we noted earlier this year, "Carbon Credits Are The Biggest Scam Since Indulgences... How You Can Avoid Being Fleeced." 
Loading...