---
ChatGPT Now Offering Paid "Plus" Service For $20 Per Month
If there's one thing we're sure you've heard about - and by now probably heard too much of - it's ChatGPT, the chatbot launched by OpenAI in November 2022 that has become the talking point of every major media story and has ignited a firestorm in any market participants that can churn out a press release with "AI" in the name somewhere. 
Well now, the program looks like it's officially ready to cash in on its popularity. It is now announcing a new pilot subscription plan called "ChatGPT Plus", according to a new blog post on OpenAI's site this week. 
The new subscription plan, ChatGPT Plus, will be available for $20/month, the site says. Those who subscribe will get "general access to ChatGPT, even during peak times", faster response times and priority access to new features and improvements, the site says. 
"We launched ChatGPT as a research preview so we could learn more about the system's strengths and weaknesses and gather user feedback to help us improve upon its limitations. Since then, millions of people have given us feedback, we've made several important updates and we've seen users find value across a range of professional use-cases, including drafting & editing content, brainstorming ideas, programming help, and learning new topics," the post says.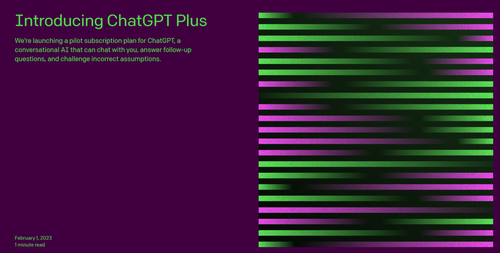 The subscription is only available to the U.S. and the company says it is going to waitlist people over coming weeks. It plans on expanding to additional countries "soon". The company also says it is going to keep its free version available:
We love our free users and will continue to offer free access to ChatGPT. By offering this subscription pricing, we will be able to help support free access availability to as many people as possible.
OpenAI, the organization behind ChatGPT, was co-founded by Elon Musk and Silicon Valley investor Sam Altman in 2015, and makes money by charging developers to license its technology.
So, as far as keeping the service free, we'll see how long that lasts...
Recall, OpenAI expanded on a partnership with Microsoft last week, through a multiyear, multibillion dollar investment. 
Microsoft CEO Satya Nadella said last week: "We formed our partnership with OpenAI around a shared ambition to responsibly advance cutting-edge AI research and democratize AI as a new technology platform. In this next phase of our partnership, developers and organizations across industries will have access to the best AI infrastructure, models, and toolchain with Azure to build and run their applications."
"Microsoft shares our values and we are excited to continue our independent research and work toward creating advanced AI that benefits everyone," Sam Altman added. 
Loading...