---
Chicago Cubs' Owners Join Forces With Citadel's Ken Griffin In Bid For Chelsea FC
Russian Oligarch Roman Abramovich is having no trouble finding bidders for Chelsea Football Club, the powerhouse English soccer club that he is essentially being forced to sell under threat of Western sanctions.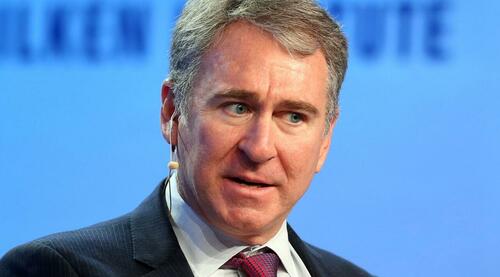 According to Sky News, the family that owns the Chicago Cubs has teamed up with Citadel's billionaire founder Ken Griffin to table what Sky described as a "blockbuster" bid for Chelsea Football Club.
Sky News can exclusively reveal that the Ricketts family and Mr Griffin have formed an investment group that will lodge a formal offer for last season's Champions League-winners on Friday.

The development, which will be publicly announced later, presents a formidable competitor to rival bidders as Roman Abramovich's 19-year tenure as Chelsea's owner draws to a conclusion.
The Ricketts' joint bid with Griffin (and potentially further co-investors) makes the Cubs owners the latest in a string of American sports billionaires to prepare an offer for Chelsea in what looks to be the most hotly contested auction of a Premier League club in history.
11 days ago, Sky News initially reported that the Ricketts family was talking to prospective partners, including Griffin, but on Wednesday, a spokesman for the consortium confirmed: "The Ricketts Family, owners of the Chicago Cubs, can confirm they will be leading an investment group that will make a formal bid for Chelsea Football Club this Friday."
In a statement, they said their status as longtime operators of a renowned sports franchise would give them a leg up.
"As long-time operators of an iconic professional sports team, the Ricketts Family and their partners understand the importance of investing for success on the pitch, while respecting the traditions of the club, the fans and the community."

"We look forward to sharing further details of our plans in due course."
Sources within the Ricketts' camp said their record with the Cubs along with their "financial firepower" would make for an ideal recipe for success at Stamford Bridge.
Keep in mind, the last six years have been the most successful in the Cubs' history. After years of being a professional baseball punchline, the time won the World Series in 2016 and later completed a $1 billion renovation of the team's home, Wrigley Field, which is considered to be one of the most historic sports arenas in the US, having been built in 1914.