---
China COVID-180 Sparks Hawkish Shift In US; Bonds & Stocks Dumped, Gold Jumps
The market's expectations for The Fed's terminal rate surged back up to 5.00% today (above pre-CPI levels) and expectations for a dovish pivot in H2 2023 fell dramatically after the long-weekend of headlines out of China on their '180' on COVID-Zero with 100s of millions infected... which means herd immunity sooner and a full demand/inflation-enabling re-opening hitting sooner than expected...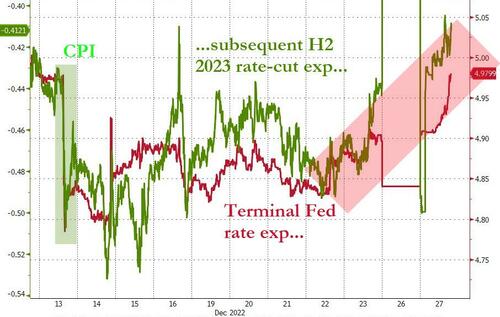 Source: Bloomberg
We also note that the US trade deficit shrank significantly more than expected... which is also good news that is bad news for anyone hoping for The Fed's 'higher for longer' rate narrative to be crushed... and that sent stocks down notably before the bell, only to accelerate lower at the cash open. The majors bounced into the European close then faded once again with a small bounce into the US close...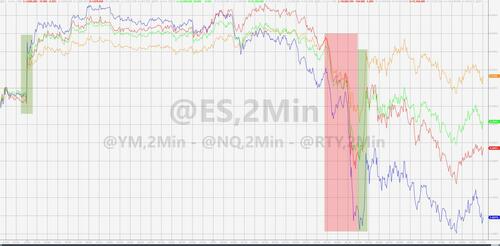 Tech was the hardest hit with some serious standouts today as the "most shorted" stocks are now down 14 of the last 17 days. China Tech soared today as US Tech tumbled...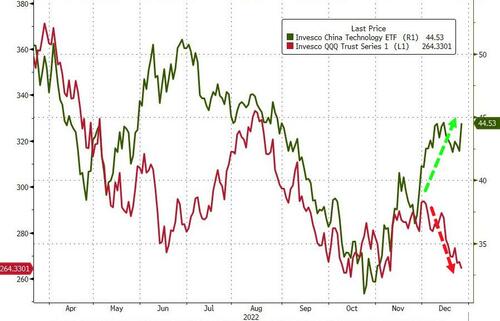 Source: Bloomberg
TSLA's tumble continued, down 10% today (6 straight days - longest streak since 2018 - and 9 of the last 10) with its RSI now at 17 - the most oversold in its history...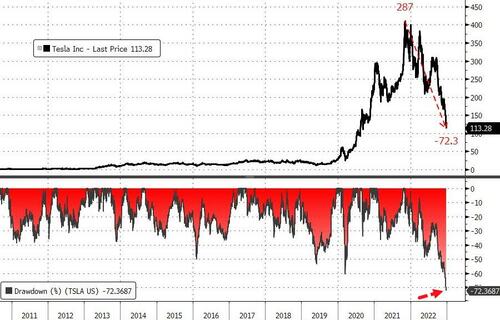 Source: Bloomberg
AAPL is down 29% from its highs, testing below critical support from the June 2022 lows to its lowest since June 2021...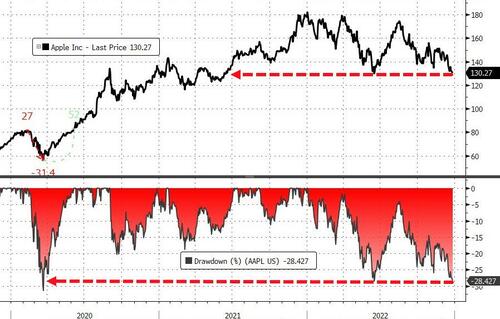 Source: Bloomberg
Finally, META is down 70% from its highs (was down 77% from its highs at its trough in November)...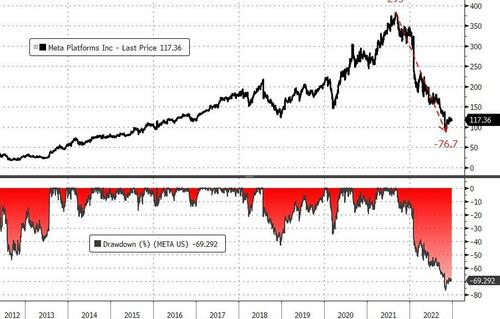 Source: Bloomberg
Treasury yields soared after the long-weekend, largely on China re-opening/growth/inflation fears, with the long-end underperforming (30Y +11bps, 2Y +8bps)...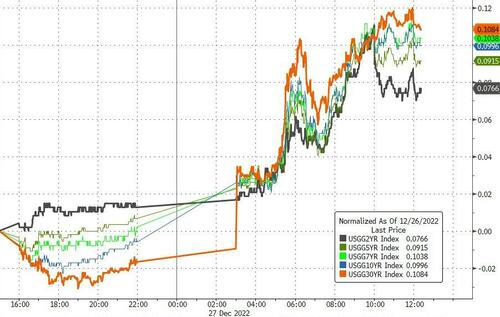 Source: Bloomberg
The 30Y Yield continues to squeeze up towards 4.00% (now over 50bps off the early December lows)...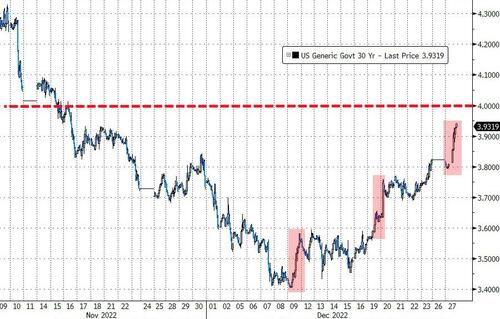 Source: Bloomberg
The dollar opened down after Xmas Day but drifted higher for the rest of the day (remember, UK still closed today, so EU FX markets will be back in play tomorrow)...
Source: Bloomberg
Bitcoin tumbled after a spike overnight up near $17k (and crypto proxies like COIN and MSTR were smashed)...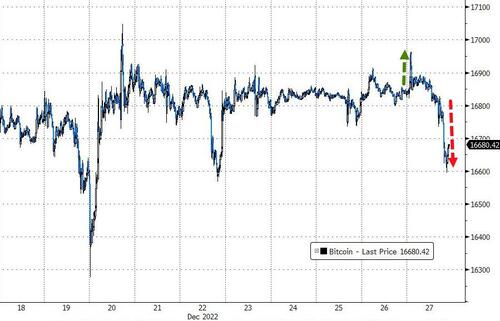 Source: Bloomberg
Oil prices started off bullishly - presumably on China demand hopes - but WTI ended dumping it all back in the US session today to end unchanged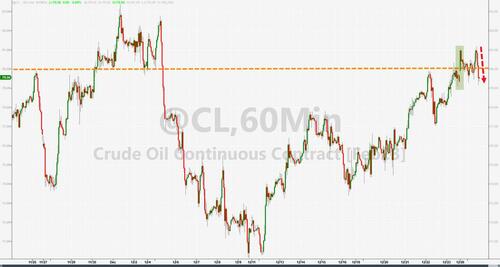 Gold spiked up to $1840 (futs) earlier in the day before fading back a little...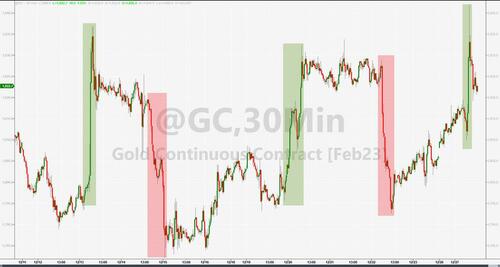 Finally, gold and real yields have notably decoupled very recently... extending the already large decoupling that has occurred since The Fed started piling up 75bps hikes...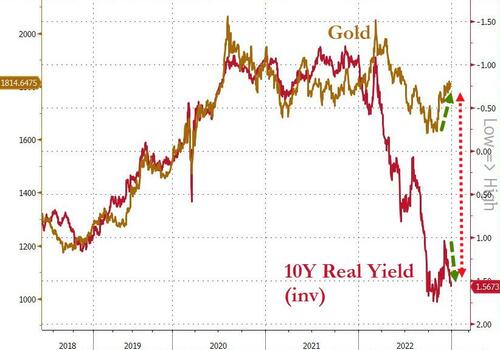 Source: Bloomberg
Does gold know something about happens next with The Fed?
Loading...