---
China Crackdown On Property Developer Debt Sparks Fears About Systemic Crisis
The recent near-death experience of China's most-indebted property developer, China Evergrande, which obtained a last minute liquidity injection, sparked speculation whether Beijing will ease on its recent debt curbs and ongoing deleveraging approach. The answer appears to be no, because according to Reuters, Chinese regulators have asked the country's property developers to provide more details about their debts than markets had expected, as authorities look to tackle unbridled borrowing in the real estate sector.
Dubbed "the three red lines", regulators outlined caps on debt-to-cash, debt-to-assets and debt-to-equity ratios at a meeting in Beijing in August between 12 major property developers and officials from the Ministry of Housing and Urban-Rural Development and the People's Bank of China. The twelve companies, which collectively account for 28% of the homes sold in the country so far this year - and as a reminder, China's real estate sector is where the bulk of China's middle class has parked its net worth - were selected for a pilot debt reduction scheme as policymakers look to reduce broader financial risks.
As a result of the new policy, developers' annual debt growth will be effectively capped to around 15%.
While property sources had said they expected a rush to get around the rules by moving more debt off balance sheets, in a form that developers were asked to submit every month, the companies are also being asked for details on items outside the usual financing channels like bank loans and bond issuance. They will need to provide debt figures on off-balance sheet projects.
According to Reuters, other debt information requested include details on projects that give a financial entity guaranteed returns and buy-back agreements - essentially a debt disguised as equity, as well as the amount of securitization of receivables in the supply chain. In short, Beijing wants a full accounting of everything going on at local developers.
"The government is monitoring everything now, unless you want to cheat, but they will be able to tell from your monthly figures," said a senior executive at one of the developers in the pilot scheme.
Following concerns of too much developer leverage sparked by Evergrande's liquidity crisis, Chinese media reported that the cap for the debt-to-assets ratio will be set at 70%, the cap for net debt to equity will be set at 100% and the developers should also have enough cash to match their short-term liabilities. While authorities have yet to announcement details of the implementation, the industry expects the rules to be applied sector-wide in the first half of next year.
As we reported last month, the massively indebted China Evergrande Group, the country's second largest property developer, has been among those scrambling to raise money, with fears of a cash-crunch sending its shares and bonds skidding last month.
If these reports of leverage crackdown are accurate, it could pose a systemic risk to China's most important industry: according to analysts at ANZ, about one-fifth of real estate companies with China A-shares have leverage ratios exceeding the thresholds. They warn that a sharp reduction in leverage "could rattle credit markets and weigh heavily on the property sector", a key driver behind China's swift economic recovery from the coronavirus crisis.
In a note published two weeks ago, SocGen China anlyst Wei Yao wrote that "a new chapter of deleveraging has begun":
A succession of events in the past few weeks have pushed the debt risk of China's real estate sector to the forefront. Markets were at one point deeply concerned about the default risk of Evergrande, China's biggest property developer. And even worse–the risk of a systemic debt crisis that could follow. This situation, while still developing, has calmed somewhat. However, this is probably really only the beginning of a new deleveraging campaign.

It all started with the government's proposal to contain developers' leverage. On 20 August, the PBoC and the Ministry of Housing and Urban-Rural Development (MOHURD) held a meeting with key real estate companies where policymakers proposed the so-called "three red lines" framework for monitoring debt risk and reducing leverage in the sector. According to media reports, the "three  red  lines" were drawn up based on three financial metrics, including 1) the debt-to-asset ratio, 2) the net debt ratio,and 3) cash flows to short-term debt ratio.

Future debt growth of real estate companies will be restricted in various degrees based on their current leverage as measured by  these metrics (see the table below). In  the harshest scenario, a developer will not be allowed to raise any more debt. Based on its current financial situation, Evergrande would in fact fall into this category.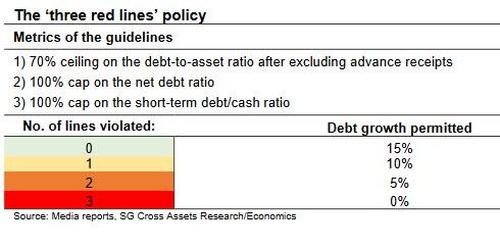 This sudden deleveraging pressure has already proved to be very real and material. So much so, in fact, that less than two weeks  after the August proposal surfaced, Evergrande started to offer aggressive discounts to boost sales and cash flows - as it is limited how much new debt it can raise - and culminated with the company's liquidity crisis in late September, when news broke hat Evergrande had asked for financial assistance from the government with a warning of possible systemic risk in the case of inaction, which immediately triggered sharp risk-off both onshore and offshore in both equity and credit markets. Though Evergrande later denied this claim, financial markets did not calm down until the developer secured some relief from its investors on 29 September (more in the full timeline below):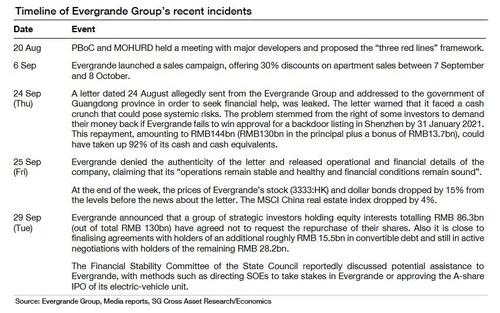 As SocGen's Yao warns, if the proposal is implemented to its full extent, "it would construe a significant deleveraging push on the whole sector." According to Bloomberg's analysis of 180 listed property companies, 8% of them are in the red group, 15% are in the orange, 30% in the yellow and less than half, or 47% in the green category.
Therefore, well over half of the combined balance sheet of the entire real estate sector would face material deleveraging pressure over the medium term.
Meanwhile, Yao also cautions that while the Evergrande risk may or may not have been completely resolved, "this incident certainly does not mark the end of the housing sector deleveraging" and in fact quite the opposite:
these events have steeled the resolve of policymakers' to push ahead with their deleveraging agenda, as they have laid bare the financial fragility of this sector and offered policymakers a glimpse of the magnitude of the threat that such fragility could pose to  the financials ystem.
Of course, deleveraging - especially in such a debt-reliant nation as China - is another word for contraction, and since tens of trillions of mainland household net worth are housed, so to speak, in China's housing sector which has served as a remarkable ponzi scheme in recent years, failing to slow down even during domestic crises, the lack of unbridled developer debt issuance and new growth, could have catastrophic consequences on the broader economy.
Pan Gongsheng, a PBOC vice governor, told a forum in Beijing on Wednesday the central bank has the draft of an overall assessment over property financing ready and it will make a public announcement at the right time, without further elaboration.