---
China Kicks Fiscal Stimulus Into Overdrive With Deficit-Busting 1 Trillion Yuan In New Debt
In a fiscal year when the US just raked up a $2 trillion deficit...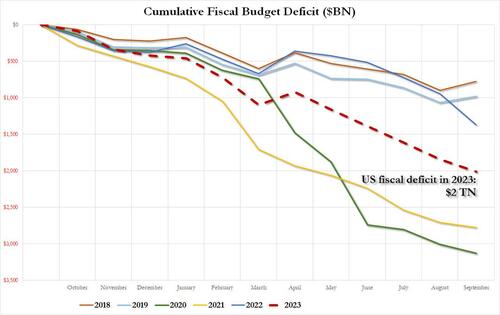 ... despite GDP "growing" at a 5.4% pace, according to the Joe Biden Department of Goalseeking Data Higher Before It Is Revised Lower Next Month Atlanta Fed GDPNow tracker, China has decided that it has enough enough of pretending that fiscal modesty and austerity are the way to go - after all there is a global superpower race going on - and despite sporting a record 300% debt to GDP...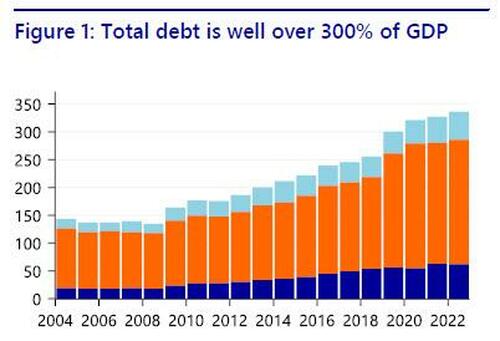 ... today China took the first official step to a powerful fiscal stimulus when China's legislature announced it would issue 1 trillion yuan ($137 billion) of special treasury bonds during the fourth quarter, expanding budgeted fiscal deficit rates to around 3.8% for the year, well above the 3% set in March which the government has generally considered a red-line "limit" for the nation.
"Relevant authorities should make preparations for the sovereign bond issuance and projects in an active and orderly manner to ensure every penny is managed and used appropriately," said Zhao Leji, chairman of the Standing Committee.
The funds raised through government bonds will all be allocated to local regions, via the mechanism of transfer payment, according to the plan approved by the country's top legislature on Tuesday. The finance ministry said that the funds raised will be mostly used in eight areas including reconstruction after disaster, flood prevention and management projects, and natural disaster emergency response capacity improvement projects.
The ministry also said it will timely launch the bond issuance work to ensure completion of the issuance on schedule. It will also ensure smooth transfer payment work and strengthen regulation so that the funds will be used as planned, the ministry said.
According to Bloomberg, China has rarely adjusted the budget mid-year, having previously done so in periods including 2008, in the aftermath of the Sichuan earthquake and in the wake of the Asian financial crisis in the late 1990s.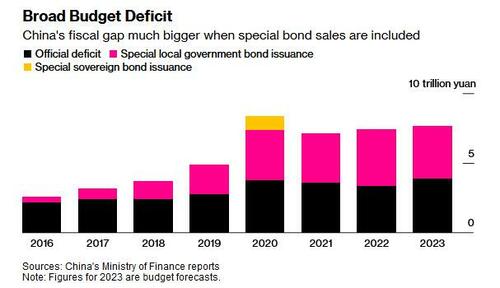 While around 500 billion yuan is planned to be utilized within the year, and the remaining half trillion yuan will be used next year, this is just the start because one you start the fiscal stimulus route, you don't go back... especially when your youth unemployment is a record high 21%... and so high it is no longer being reported by Beijing.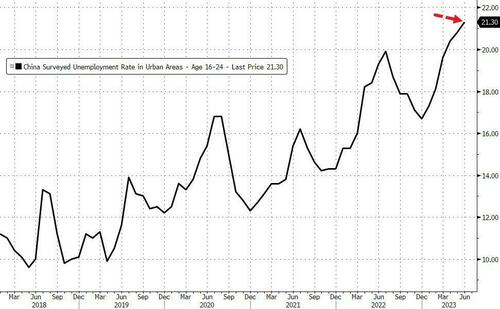 "The additional fiscal support approved today is the intervention we had been expecting and that was needed to prevent an abrupt fiscal tightening in China in the closing weeks of the year," said Mark Williams, chief Asia economist at Capital Economics Ltd.
The budget changes came during a flurry of announcements from the Standing Committee of the National People's Congress, the Communist Party-controlled parliament that oversees government borrowing.
The decision to boost China's growth comes at a time when China GDP has dipped below 5%, while the Atlanta Fed GDPNow tracker has the US economy growing at a red hot 5.4% in Q3.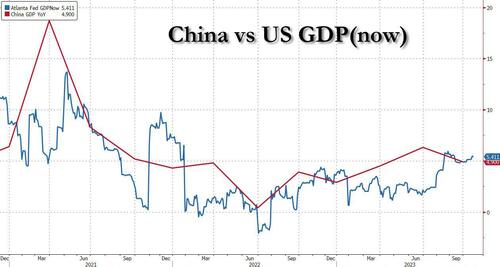 The legislature on Tuesday wrapped a days-long meeting where, as noted earlier, it also ousted Li Shangfu as defense minister two months after he disappeared from public view, and stripped former foreign minister Qin Gang of his remaining role as State Councilor. Adding to the series of high-profile reshuffles, the Standing Committee named Lan Fo'an as finance minister to replace Liu Kun, a widely expected move.
Bloomberg News reported earlier this month that Chinese policymakers were considering raising this year's budget deficit and issuing additional sovereign debt, part of a push to help the nation's reach an official government growth goal of about 5% for 2023. Citigroup economists at the time said a move beyond the usual debt-to-GDP target "could show a greater sense of urgency of the policymakers" as they push to reach that growth goal.
Since then, stronger-than-expected data for the third quarter has led authorities to say they are "very confident" in the economy's ability to hit that target this year, although today's developments suggest they were not all that confident. Several challenges are likely to persist into 2024 though, including problems stemming from ongoing property market turmoil and deflationary pressures. Economists expect growth to slow to 4.5% next year.
Finally, underscoring the significance of the latest developments, on Tuesday China's Xi, along with vice premier He Lifeng and other government officials, visited the People's Bank of China and the State Administration of Foreign Exchange in Beijing on Tuesday afternoon, Bloomberg reported earlier citing sources. The vice premier also visited the nation's sovereign wealth fund.
His visit to the foreign exchange regulator is partly aimed at better understanding China's $3 trillion of currency reserves, one of the people said. It comes as state leaders, regulators and top bankers are set to gather at a closed-door financial policy meeting early next week to set medium-term priorities for the $61 trillion industry and prevent risks.
While details of the visits weren't immediately clear, Xi's movements are closely monitored by investors for potential policy signals. The most powerful Chinese leader since Mao Zedong has never appeared at the PBOC, according to public records, and his visit would highlight recent Communist Party rhetoric on its "centralized and unified" leadership over the financial industry. Previous such inspections were often led by the nation's premiers or their deputies.
Therefore, Xi's presence reinforces not only China's willingness to kickstart the economy, but underscores the string of recent moves by the government to boost growth and stabilize markets, including purchases of stocks by the so called "National Team."
It could potentially help ease concerns among some investors that the president had been neglecting the economy amid a purge of senior ministers and a volatile relationship with the US; on the other hand, a burst of Chinese growth is precisely what will send oil sharply over $100, and spark a fresh round of panic in both the Fed and the White House, for which a jump in gasoline prices in the election year of 2024 is just what Biden does not want.
Loading...