---
China Launches Domestically Built Cruise Mega-Ship
China, apparently not content with producing nearly all of the West's goods and products in sum, is now adding "cruise ships" to its list of manufacturing feats.
The country's first ship, being called "Adora Magic City," also known as "Mo Du" in Putonghua, left its docks at Shanghai at 1:30PM local time on Tuesday, according to reports from China Media Group and the Global Times. 
The ship had been under construction for nearly 4 years, the report says. The report calls the ship "the world's most complex single electronic product made up of over 25 million individual parts, five times the number of individual parts used in China's first domestic aircraft". 
The ship sports 2,125 guest rooms and can accommodate 5,246 guests, the report says. It was built by Shanghai Waigaoqiao Shipbuilding Co (SWS) under the China State Shipbuilding Corporation (CSSC).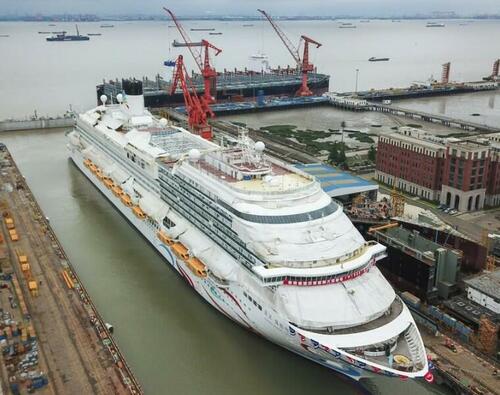 With a 6 day floating process behind it, the ship is now being delivered for final testing and internal decoration. It is set to be delivered at the end of 2023, following two sea trials. Commercial operations will start shortly thereafter in 2024.
The "Adora Magic City" is as tall as a 24-floor building, has 14 decks and offers 40,000 square meters of public areas, China-state owned media entity Global Times writes, calling it a "crown jewel" of global shipbuilding.
China now joins Germany, France, Italy and Finland as a country with the ability to build large cruise ships. Global Times says that "Shanghai is being built into China's global cruise ship hub".
A "sister ship" to the Adora started construction in 2022. 
Loading...