---
China Passenger Vehicle Sales Scorch Higher By 69% In Q1
Auto sales in China have scorched back past pre-pandemic levels, with passenger vehicle sales increasing 69% year over year to 5.09 million from January to March 2021. 
The China Passenger Car Association released numbers on Friday, indicating that sales are back to levels they were at two years ago, despite still being far below the country's record set in March 2018. 
The demand for electric vehicles was "red hot", according to The Wall Street Journal. The country sold 437,000 electric vehicle units during the quarter, marking about 8% of the country's market share. EVs remain in high demand in large cities like Beijing and Shanghai.
SAIC-GM-Wuling Automobile Co., one of GM's local joint ventures; Tesla; and BYD Co. combined to for 55% of the EV market in March. U.S.-listed Chinese EV startups Li Auto Inc., Nio Inc. and XPeng Inc. combined for sales of just 46,000 cars.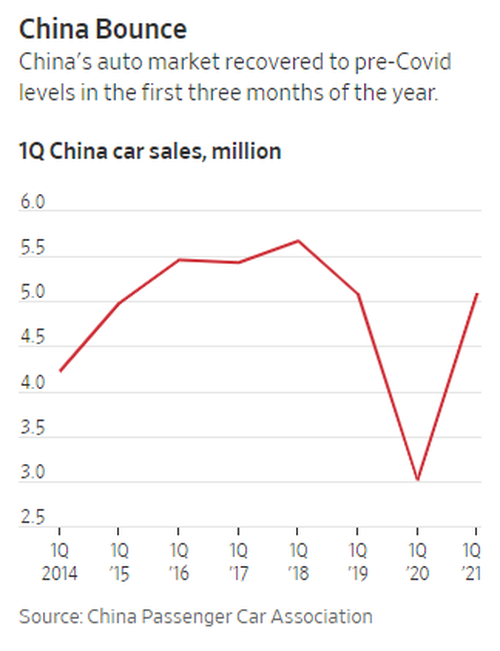 China is expected to head back toward its sales record by 2024, analysts note, as recent weak performance of the country's stock market has zapped citizens' purchasing power.
And while domestic automakers - particularly those focused on EVs - have had no trouble getting caught back up in China, the country has been a "tough place" for U.S. auto makers like General Motors. GM sold just 780,200 vehicles in the first quarter, which marks its worst Q1 in China since 2012. 
GM sold only 64,800 Chevy branded vehicles, compared to the 170,000 Chevy vehicles it sold during the same period in 2015. 
Ford sold 153,822 vehicles during the quarter, which is up from the 136,279 vehicles it sold two years ago. It also sold more than twice as many cars as Q1 2016, which was its best year in China. 
And of course, there's Tesla, who sold 69,820 vehicles in Q1, marking more than 33% of the company's global Model 3 and Model Y sales.