---
China PMIs Soar Back Into Expansion, Celebrating End Of Covid Zero
China is done with Covid Zero and wants the world to know it.
Two weeks after Beijing's amazing goalseek-o-tron reported blowout economic data, including beats across the board in retail sales, GDP, industrial production and fixed investment, moments ago the National Bureau of Statistics (which in recent years has been competing with the US BLS who can come up with the most outrageously manipulated "data"), reported that in January (which is still not over but who cares) manufacturing PMI roared back (just barely) into expansion, printing 50.1 from a contractionary 47.0 in December and matching estimates, on resumption of production and ongoing recovery in demand (in the manufacturing PMI survey, both the output sub-index and the new orders sub-index rose by more than 5 points). Even more remarkable, the non-manufacturing PMI exploded to 54.4 in January from 41.6 in December, smashing expectations of a 52.0 print and showing improvements in both the construction and services sectors.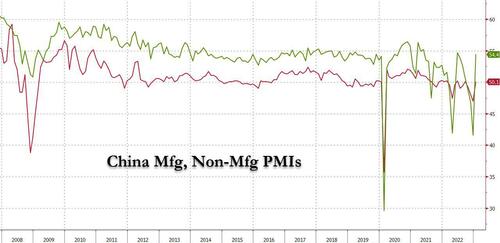 Putting the non-Mfg PMI move in context, this was the second biggest increase on record, trailing only the March 2020 post-covid record when China shock-therapied its economy into kickstarting with the help of trillions in new debt.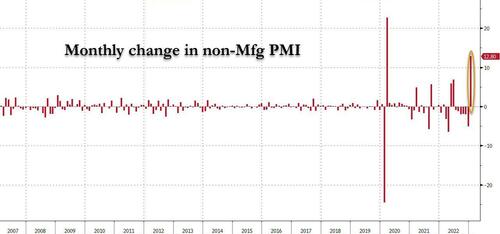 Some additional commentary courtesy of Goldman:
The China NBS purchasing managers' indexes (PMIs) survey suggested manufacturing activity increased in January on resumption of production and ongoing recovery in demand. The NBS manufacturing PMI headline index rose significantly to 50.1 in January from 47.0 in December. The improvements are broad-based among all five major sub-indexes: the output sub-index rose to 49.8 from 44.6, the new orders sub-index increased to 50.9 from 43.9 and the employment sub-index rebounded to 47.7 from 44.8.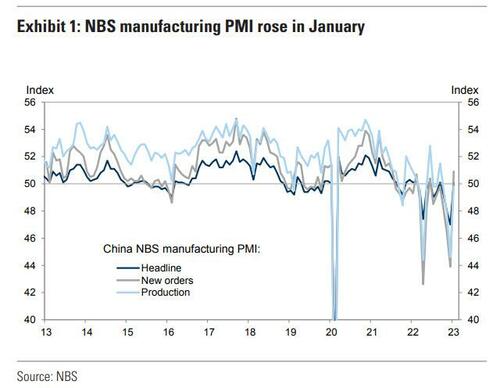 What is of biggest interest here may be the suppliers' delivery times sub-index, which rose notably to 47.6 in January from 40.1 in December, implying faster supplier deliveries as NBS indicated that the labor shortage issues (due to large number of workers falling sick in December during the Covid "exit wave") were eased. NBS commented that the improvement of manufacturing activity was mainly linked to acceleration in both demand and production and the LNY holiday impacted the production to some degree. The sharp improvement in supplier delivery times will serve to further alleviate any residual inflationary bottlenecks, a legacy of China's lockdown days, as traffic to the US - inasmuch as anyone ordered inventory amid this reverse bullwhip period - arrives faster than expected.
On the trade-related sub-indexes, the new export order sub-index increased to 46.1 in January (vs. 44.2 in December) but remained below 50, pointing to still weak external demand. The import sub-index rose to 46.7 in January (vs.43.7 in December). The raw material inventories sub-index rose to 49.6 from 47.1, and the finished goods inventories sub-index rose to 47.2 from 46.6.
By enterprise size, the PMIs of large/medium/small enterprises increased to 52.3/48.6/47.2 in January (vs. 48.3/46.4/44.7 in December). Price indicators in the NBS manufacturing survey suggest inflationary pressure for producer and consumer diverged in January. The input cost sub-index increased to 52.2 (vs. 51.6 in December) while the output prices sub-index declined slightly to 48.7 (vs. 49.0 in December).
The official non-manufacturing PMI (comprised of the services and construction sectors) soared to 54.4 in January (vs. 41.6 in December), thanks to a sharp acceleration in both construction and services sectors. The services PMI rebounded sharply to 54.0 (vs. 39.4 in December). According to the survey, the PMIs of transport service industries such as postal, airline and road transport services were above 60 in January. Meanwhile, the PMIs of close-contact service industries such as retail sales, hotel and catering services rose more than 24 points from December. That said, NBS indicated that the PMIs of property related sectors were still below 50. The construction PMI rose in January to 56.4 (vs.54.4 in December). NBS noted that the expansionary pace of the construction sector (presumably infrastructure-related) remained fast.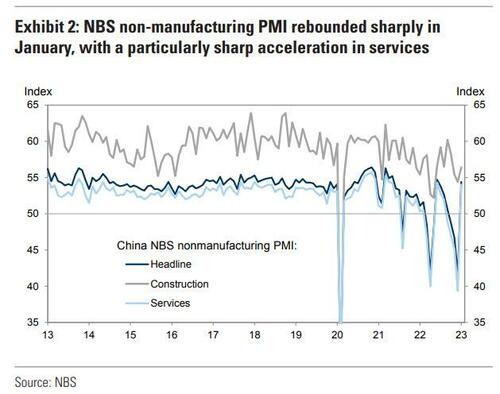 Looking at the market's response, Bloomberg's Mark Cranfield writes that "the CSI 300 index is ending January slightly below recent highs but its upward momentum is set to extend into February, looking past a report of the US considering cutting off Huawei from suppliers... which won't be much of a surprise to traders, especially after the US agreed with the Netherlands and Japan to restrict exports of some advanced chipmaking machinery to China."
That said, while the China PMI data is encouraging for equity bulls, notably the 54.4 print for services, and adds to the positive impulse from high frequency data over the Lunar New Year break, it took won't be much of a surprise following the mid-January data dump which beat expectations in every category. However, the pristine data - fake as it may be - will certainly encourage continued foreign inflows into China's stock market, which in January exceeded the whole of 2022!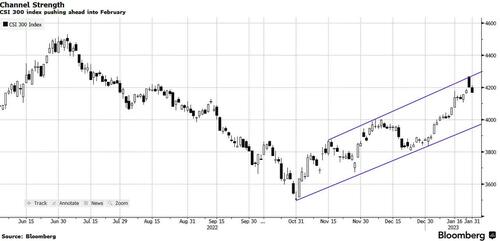 Bottom line, while the CSI 300 - which recently tipped into a bull market - may need a little bit longer to consolidate after the steep advance this month, BBG concludes that "the outlook for the rest of the first quarter is bright."
Loading...