---
China Is Quickly Becoming One Of The Largest Automobile Exporters In The World
China is quickly becoming one of the largest automobile exporters in the world. 
In the first quarter of this year, the country's exports were up almost 60% thanks to NEV shipments, Caixin wrote earlier this month. Data released mid-month by the General Administration of Customs showed that the country exported 1.07 million vehicles in Q1 - a rise of 58.3% from the year prior.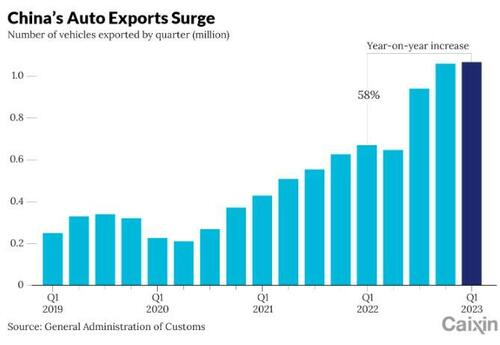 The rise can be attributed to overseas shipments of new-energy vehicles (NEV), the report notes. NEVs surged 110% to 248,000 units, year over year, according to China Association of Automobile Manufacturers data.
In the top spot was Tesla's Chinese unit, shipping out 92,000 units in Q1. It was followed closely by SAIC and BYD, who shipped out 56,000 and 39,000 units, respectively. 
The strong Q1 comes after China overtook Germany in 2022 to become the second largest exporter of vehicles, according to DirectIndustry E-Magazine. China, which exported 2.529 million passenger vehicles, up 56.7% from 2021, now only sits behind Japan. That report also noted the importance that NEVs played.
"Ten years ago, Chinese car producers, were only involved in ICE cars. Chinese car producers had to compete with established producers from Japan and South Korea. So, the focus was more on the fast-growing domestic market, and as for exports, it was mainly to developing countries," said Bala Ramasamy, Professor of Economics, Associate Dean, China Europe International Business School. 
The pace at which China has emerged as a major auto exporter -- and now a major net exporter of autos -- is stunning.

1/3 pic.twitter.com/Fk7qNapAkb

— Brad Setser (@Brad_Setser) April 25, 2023
"Expect exports to continue to climb and the number of EV exports to dwarf ICE exports, specifically in the EU/UK where they will ban the sale of ICE vehicles by 2035/2030," said Tu Le, Founder, and Managing Director of Beijing-based Sino Auto Insights.
Ramasamy concluded: "I think the fact that the Covid pandemic was quite contained in China in 2021 could have also given China and its production capacity an edge against its rivals in South Korea and Japan."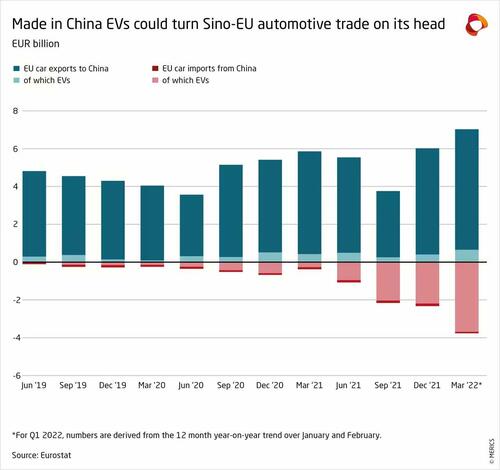 Loading...