---
China Says It Has No Desire To Replace Dollar As Global Reserve Currency With Digital Yuan
Apparently all it takes to replace a global reserve currency is a digital currency alternative just waiting to be released any moment... and a deep-seated desire to do so.
As regular readers know, China is leaps and bounds ahead of every other central bank and indeed plans to release a digital Yuan in the near future, but for now it supposedly has no interest in dethroning the dollar as the reserve currency... at least according to China.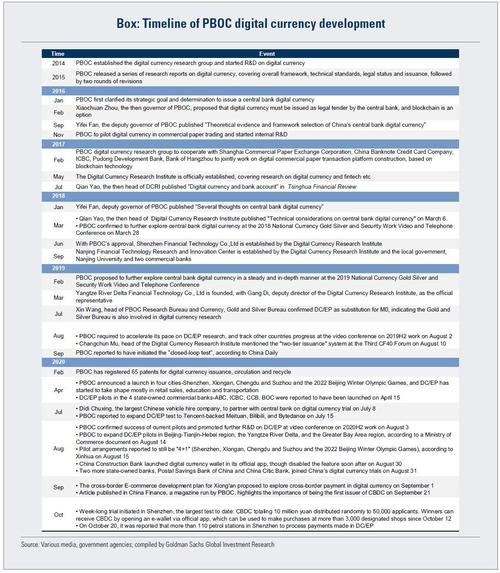 According to Bloomberg, which last weekend reported that the Biden administration is "stepping up scrutiny of China's plans for a digital yuan, with some officials concerned the move could kick off a long-term bid to topple the dollar as the world's dominant reserve currency",  People's Bank of China Deputy Governor Li Bo said the goal for internationalizing its currency is not to replace the dollar, and the efforts to create a digital yuan are aimed at domestic use.
"For the internationalization of the renminbi, we have said many times that it's a natural process, and our goal is not to replace the U.S. dollar or other international currencies," Li said on a panel at the Boao forum Sunday according to Bloomberg. "I think our goal is to allow the market to choose, to facilitate international trade and investment."
"Allowing the market choose" is, of course, a passive-aggressive way of saying that while China does not want to overthrow the greenback with its digital yuan, the market may have other plans, and if it so choose to overthrow the reigning reserve currency... then so be it.
As a reminder, in a recent note discussing the upcoming disruption from CBDCs, Morgan Stanley said that central bank digital currencies "have the potential to disrupt the international payments system. If a country's CBDC gains acceptance for international transactions, significant advantages could accrue to the issuer country in financing costs and control over financial transactions, similar to the US dollar's privileged role today. Some central banks like the ECB and the PBOC see the move towards digital currency as an opportunity to raise the international status of their currencies and increase their use in cross-border payments."
And this is precisely what China wants, even if it can't say so explicitly for fears of provoking a retaliation from the Biden admin. So instead of openly challenging the US with its plans of a "weaponized e-Yuan", Beijing is hoping to downplay its full potential, if only for the time being:
"The motivation for the e-yuan, for now at least, is focusing primarily on domestic use," Li said. International "interoperability is a very complex issue and we are not in a hurry to reach any particular solution yet," although there could be cross-border use "in the long term," Li said.
The central banker said that the PBOC is planning to test the cross-border use of the digital yuan at the 2022 Beijing Winter Olympics, where it could be used by both domestic users as well as athletes and visitors from overseas.
Speaking on the same panel at China's high-profile Boao Forum, Agustin Carstens, general manager of Bank for International Settlements, said there was huge potential in the cross-border use of digital currencies as they could make foreign exchange transaction and payment settlement extremely efficient. He said countries can explore various ways to achieve international interoperability, including making different systems compatible and creating connectivity links among the systems.
While the digitization of the yuan could benefit its use in cross-border transactions, the key factor in determining the currency's global role is whether China will relax its capital controls, said Shen Jianguang, chief economist at JD.com Inc. "If you want to have a global reserve currency, you need to allow foreigners to hold it, to use it."
Which, incidentally, is also in the works: as we reported two weeks ago, China is already quietly "encouraging more capital outflows to ease pressure on yuan", and in what may be the biggest transformation yet, earlier today we noted that following years of crackdown on crypto, Beijing now calls bitcoin an "investment alternative."
"I think it is quite significant and is definitely different to their previous statements or positions on public cryptocurrencies," Vijay Ayyar, head of business development at cryptocurrency exchange Luno, told CNBC by email.

"Governments are realizing that it is a viable and established, yet growing, asset class and need to regulate it. China regulating crypto would be another massive boost to the industry in China and globally," Ayyar said, talking about the motivation behind the PBOC's shift in tone. To be sure, China is not alone in changing its mind about bitcoin: over the past 4 years, Bitcoin has transformed from being purely a retail-favored asset and has become more mainstream in the financial world, gaining interest from institutional investors. Major corporations such as Tesla and Square in the U.S. have purchased large sums of bitcoin.
Besides easing on its capital firewall, China will also need to allow its citizens to buy more foreign assets, further develop its financial markets and allow greater exchange rate flexibility in order to push for the internationalization of yuan, Shen said in an interview at the forum.
China has seen a flood of capital flows into its financial markets since last year, boosting the amount of yuan traded globally. Yet, in the context of its vast markets, foreign ownership of local stocks and bonds remains relatively low at around 5% and 3% respectively. And while the yuan's share of global payments and central bank reserves is still only about 2%, it is rising the fastest of all major currencies.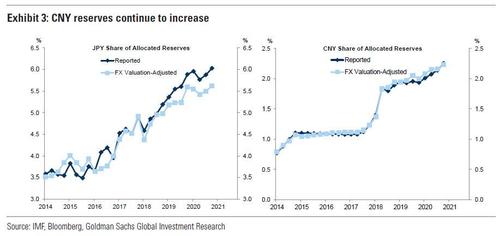 "The digital yuan is a means to help monetary policy efficiency and cross-border usage with partners that tend to trade with China in goods and services, less so the major economies like the U.S.," said Stephen Chiu, Asia FX and rates strategist at Bloomberg Intelligence. "Digital or not, it's not so easy to move the dollar's dominance, be it as a trade settlement or reserve currency."
But while the real reason for the digital yuan was hinted at, the panel concluded with China playing coy and claiming its (soon the be gold-backed) digital currency won't be a challenge to the USD.
"The initial plans for a digital currency weren't motivated by considerations of cross-border use" said former People's Bank of China Governor Zhou Xiaochuan, who noted that there are many issues with using a digital currency across national borders. International use could affect monetary policy independence, and it's important it isn't used for crime, he said on the same panel in Boao.