---
China Tells State Firms To Ditch Western-Linked Big Four Auditors Over 'National Security Concerns'
China's Ministry of Finance has instructed state-owned enterprises to phase out contracts with US-linked global audit firms as Beijing seeks to decouple and curb the influence of Western auditors, according to Bloomberg, citing people familiar with the matter.
Last month, the Ministry of Finance urged SOEs to let contracts expire with the Big Four auditing firms, including PricewaterhouseCoopers LLP, Ernst & Young, KPMG, and Deloitte & Touche LLP. The reason has been due to national security concerns. One of the people said there were no audit request changes for offshore subsidiaries of the Chinese firms.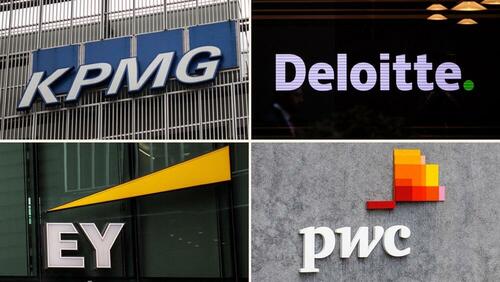 Beijing's objective is to ensure the nation's data security and limit the influence of US-linked global audit firms. The people also noted the government is attempting to boost the local accounting industry.
No timeline has been provided to companies, and the auditor changes might occur over time as contracts expire. 
The new audit guidance is a reminder that decoupling between China-US is still in full swing. Bloomberg pointed out, "One risk for China is that shifting to lesser-known auditors will make it harder for SOEs to attract capital from international investors." 
Richard Harris, CEO of Hong Kong-based investment business consultancy and fund manager Port Shelter Investment Management, explained:
"It builds in a further hurdle for Chinese SOEs in terms of appealing to international capital.

 "I'm not sure if the data held secret as a result is likely to be important enough to justify inhibiting that access to international capital as accountants have a legal obligation to be confidential."
And it was only last year when US-China signed a deal to allow security regulators to inspect the financials of Chinese companies in Hong Kong. The Public Company Accounting Oversight Board, a US accounting watchdog, said in December it had full access to inspect and investigate firms in China for the first time. After today's news, SOEs might soon be blocked for review by Big Four auditing firms. 
Loading...