---
China's Inward Foreign Direct Investment Falls To The Lowest Level On Record
Three quick highlights from China, courtesy of Goldman's Hui Shan
A wave of policy announcements: Following the July Politburo meeting on July 24th, various ministries and local governments have put out numerous policy announcements over the past two weeks. While the supportive tone is unmistakable, many of these announcements appear short on details and small in scale. One notable exception is the requirement for local governments to finish issuing all of this year's special bond quota by the end of September, according to a recent media report, and to finish using the proceeds by the end of October. This is consistent with our view of accelerated fiscal spending and higher sequential growth in Q3. Goldman's client conversations in recent days suggest most investors are still waiting for more concrete policy measures and clearer signs of such policies could meaningfully boost activity.
Inward FDI fell further in Q2: The preliminary Q2 Balance of Payments (BOP) data released last week showed China's current account still enjoys a healthy surplus, but the financial account continues to see notable net outflows. In particular, inward Foreign Direct Investment (FDI) fell to the lowest level since the series started in 1998. With elevated US-China interest rate differentials and weak economic growth, the PBOC leaning against CNY depreciation by fixing CNY on the stronger side, and the market anticipating further policy easing measures, Goldman thinks USDCNY is likely to stay range-bound and maintains its 3-month forecast of 7.20.
China's inward FDI fell to a record low in Q2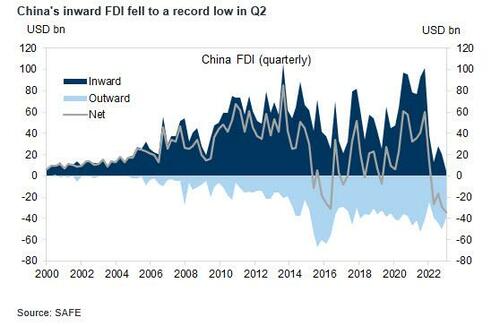 July trade, inflation and credit data this week: Chinese exports are expected to decline 14% yoy in July. Much of the weakness is presumably due to price effects: in June, exports value (in USD terms) dropped 12.4% yoy but exports volume only fell 1.8% yoy. Goldman expects headline CPI inflation to soften further from 0% yoy in June to -0.4% yoy in July, partly due to the high base in food prices last year. Finally, the bank also expects RMB 1Tn Total Social Financing (TSF) new flows in July, as bank loan growth likely slowed and corporate and government bond issuance was tepid in July.
Loading...