---
China's Modest Growth Target Isn't Stalling Reopening Trade
By George Lei, Bloomberg Markets Live strategist and reporter
China's 5% growth target may appear underwhelming to some, though it is very much in-line with shifting market expectations since last week's blowout PMI. The modest objective leaves room for upside growth surprises and bodes well for Chinese equities overall, though Hong Kong stocks are likely to keep outperforming their onshore peers.
The 5% goal was below the 5.3% consensus in a Bloomberg survey, as well as the 5.5% objective for 2022 and also targets set by most provinces. Conservative as it is, the number won't necessarily lead to a weak outcome, according to Citigroup, which noted that as recently as 2021 China managed to grow 8.1% versus a 6% target.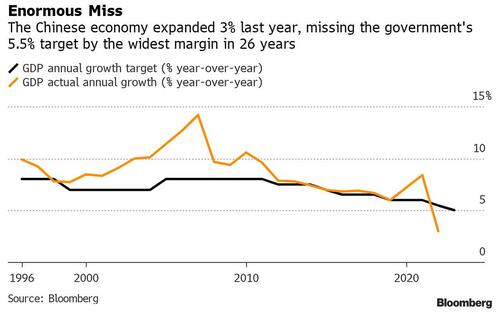 The ongoing Congress in Beijing leaves one thing perfectly clear, though: There will be no major stimulus on either fiscal or monetary fronts. The strength of China's reopening exceeded the expectations of top leaders, who will be more restrained in rolling out new stimulus, Bloomberg reported last week. Now that the 5% target is in place, Citigroup believes any positive data surprises may "limit the extent of downward move" in market interest rates.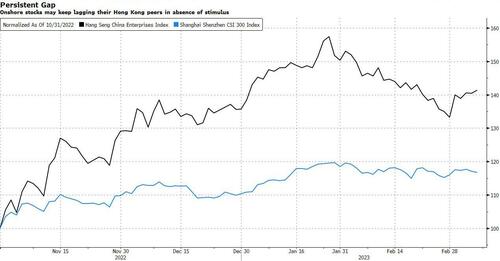 What does that mean for equities? As my colleague Sofia Horta e Costa noted, Hong Kong has so far been home to the reopening trade for investors who believe the post-Covid economy is already doing well. Onshore equities, on the contrary, are the stimulus play for those who expect Beijing to deliver more fiscal spending or PBOC liquidity.
The reopening trade has beaten stimulus bets handily since the end of October when chatter of exiting Covid Zero began to pick up steam. Hong Kong's Hang Seng China Enterprise Index has rallied more than 40% over the period, while the onshore benchmark CSI 300 advanced less than half of that. The gap will probably persist, or even widen, in the foreseeable future.
China's reopening is likely to be more V-shaped than consensus expectations, with substantial excess savings likely to support consumption, according to a March 6 research report from Morgan Stanley, which expects equities in North Asia ex-Japan to continually outperform as is "typical in the early phases of a bull market."
Loading...