---
China's "National Team" Buys Stocks For Second Time In Weeks
For the second time in weeks, China's "National Team" (the local plunge protection team) has intervened in equity markets amid a worsening rout.  
Bloomberg reports Chinese state-backed funds swooped in and bought local shares in the afternoon session, allowing the CSI 300 only to close down .60%, erasing earlier losses of as much as 2.4%.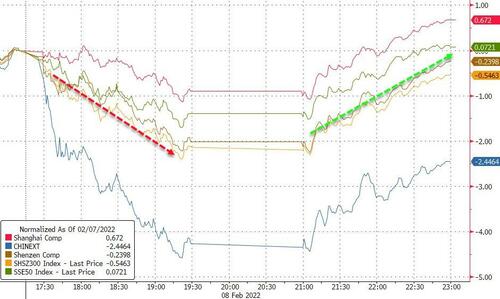 The plunge protection team managed to form a so-called daily 'bullish hammer' on the main equity index.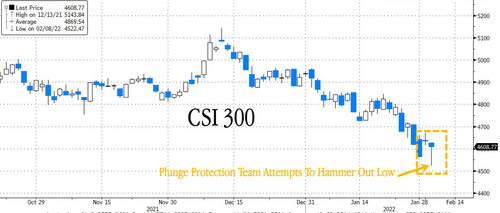 One of Bloomberg's sources, who had direct knowledge of the matter but declined to be identified, said Tuesday's equity intervention was intended to halt stock declines. The main equity index tumbled into a bear market in mid-January after sliding most of 2021 due to regulatory crackdowns by Beijing. 
Bloomberg's sources weren't sure on the amount of securities the plunge protection team purchased. This is the second time in weeks market interventions have been seen. We reported on Jan. 27 that seven of China's ten largest fund-management companies, including E Fund Management Co. and GF Fund Management Co., were putting money to work and buying stocks. Also, state-owned Securities Times called upon the investment community, such as brokerage firms, fund managers, insurers, and other institutions, to "stiffen the spine" and support capital markets amid surging volatility. 
Beijing has often used state media outlets to urge big investors to buy the dip. The verbal intervention shows authorities are concerned about capital markets and are increasing support following a round of central bank easing. China is one of the only central banks easing globally.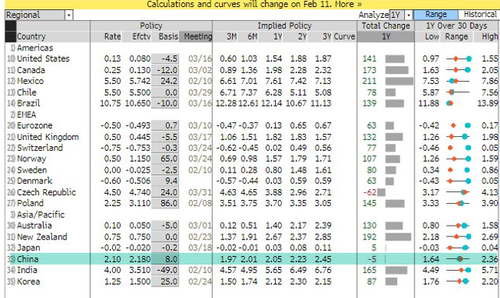 In recent weeks, China's plunge protection team activity has been very active and similar to actions in late July 2021 when Chinese stocks suffered historical losses, and Hong Kong's technology sector imploded. This eventually led to a multi-week rally. 
While the national team attempts to hammer out a low and reverse the main equity index out of a bear market, shares of US-listed Chinese stocks rise in premarket, including Alibaba up as much as 2.4%, Pinduoduo +1.2%, Bilibili +1.2%, JD.com +0.8%, Didi +0.6%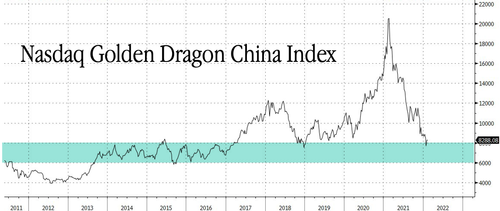 It's clear that option flows for KraneShares CSI China Internet ETF (KWEB), a foreign equity index composed of China tech stocks, has seen a new regime of call buying dominating put buying since June 2021.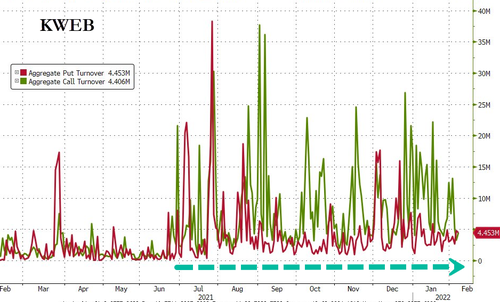 So given China's National Team is at it again, and the People's Bank of China is easing, the question foreign investors have: Is it time to buy the dip?
Asia equity strategist at JPMorgan Chase & Co. Mixo Das recently said, "Within Asia, if you just follow policy, China is definitely the place to be," adding the investment bank had upgraded Chinese equities to overweight just weeks ago.
... and something our premium subs have been following, China's all-important credit impulse finally bottoms and is setting the stage for a power credit impulse bounce. This could be more good news for beaten-down Chinese equity markets.