---
China's Skyscraper Boom Comes Crashing Down Amid Developer Default 
Investors typically concentrate on GDP growth, leading indicators, and other forms of macro data to determine a turning point in the economy, and or to determine when the window of vulnerability opens up that could shock the economy into the next recession.
For years, we've cited some fascinating alternative forms of data, such as the Skyscraper Index, which was first elaborated by Andrew Lawrence in January 1999. The index is simple; the world's tallest buildings are often constructed or completed at economic turning points, right before or just as the downturn gets underway.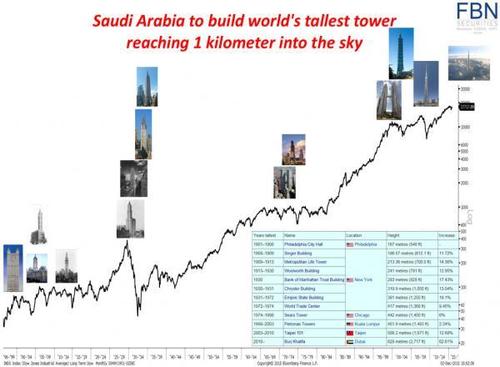 The Burj Khalifa in Dubai, which is the world's tallest building, was completed in 2008. Shortly after, the global financial system crashed.
Since the crisis, most of the world's tallest buildings have been constructed across Asia.
The Financial Times (FT) is reporting that a subsidiary of China's largest construction company recently halted work on the nation's tallest skyscraper after the developer defaulted on a payment.
The default comes at a time when China's economy is decelerating as Beijing conducts economic reforms to transition from an export-based economy to a more domestic, consumer-driven economy. Also, trade tensions and global debt saturation have been other leading causes for China's slowdown.
FT obtained a copy of a letter that specified China Construction Third Engineering Bureau Co would halt construction on a 1,558 feet skyscraper in the central city of Wuhan. Details within the letter specified how Greenland Group, China's largest developer, had failed to make a "significant" payment to fund the project.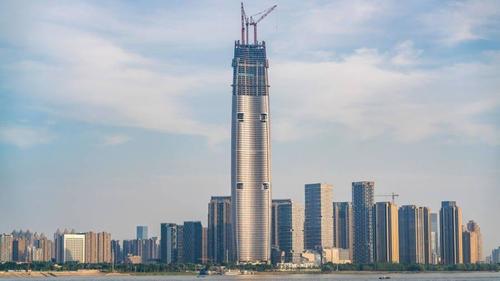 "Unfinished super tall skyscrapers, which cost a huge amount of funds to build, are a typical sign of economic recession," said Yan Yuejin, an analyst at Shanghai-based E-house China Research and Development Institution. "They are financed by credit and will run into trouble when lenders begin to scale back."
As China's economic growth slumps to three-decade lows, credit for property developers has been turned off. FT also learned that construction of more than a dozen skyscrapers, some more than 900 feet tall, have been postponed or behind schedule in 2019.
"Demand for office space has weakened considerably due to the slowing economy," said Cherry Hu, an analyst at Cushman & Wakefield in Wuhan. "The situation is not going to improve any time soon."
Li Guozheng, an analyst at China Index Academy, a property consultancy, said Greenland's business model is highly flawed because it doesn't take into account an economic downturn.
The developer relied on selling expensive residential apartments to support its mega building projects, but since the housing market has cooled, the developer has run into financial hardships.
"There is a fundamental problem with Greenland's business model," said Li. "It doesn't take into account an economic downturn."
The Skyscraper Index has been calling market tops for over 100 years. Maybe the latest news coming from China is an ominous sign for global equities.