---
Chinese Auto Sales To Face "Big Downward Pressure" In 2020
China's Miao Wei, Minister of Industry and Information Technology, had some bad news for the Chinese auto industry on Monday.
Wei says that the industry still faces "big downward pressure" and he predicted sales of just 25 million units for the year, according to Bloomberg.
Recall, sales for 2019 totaled 25.769 million units. Sales of just 25 million units would mark a third straight year of declines for the world's largest auto market, should Wei's prediction come to fruition.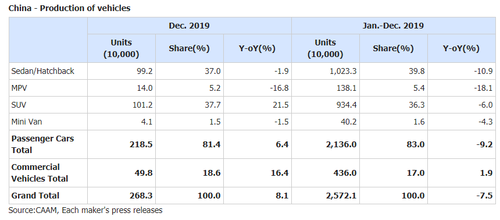 The MIIT also said it would further study and review its NEV vehicle subsidies. Beijing backing away from these subsidies caused NEV sales to taper off toward the end of 2019, sullying what was an otherwise consistent silver lining for the country, even amidst the overall recession in autos.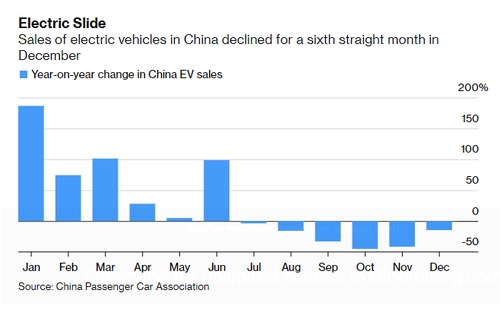 We noted in December that NEV sales plunged 42% in November when Beijing backed away. 
China has said it is going to "maintain support" for NEVs, without getting into too much detail. Miao also said he's confident that the country will ensure "stable industrial production in 2020" while phasing out "zombie firms".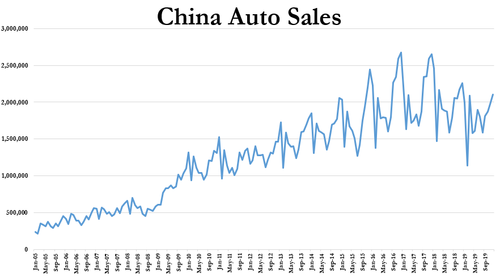 As we noted days ago, passenger car vehicle sales in China fell yet again in December, plunging 3.6% to 2.17 million units, according to the China Passenger Car Association. 
This marks the 18th drop in the past 19 months for the country, which feels to be single-handedly spearheading a global recession in the industry. For the full year, sales in China declined 7.5%, marking the second straight annual decline.