---
Chip Shortage Puts Market-Beating Rally At Risk
Authored by Michael Msika, Bloomberg Markets Live Commentator
Shares in carmakers have more than doubled in the past 12 months, boosted by bets of an economic recovery and demand for electric vehicles. The rally is now hitting some road bumps on growing worries that a chip shortage will hold up production.
While investors have largely focused on the industry's growth prospects, pushing the Stoxx 600 Autos & Parts Index up 135% since last year's market low, sentiment is taking a hit this week. Companies including Stellantis, BMW, Porsche, Volvo and Volkswagen are warning about production delays because of chip supplies drying up, along with some U.S. peers.
"It is a serious issue for the entire industry so everybody is suffering at the same measure," says Nesche Yazgan, senior corporate analyst at BlueBay Asset Management. "This is especially relevant for the automotive industry since they have had the 'longest' chain with parts being delivered from different geographies."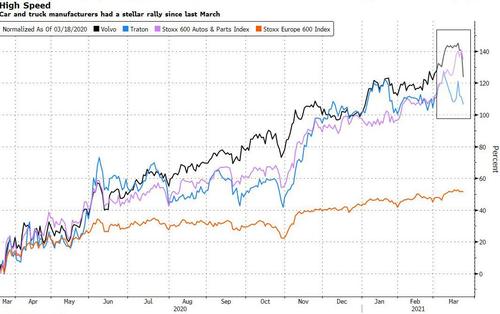 Earlier this year, Mitsubishi UFJ Morgan Stanley Securities analysts estimated that the shortage would reduce global vehicle production by 1.5 million units.
European automakers are leading gains in the market rebound from the March 2020 low, with the likes of Daimler tripling in the period. Truck manufacturers have also fared well, with Traton and Volvo more than doubling. The dizzying ascent may make the sector more vulnerable to negative newsflow on chips, which are used to manage and monitor everything from engine and driving performance to air-conditioning and entertainment systems.
The shortages have worsened over the past month, and could hurt Volvo's Ebit by 10%, according to Citi analysts. Deutsche Bank see consensus earnings dropping by 4% to 7% for the truckmaker, while DNB downgraded the shares yesterday, saying there's a risk the supply-chain issues may last until the second half of the year. Volvo trades at higher multiples than Traton, but looks cheaper than U.S. peers.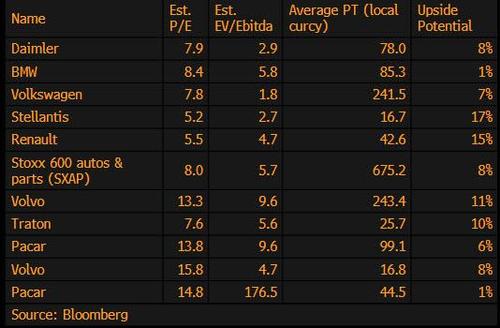 "I think the auto companies have been somewhat caught out this time round because they've got their own cyclicality to manage, they cut orders, and they've found themselves at the bottom of a queue, and it's quite a queue these days," says Lewis Grant, senior portfolio manager at the international business of Federated Hermes.
Still, the supply disruption may prove temporary. BloombergNEF analyst Alejandro Zamorano expects the impact to show mostly in quarterly production numbers, with any losses to global vehicle output recovered in the latter part of this year. Luca Rescigno, portfolio manager at Marengo Financial, also sees the issue as likely to be a short-term drag on automakers' financial performance.
Meanwhile, the growing need for semiconductors bodes well for its makers. Analysts at Liberum expect chip shares to outperform, following a recent correction on rising bond yields, while Federated Hermes's Grant is particularly bullish on semiconductor equipment makers. Credit Suisse highlights the growing use of silicon carbide technology in the EV power market, naming STMicro and Infineon as stocks with exposure.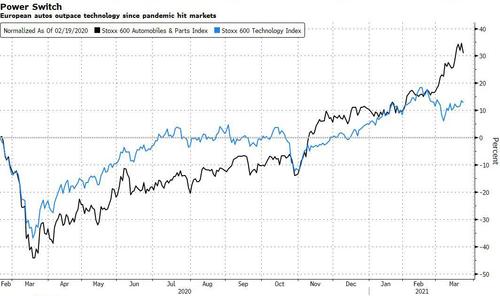 Yesterday, Intel Corp. unveiled a plan to spend billions of dollars on new factories and creating a foundry business that will make chips for other companies.
"The higher demand for chip is probably structural and will require the semiconductor companies to adjust their capacity accordingly," says Marengo's Rescigno. "With supply chains restored, the real game changer for auto producers will be the ability to meet new customers' connectivity needs and electrification challenges, which are in fact contributing to the increase in demand for semiconductors."