---
Citadel Has Best Year On Record Despite Looming Controversy, Posting $7 Billion In Revenue In 2021
Despite all of the crowing from retail, congressional hearings, complaints from AMC "apes" and the hemming and hawing about "naked shorts" and payment for order flow, Citadel had its been year in its history in 2021.
Under massive scrutiny, Ken Griffin's firm posted record revenue of $7 billion for the year, according to Bloomberg.
In fact, it was the "frenzied bouts of volatility" in the market in 2021 that helped the firm increase its earnings, the report says. The company's previous record revenue for a full year was $6.7 billion in 2020, thanks to the volatility associated with the pandemic. 
Despite this, Bloomberg maintains that the larger Citadel gets, the bigger the target on its back will get. 
Chief Executive Officer Peng Zhao told the news outlet: "You get to a point where staying under the radar is no longer an option. We want to be able to tell our own story, rather than having the story told about us."
Citadel works as a market maker, "facilitat[ing] trading by stepping in as a buyer or seller, earning tiny profits on price differences often within milliseconds". Much of its success can be attributed to Griffin, who is worth $30 billion, and the culture he has created.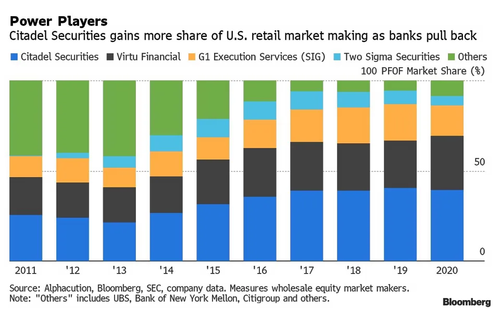 Zhao continued: "For many weeks Ken was looking over my shoulder, hovering above my keyboard, putting out statistical analysis, models and graphs."
Zhao also says the firm has been cast in a misleading light over the last few years. "All of a sudden we find our name on venues and getting mentioned in places we weren't mentioned before -- it's something we weren't planning for. We are focused on making the best decisions, regardless of whether our name is being mentioned or not," he said about the controversy that followed the meme stock madness. 
Joe Mecane, head of execution services at the firm, added: "There is a big disconnect between what we do, what the message should be about what we do, and what the public perception ends up being."
Head of business development Jamil Nazarali added: "There is still a very large percentage of the world's asset classes that don't trade electronically. Many banks provide liquidity in those products -- over time more of those things are going to go electronic -- and we are going to become a key liquidity provider. Most of our growth is ahead of us."
And while the rest of Wall Street is pulling strings to try and retain and entice talent, Citadel  "attracts world-class talent from across finance, technology and academia," a spokesperson told Bloomberg. 
Paul Rowady, director of research for Alphacution Research Conservatory said of the company's hiring pool: "They have won so profoundly. Banks and smaller rivals have not been able to compete at the cutting edge of technology and attracting talent -- that train has already left the station."