---
Ken Griffin Now Controls 41% Of All Retail Trading... And Is Making An Absolute Killing
The last time we heard from Citadel was two weeks ago when, in the aftermath of the furious "gamma meltup" reversal, investors and regulators starting asking pointed questions about who was behind all this option frenzy. It was then that David Silber, the head of institutional equity derivatives at Citadel Securities decided to preemptively come to the defense of option-heavy market-makers, such as Citadel, and told Bloomberg to stop blaming options for the recent market drop.
Going a little further back to July, we reported that Citadel Securities - one of the world's biggest market-makers - had just been find by industry regulator FINRA (the whopping sum of $700,000) for frontrunning of at least 559 client orders while masking "hundreds of thousands" of orders from its pre-trade control logic. This happened at a time when Citadel emerged as the biggest Robinhood client, paying hundreds of millions to route retail investor orderflow (something that we first reported in 2018 in "Robinhood Is Said To Get 40% Revenue From HFT Firms Like Citadel ) in both stocks and options, as the latest Robinhood 606 reveals:

Needless to say, whether with or without frontrunning orderflow, Citadel hit the jackpot because in the past few months, option trading - mostly by retail accounts - has exploded with traded volumes doubling over the past year and hitting a record 18.4 million in August according to the CBOE.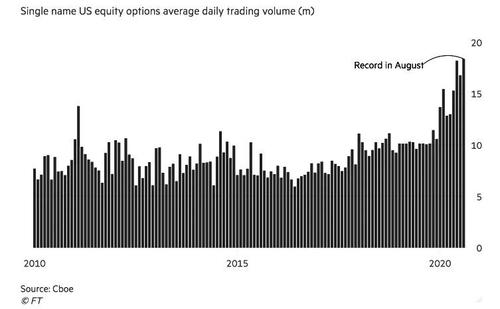 As a result of some combination of the facts above, coupled with Citadel Securities' unprecedented domination of US equity markets, the Chicago based market-maker has made an absolute killing and as Bloomberg reports, Citadel's trading operation, which is separate from Griffin's hedge fund business, generated $3.84 billion of revenue in just six months, more than the $3.26 billion for all of 2019. Net income was $2.36 billion in the first six months of 2020, more than double the $982 million for the same period a year earlier.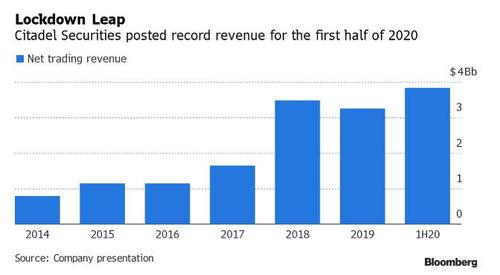 The numbers were revealed, ironically enough, in a presentation to Citadel investors which is seeking a $300 million loan (it appears Citadel's massive organic cash flow is not enough for whatever Citadel owner Ken Griffin has planned next).
To be sure, it's not just "benefitting" from the historic retail option trading frenzy that led to this revenue bonanza: while most of its competitors were scrambling to figure out continuity plans in March when institutional trading on Wall Street was effectively frozen, Citadel Securities abandoned its Chicago and New York offices and set up shop at the Four Seasons Palm Beach, moving dozens of employees and their families as Bloomberg reported at the time, while others went to an emergency facility in Connecticut in moves designed to keep his market-making firm operating seamlessly as the rest of the financial world dealt with wild swings and extraordinary trading volumes from makeshift home offices.
The efforts clearly paid off, and Citadel Securities has now become a behemoth of unprecedented proportions, with Bloomberg reporting that it now handles more than a quarter of all U.S. equity volume in the first half of the year.
One wonders if there is a magic number of market dominance that will prompt the FTC and/or DOJ, which are busy pursuing Google and Facebook for antitrust, to take a look at Citadel Securities' creeping monopolization of the entire US equity market.
If there is, it clearly has not been reached, and meanwhile Citadel Securities, led by CEO Peng Zhao, has continued to increase its market share, and in the U.S. options market, it climbed to 32% from 27%. In the three months through August, 28% of U.S. equity volume went through Citadel, up from 22% in 2019.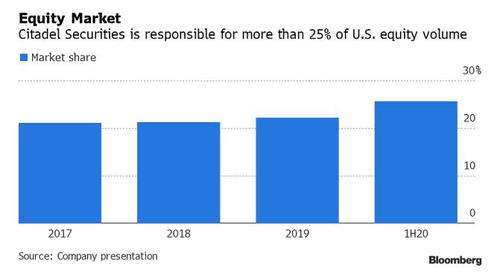 That's right: one-in-four stock trade and one-in-three option trades taking place now effectively goes through the Citadel pipe. Meanwhile, in the retail market, Citadel dominates with an mindblowing 41% of the marketshare! And now you know why been paying so generously to dominate Robinhood's orderflow.
As a result of this creeping monopolization, Citadel's owner is about to get even richer. Ken Griffin owns 85% of the securities business and has a $15.3 billion fortune, according to estimates by the Bloomberg Billionaires Index.
Bottom line: having already purchased the trophy properties many of the world's most desirable cities, Ken Griffin will soon be in the market for even more homes...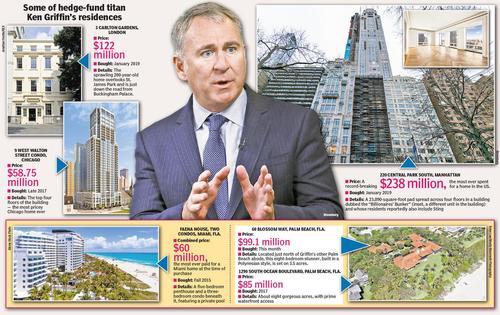 ... showing the Robinhooders - with their get rich quick dreams and whose furious daytrading makes Griffen richer by the day - what to do if they too miraculous somehow strike it rich one day.