---
Citadel's Ken Griffin Plans To Build 'Supertall' Skyscraper In Manhattan
Billionaire Citadel boss Ken Griffin plans to build a new skyscraper in Manhattan that would serve as the flagship tower for his financial empire, according to Bloomberg, citing people familiar with initial proposals. 
Griffin plans to build a 1,350 feet (411 meters) skyscraper with 51 office floors and seven terraces. Citadel will occupy at least 54% of the building. Foster + Partners, the firm founded by architect Norman Foster, will be the lead designer of the tower that could be completed by 2032.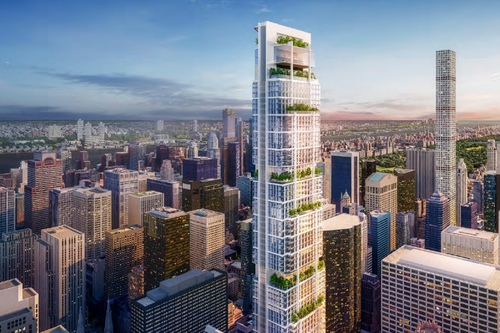 Last month, Vornado Realty Trust and Rudin Management reached an agreement with Citadel that allows the developers to construct the 1.7 million-square-foot skyscraper by replacing three adjacent properties in Midtown, at 350 Park Avenue, 40 East 52nd Street, and 39 East 51st Street. 
"We expect that if this building is built it will be able to house all of our New York City employees for both Citadel and Citadel Securities, which will reduce the need for us to have them spread across multiple sites in New York City as they currently are," Zia Ahmed, a spokesperson for Citadel, told Bloomberg last month. 
The tower's height would make it one of the tallest buildings in the borough and rival JPMorgan Chase & Co.'s new headquarters in Midtown that is being built, as well as the skyscraper near Grand Central Terminal. 
"We want to have exceptional work environments around the world that provide an unparalleled experience for our team members, reflecting the commitment they make to us," Griffin recently said about the firm's office buildings. 
Griffin is worth an estimated $29.1 billion and ranks 40 on the Bloomberg Billionaires Index. He moved Citadel's headquarters to Miami's Brickell area from Chicago, citing out-of-control violent crime. 
Loading...