---
The Big Short Squeeze - Did Michael Burry Just Make A Killing In Gamestop?
Update (1700ET): After today's debacle in Gamestop's share price, our memory was jogged of an article from late 2019: "Why 'Big Short' investor Michael Burry is going long on GameStop, the video-game retail titan that's been crashing all year "
In August 2019, none other than Michael Burry, the famed "Big Short" investor who predicted (and profited greatly from) the subprime-mortgage crisis of 2008, had taken a massive 3 million share position in the video game retailer in his hedge fund Scion Asset Management.
His reasoning for the position at the time:
The beleaguered video-game retailer is getting an extension of life thanks to Sony and Microsoft, as both console makers are putting disc drives in their next-generation game consoles.
 In an interview with Barron's around the same time, Burry said GameStop's position "looks worse than it really is." 
With GameStop's stock down so much this year, Burry thinks it is an opportune time for the company to buy back its shares.

He noted there may be mechanical selling by quant-oriented funds because of new lease accounting guidelines that went into effect earlier this year. The new guidelines drove GameStop's leverage ratios higher, he says, while nothing has changed fundamentally.

"Technical factors driving the stock to lows has created an opportunity for substantial buybacks at below private market prices," Burry said.

"There is no better use of capital [than buybacks]."
The latest data shows that as of Q3 2020 filings he still had 1.7mm shares...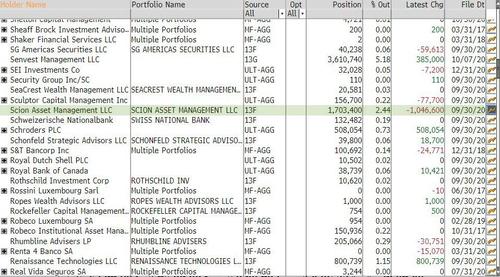 Source: Bloomberg
So the question is - did Burry sell any more in Q4?

Source: Bloomberg
Or did he just make another killing on the back this market bubble's fantasy traders?
The Big Short Squeeze https://t.co/hHKkmQevOB

— zerohedge (@zerohedge) January 22, 2021
Rather ironically, and extremely presciently if he held on until today, Scion's letter at the time noted the short interest for GameStop represented more than 60% of the shares outstanding.
*  *  *
Update (1600ET): The bell finally rang for the end of this monstrous day for GME shorts.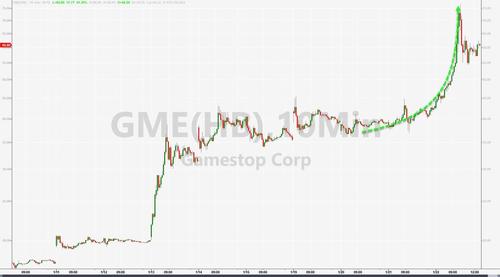 Which sent the stock to all-time-record highs...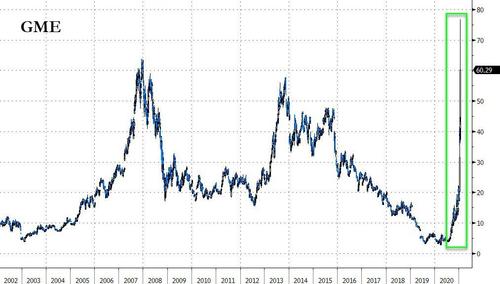 And that insane spike was triggered by one of the biggest general market short squeezes we have ever seen...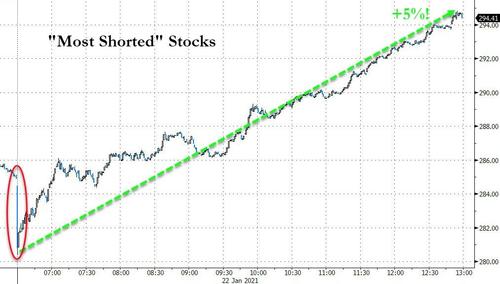 And levered up by an enormous - and just as insane - spike in call-buying!!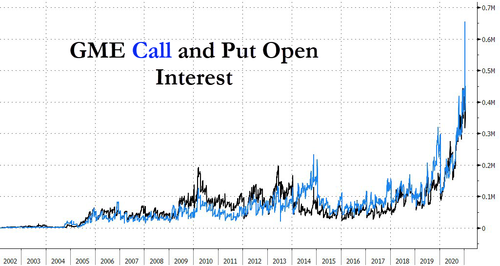 It appears to us that a certain group of investors is going to need the market to teach them an ugly lesson in reality... if The Fed will ever allow it!
*  *  *
Update (1250ET): An hour later and things have gone just a little bit turbo. After being halted on volatility (twice) literally minutes after we suggested it...
Someone should probably halt GME

— zerohedge (@zerohedge) January 22, 2021
... GME was trading up at almost $73, up over 70% on the day...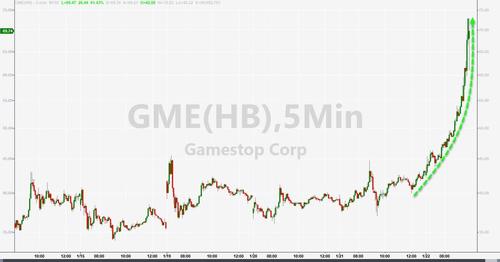 *  *  * 
Update (1155ET): Gamestop is screaming higher again today, breaking $50 for the first time since 2013...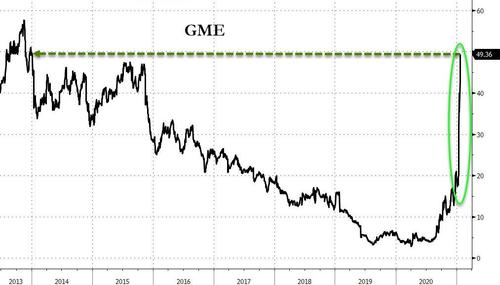 Until today, the last few squeezes had been sold...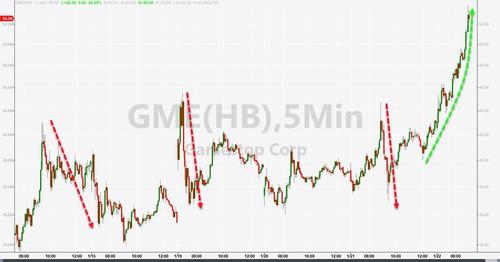 But as we noted on Jan 19th...
GameStop pared gains after short-seller Citron Research tweeted that it sees the stock returning to $20 quickly.

Good luck with that: someone's shorts are really hurting pic.twitter.com/XzeEL3snN3

— zerohedge (@zerohedge) January 19, 2021
No one should be that surprised considering this farce...
is this right pic.twitter.com/mVfitVff5b

— zerohedge (@zerohedge) January 14, 2021
...and the Hertz-style buying-power of a 'murder' (we believe that is the plural) of Reddit-Gen-Z'ers steamrolling hedge funds.
And with borrow running at 23%, we wonder, could this be the next Volkswagen?
Which incidentally reminds us of a simple trading rule we first presented back in 2013: the easiest way to generate alpha in this market - where nothing has made sense for the past decade - is just to go long the most shorted stocks.
*  *  *
Citron Research's Andrew Left released a brand new letter Friday morning from a new Twitter account, stating he will "no longer be commenting on GameStop" due to an "angry mob" that has "spent the past 48 hours committing multiple crimes that [he] will be turning over to the FBI, SEC, and other governmental agencies."
Left appears to be referring to harassment his family and friends have received since revealing his GameStop short thesis, just hours ago. Zero Hedge has confirmed the new Twitter account is run by Left.
Left starts his letter by saying: "What Citron has experienced in the past 48 hours is nothing short of shameful and a sad commentary on the state of the investment community."
"This is not just name-calling and hacking but includes serious crimes such as harassment of minor children. We are investors who put safety and family first and when we believe this has been compromised, it is our duty to walk away from a stock," he continues.
Citron twitter page to be back up on Monday, Twitter working though multiple hack attempts. In the meantime nothing more to be said on $GME. Family First pic.twitter.com/lOM4oCAALl

— Citron Research 2 (@CitronResearch2) January 22, 2021
"We hope that government enforcement will eliminate this problem for all future market commentators whose families get terrorized by people who naively think they are anonymous. Family First," the letter ends.
Recall, earlier this morning, we posted a report about how Citron's streaming video regarding GameStop was suspended yesterday due to "hacking attempts". 
Left was forced to stop his stream, explaining on Twitter that too many people were trying to access his Twitter account at the time. Twitter locked his account as a precaution, Bloomberg reported Thursday night, and eventually had to work with Left to get it reinstated. 
"Too many people hacking Citron twitter, will record and post later today. $GME going to $20 buy at your own risk," Left tweeted mid-day on Thursday. 
Too many people hacking Citron twitter, will record and post later today. $GME going to $20 buy at your own risk

— Citron Research (@CitronResearch) January 21, 2021
Left took to YouTube later in the day to finish the video he had started. "I've never seen such an exchange of ideas of people so angry about someone joining the other side of a trade," he said.
"This is a failing mall based-retailer," Left starts by saying. 
"You can get mad, you can hack my account, you can go to Twitter, you can sign on and call me every name - but if you wanna save the company, go out there and actually buy something from GameStop. That's the only way you're going to be able to save the company. Other than that, the more you buy, I'm sure there will be supply on the other side," Left concludes. 
You can watch Left's full video explanation of his GME thesis here: