---
Clorox Tumbles After "Inflationary Headwinds" Compress Margins
For several quarters, we have pointed out that mentions of "inflation" on corporate earnings calls have rocketed to record highs and come as management teams make the tough decision to pass-through surging commodity costs into higher prices. There's only so much inflation that can be passed through. Otherwise, consumers will switch to cheaper brands or reduce purchases. 
Inflation is crushing the margins of companies. The latest sign comes as Clorox Co., the maker of bleaches, wipes, and other surface cleaners, reported "inflationary headwinds" were driving "cost pressures will continue through the fiscal year 2022." It reported fourth-quarter earnings that missed analysts' expectations and warned about margin compression.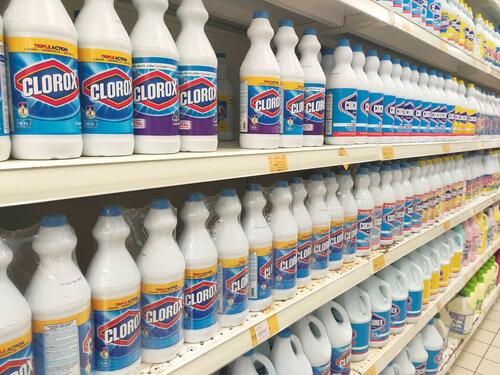 Soaring manufacturing, shipping, and commodity costs were to blame as gross margins plunged 1240 basis points to 33% from 45% in the fourth quarter versus a year ago. CEO Linda Rendle said additional costs are expected around $500 million. 
The consumer products company, which saw incredible pandemic-fueled demand for its cleaning products, posted a profit of 66 cents per share, versus the Refinitiv consensus of 18 cents. Its fiscal year earnings-per-share outlook is expected to be below estimates. Management warned in August about a challenging year ahead (so none of this is unexpected). 
Investors weren't thrilled with the quarterly results. Shares of Clorox are down 13% in premarket. Year-to-date, shares are nearing a bear market, down more than 17% through Friday premarket. That's quite the opposite compared to the S&P 500 Consumer Staples Sector index, up 21% on the year.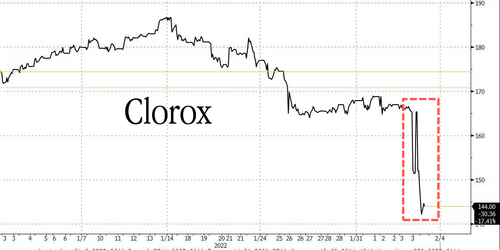 Rendle noted that the company is focused on slashing costs and raising 85% of its portfolio this year. 
It appears the pandemic-fueled demand is over for its disinfectants and cleaning supplies as sales decline due mainly because Americans are over COVID-19 at the point -- it's only politicians that continue to fearmonger.